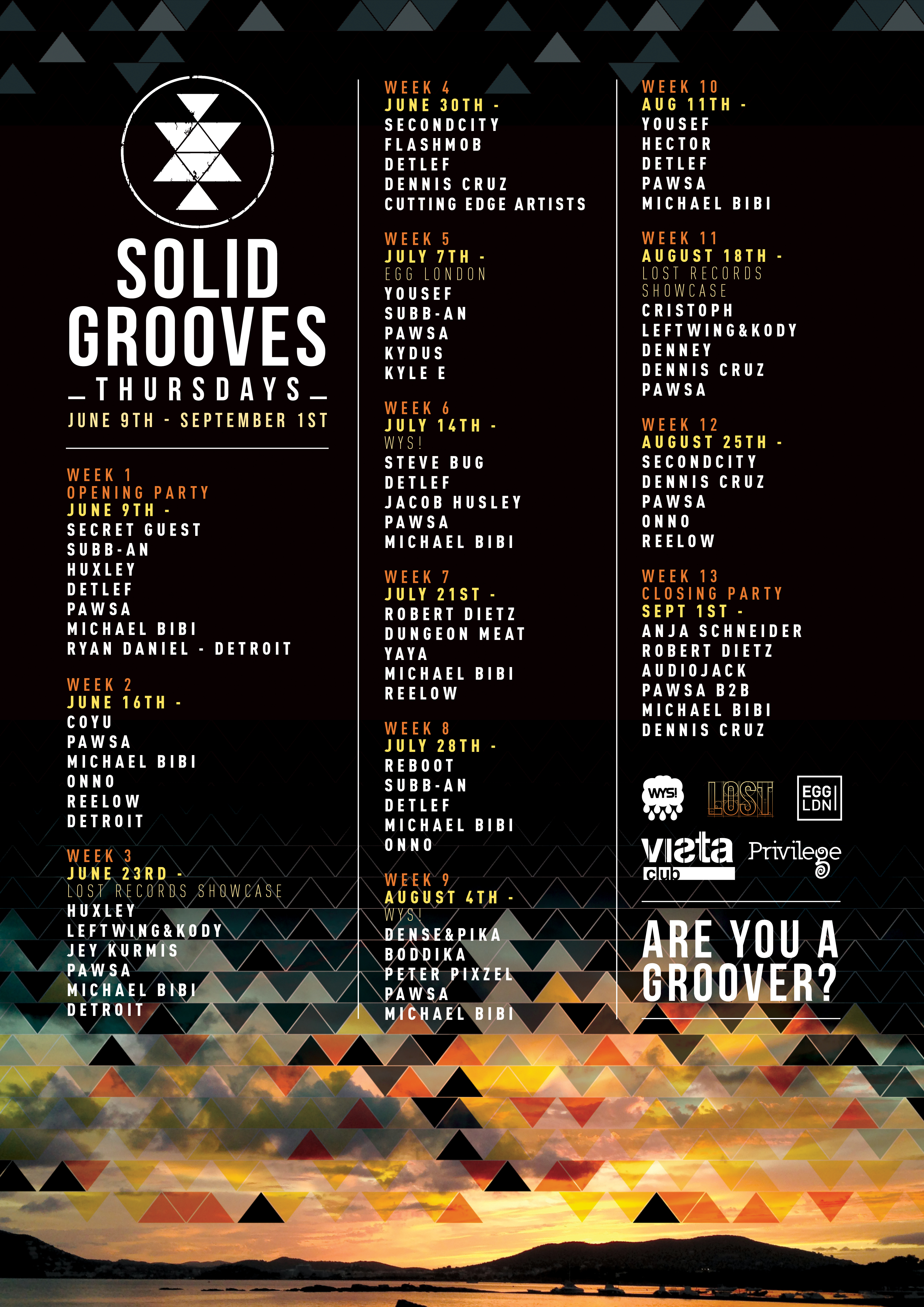 SolidGrooves Announce Full Weekly Schedule and Final Line ups
SolidGrooves announces full weekly listings for Thursdays at one of Ibiza's most unique venues, VistaClub Privilege.
The season promises some carefully curated and exciting lineups that feature the best house and techno DJs from around the globe, as well as some exclusive label showcases, plenty of parties streamed on BeAT.tv, and some huge secret guests. Top new names Hector, Denney, Audiojack, COYU and Flashmob join the existing lineup of stars, including label bosses such as Exit's pioneering label head Boddika, Lost Records duo Leftwing & Kody, Hot Flush's techno titans Dense & Pika, Aus and Hypercolour hit-maker Huxley, Back to Basics resident Tristan da Cunha and deep house legend Brawther aka Dungeon Meat, as well as infectious loop masters from Cadenza- Reboot and Robert Dietz.
SolidGrooves is sure to make many magical memories in 2016, given that it will play out at Vista, which boasts huge glass walls allowing the sun to beam in come sunrise, really adding some special, spine-tingling vibes to the musical offerings. Add into this a crisp sound system, some cool extra production and in-the-know party people, and you have the makings of a high energy atmosphere that will be second to none. SolidGrooves Thursdays will offer a sunrise experience like no other.
Everything will kick off with the opening party on June 9th. There will be some huge takeover dates such as June 23rd when Lost Records take charge with key label acts and associates, including Huxley, Leftwing & Kody, Jey Kurmis, Michael Bibi and PAWSA. On July 7th, foremost English club EGG London take over and have Yousef, Subb-An and residents playing for them, while it's the turn of much loved London night WetYourSelf! who are at the helm on July 14th, when Pokerflat boss and underground veteran Steve Bug, SolidGrooves man Detlef, plus WYS! founder Jacob Husley play with SolidGrooves residents. They will also return for a second takeover event on August 4th when they bring Hot Flush techno titans, Dense & Pika, plus acclaimed underground star and Exit Records boss Boddika to play with Peter Pixzel and residents. Finally August 18th finds Lost Records back for a second time at Vista with Christoph, Leftwing & Kody, plus Hot Creations hit maker Denney and residents all set to skilfully back up the main acts.
The whole sensational season comes to a spectacular close on September 1st with Mobilee head honcho Anja Schneider, UK talents AudioJack, then one and only tech tastemaker Robert Dietz, plus the usual resident team. In between, guests like Spaniard Coyu from the Suara label plays June 16th with Beatport chart topper Dennis Cruz, house stars SecondCity play with Flashmob, VIVa's Detlef, tech titan Dennis Cruz and Cutting Edge Artists on the 30th June (then SecondCity play again on the 25th August) and Desolat and Cadenza star Robert Dietz brings his dark tech sound to the club with tough deep house men Dungeon Meat on July 21st when Reelow and Yaya also play. A week later on the 28th, another Cadenza star Reboot brings his loopy masterclass with Subb-An and Amsterdam's gangster techno producer ONNO, before August 11th finds Yousef back for a second bite of the cherry.