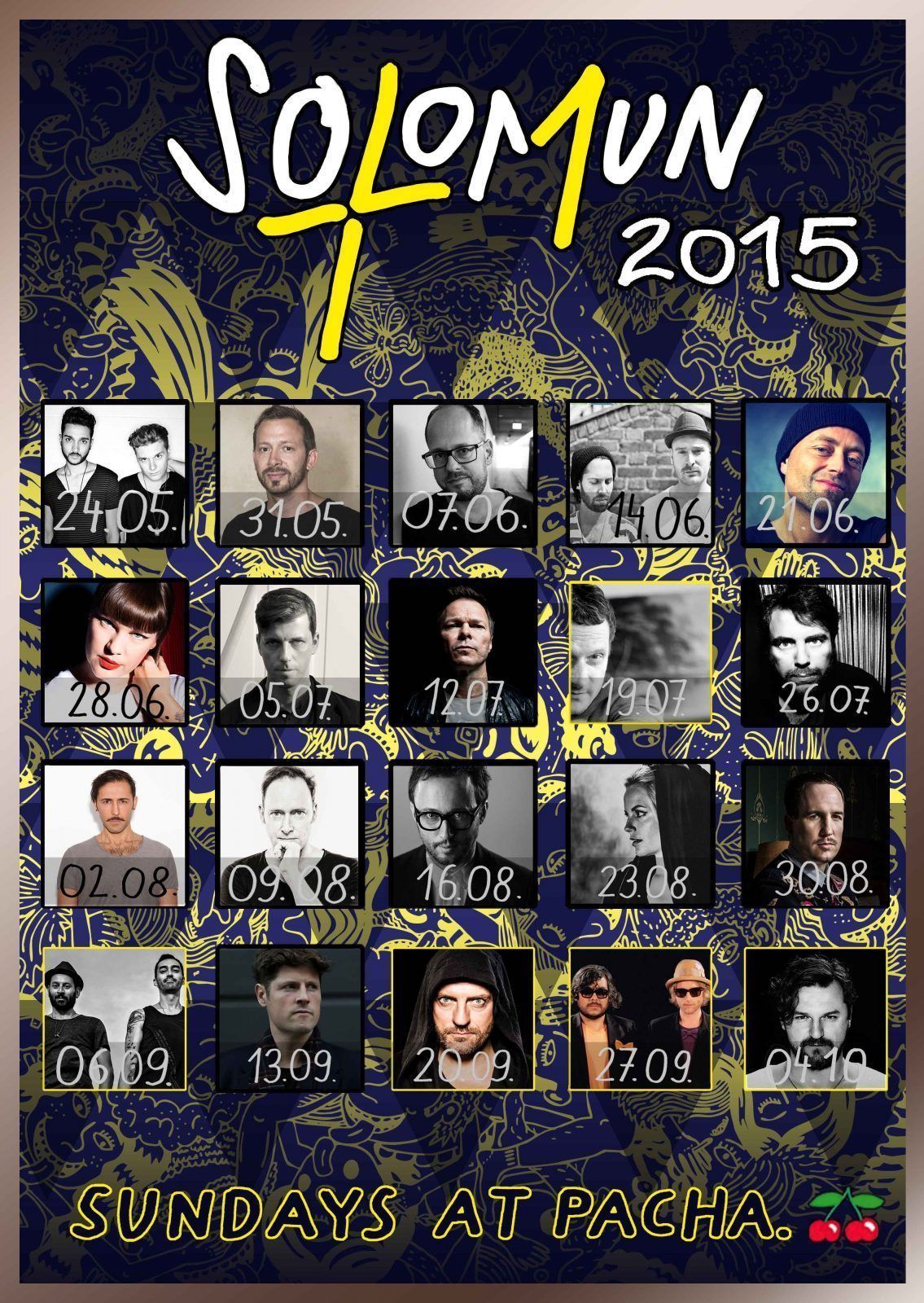 Solomun + 1 Announce Line Ups for Summer 2015
The big news Ibiza fans have been waiting for is now out of the bag… Solomun is coming back to Pacha once again for his weekly and record breaking Solomun +1 showcase. The Diynamic label boss has made the club his own in recent years, and will now be laying down regualr sets of high impact house and tech with a select few of his friends along for the ride. There will be huge star appearances, returning guests and plenty of debutants and they can all be revealed now…
The biggest and most pleasant surprise of all is that techno titan and party starter Sven Väth, who hasn't played at the club for 20 years, will be going Solomun for a very special party. This favour will be returned when Solomun plays for Sven's Monday Cocoon party earlier in the season.
As well as Sven, there will be visits from Kompakt heroes Pachanga Boys, who Solomun is very excited about playing with because they are such celebrated and excellent selectors.
As well as that, the new school likes of Life & Death boss DJ Tennis and Irish deep house star Mano Le Tough will also be playing the sensational +1 events this summer.
Returning to the famous club, which will once again be decked out especially for the Solomun + 1 shindigs, are stars like Diynamic's label regular H.O.S.H., plus Miss Kittin, classy house pair Ame and Dixon, all of whom have played with the big man before now, and proved huge successes, so it makes sense they are returning in 2015.
The whole season opens with leading Diynamic producers Adriatique, who have served up some of the labels biggest tracks in recent times, whilst Swiss Tamed Musiq label boss Ripperton, French techno craftsman Agoria, German Oliver Hunterman plus Cocoon producer and hit maker Butch, Compact label boss Michael Mayer, UK tech house duo Audiofly and Drumcode's techno misstress Ida Engberg are all making debuts for + 1 this year.
Sundays at Pacha
Solomun +
24.05 – Adriatique
31.05 – Ripperton
07.06 – Oliver Hunterman
14.06 – andhim
21.06 – H.O.S.H
28.06 – Miss Kitten
05.07 – Dixon
12.07 – Pete Tong
19.07 – DJ Koze
26.07 – DJ Tennis
02.08 – Butch
09.08 – Michael Mayer
16.08 – Agoria
23.08 – Ida Engberg
30.08 – Ame
06.09 – Audiofly
13.09 – Mano Le Tough
20.09 – Sven Vath
27.09 – Pachanga Boys
04.10 – Solomun All Night Long
https://www.facebook.com/SolomunMusic