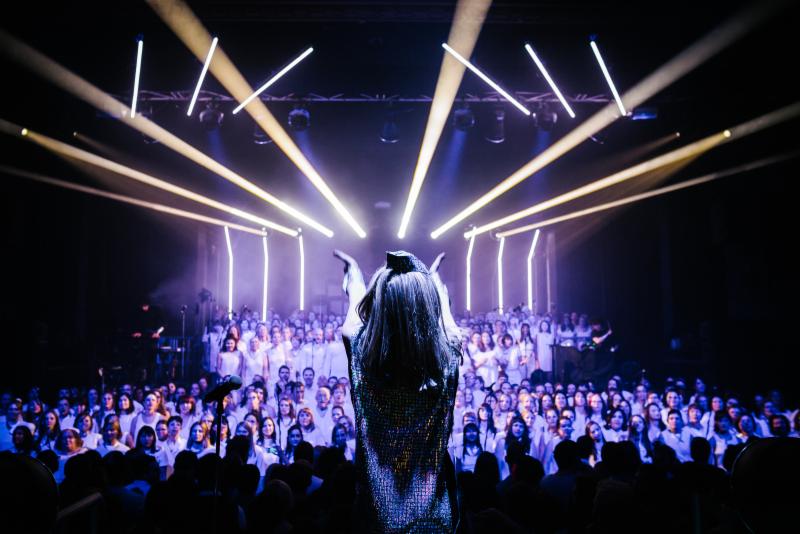 Some Voice Present Studio 54 at Printworks London
Bringing a truly unique immersive experience to London, contemporary choir Some Voices Presents Studio 54 at new cultural destination Printworks on Thursday 27th April 2017.
500 voices will unite to perform disco, soul and funk across multiple levels, as Printworks' colossal Press Halls are transformed into a disco hotbed complete with roller-skating, hula-hooping and glittering mirror balls, creating a fully immersive experience to honour 40 years since iconic NYC music institution Studio 54 first opened it's doors.
Musically directed by Laura Howe and Curtis Stansfield, Some Voices choir started out with just six members in 2010. Seven years down the line more than 500 singers are now part of an energetic and uplifting ensemble hailed as 'choir without the boring bits'. Sheet music is replaced with dance moves, choir robes with fashion frocks and church organs with keytars, as the choral movement put their distinctive twist on popular classics from the likes of Donna Summer, Earth Wind and Fire and Chic.
Legendary nightclub Studio 54 was at the beating heart of New York's social scene from 1977 to 1991. Famed for it's seductive revelry and glamorous clientele, the opulent discotheque played an intrinsic role in shaping the face of club culture as we know it today.
Some Voice Presents Studio 54 at Printworks will pay homage to this legacy and join-the-dots as Printworks Issue 001 transitions to to a vibrant calendar of cultural events taking shape for 2017.
19:00 – 23:00 | Thursday 27 April | Printworks London, SE16
www.printworkslondon.co.uk
Priority tickets go on sale at midday on Wednesday 22nd February, with general sale available from midday on Thursday 23rd. For priority access to tickets, register here.
REMAINING SERIES 001 LISTINGS
Saturday 18th February
MAYA JANE COLES & FRIENDS
ALAN FITZPATRICK | DANIEL AVERY | KIM ANN FOXMAN
MARIBOU STATE (DJ SET) | MAYA JANE COLES | MAX COOPER (LIVE)
WAX WINGS B2B ALINKA RATNER
Saturday 25th February
JUNCTION 2 PRESENTS
R1: ADAM BEYER ALL DAY LONG
R2: TRUESOUL: JOEL MULL | KEVIN OVER | RESET ROBOT
In association with Relentless & Mixmag
Saturday 4th March
THE HYDRA PRESENTS
DAPHNI | FLOATING POINTS (DJ SET) | GOLD PANDA | DOLAN BERGIN |
PLUS VERY SPECIAL GUEST TBA
Saturday 18th March
MELT FESTIVAL PRESENTS
R1: CHRIS LIEBING | JULIA GOVOR | KIASMOS (DJ SET) |
MIND AGAINST | RECONDITE (LIVE) | MORE TBA
R2: SUPERSTITION: TOMMY FOUR SEVEN | INIGO KENNEDY I TIJANA T I PATHWORKS | TAPEFEED VS PLEIADES |
FLAMINIA (LIVE) I OSSA DI MARE (LIVE)
Saturday 25th March
NINA KRAVIZ PRESENTS GALAXIID
NINA KRAVIZ
808 STATE (LIVE) | ALEKSI PERELA | BJARKI
DOPPLEREFFEKT (LIVE) | LUKE VIBERT | PTU
Saturday 1st April
KNEE DEEP IN LONDON
R1: HOT SINCE 82 | MATTHIAS TANZMANN | BUTCH | MATHIAS KADEN
MORE TBA
Friday 7th April
BOOKA SHADE LIVE IN CONCERT
GALAVY STREET ALBUM LAUNCH PARTY
Saturday 8th April
LUCIANO & FRIENDS
R1: LUCIANO | GUTI (LIVE) | ADAM SHELTON
R2: INTO THE WOODS: ALEX CELLER | SCOTT KEMP | KOLO & DYZE | TEREK CHARBONNIER | G. WALKER
Saturday 22nd April
THE HYDRA PRESENTS
DJ KOZE | MOTOR CITY DRUM ENSEMBLE | JEREMY UNDERGROUND
ANTAL | DOLAN BERGIN
Thursday 27 April
SOME VOICES PRESENTS STUDIO 54
Saturday 29th April
PAUL KALKBRENNER PRESENTS BACK TO THE FUTURE
PAUL KALKBRENNER (LIVE)
DJ PIERRE | DERRICK MAY | EXTRAWELT | SESSION VICTIM
Saturday 30th April
KLOCKWORKS
LINEUP TBA ON FEBRUARY 23RD
**TICKETS LIMITED TO 2,500 PER SHOW**
**TICKETS STARTING FROM £22.50**
www.facebook.com/Printworks-London
www.twitter.com/printworks_ldn
www.instagram.com/printworkslondon