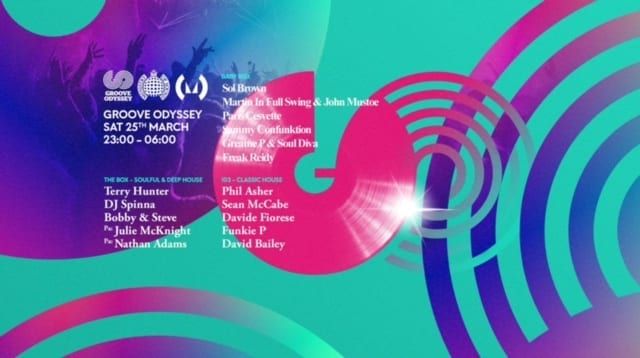 Groove Odyssey Return to Ministry Of Sound w/ Terry Hunter, DJ Spinna, Bobby & Steve and more
Groove Odyssey Return to Ministry Of Sound w/ Terry Hunter, DJ Spinna, Bobby & Steve and more
Groove Odyssey returns with our renowned quality soulful, deep, uplifting house music fused with disco classics, soul, rare groove, funk & boogie before we head off to Ibiza for our huge four-day summer event – Go Ibiza. Since 2009, Groove Odyssey has continued to curate some of the best musical showcases around and has become the leader of the pack when it comes to soulful house nights in London.
Groove Odyssey relentlessly brings together people of all ages and backgrounds united by their love of one great thing – real house music. Terry Hunter will be taking centre stage for Groove Odyssey on Saturday March 25th. With over 25 years of musical influence Terry has created a style of spinning that consists of collaborating great songs with a unique soulful presence which has enlightened his fans with his signature sound. Expanding his soulful house sound to new audiences, Terry produced Jennifer Hudson's 2014 Grammy-nominated smash, "It's Your World", as well as two songs—"I Will Survive" and "You Keep Me Hangin' On"—for Aretha Franklin's "Aretha Franklin Sings the Great Diva Songs" project.
DJ Spinna will be following up proceedings at Ministry of Sound. Turning heads throughout the industry, Spinna's sonics soon infiltrated numerous genres. Tapped by everyone from Mary J. Blige, to Motown Records for his brilliant Michael Jackson remix of "We're Almost There". Though it goes without saying his most memorable remix goes to his monumental version of Shaun Escoffery's "Days Like This", transforming it into a worldwide dance floor anthem. Which in turn, catapulted Spinna into his now stately touted presence in the soulful house music scene.
▬▬ LINEUP ▬▬
Box:
DJ Terry Hunter
DJ Spinna
Bobby&Steve
PA: Julie Mcknight
PA: Nathan Adams
103:
Phil Asher
Sean McCabe
David Fiorese
Funkie P
David Bailey
Baby box:
Sol Brown
Back In The Day
Paris Cesvette
Sammy Confunktion
Graeme P & Soul Diva
Freaky Reidy
Loft: Viva x CRFTD
Max Viva
Rory Verrill
Mic Mac
Braqs B2B Drewy
Folii
Yooks
Sartorial
PRICE
£12.50 – £30:00
WWW.GROOVEODYSSEY.COM
Facebook: https://www.facebook.com/grooveodyssey/
Soundcloud: https://soundcloud.com/grooveodysseyrecords
Soundcloud: https://soundcloud.com/grooveodyssey
Website: https://grooveodyssey.com/
Website: https://www.ministryofsound.com/
Twitter: https://twitter.com/GrooveOdyssey
Twitter: https://twitter.com/ministry_club