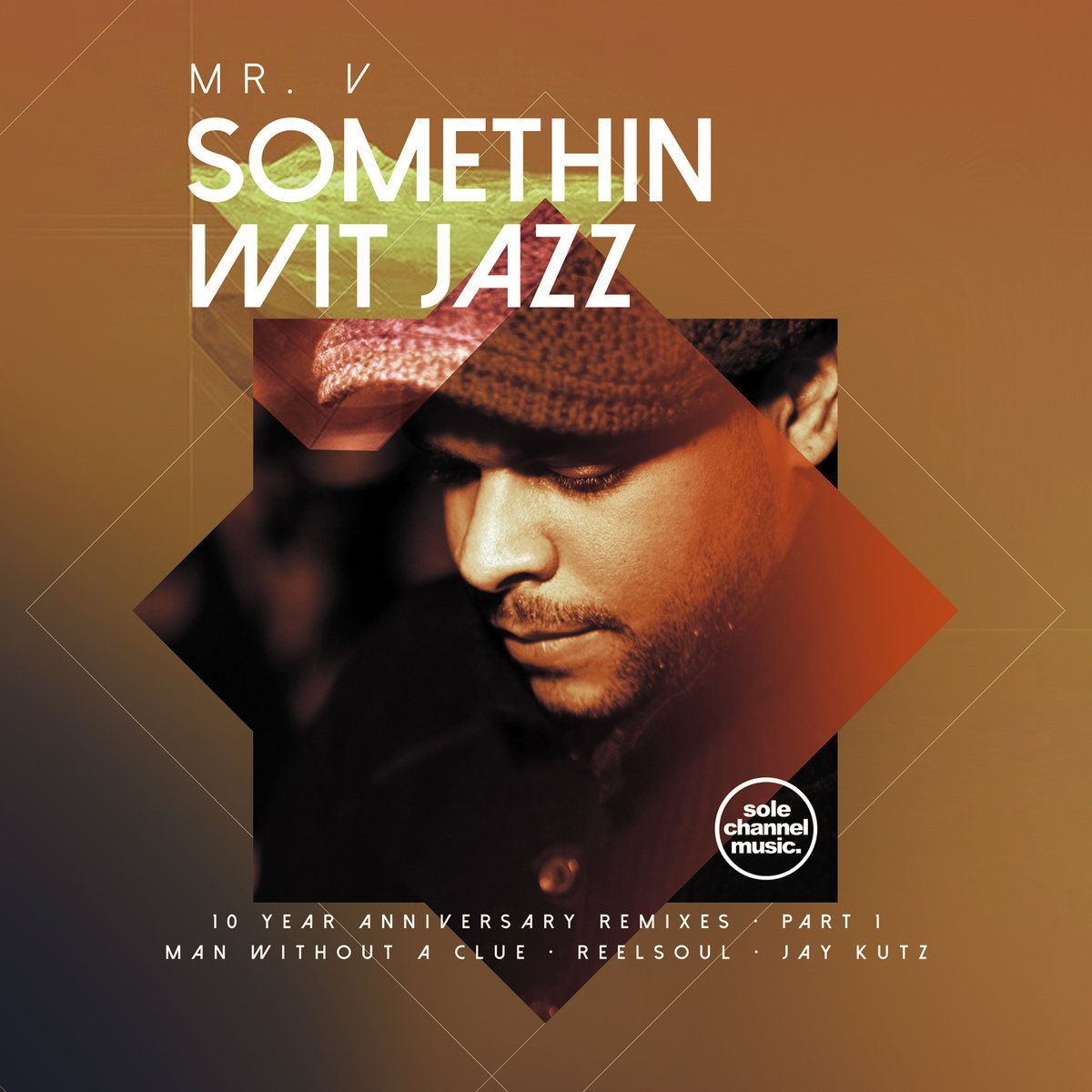 Mr V - Somethin Wit Jazz (10 Year Anniversary Remixes)
Somethin Wit Jazz (Ten Year Anniversary Remixes) – Mr V
Mr V is a Nuyorican producer, DJ and vocalist who lives every day with dance music in his heart and soul. Growing up in New York, and heavily influenced by genres such as Hip Hop, House, Latin, Garage, Rhythm and Blues, Jazz and Disco he immersed himself in the nightlife, and soon joined Louie Vega as an assistant at the world renowned Masters At Work label. Since then he has gone on to produce several hundred tracks, create his own label, and is in hot demand as a DJ, remixer and vocalist. When Mr V is on the decks he takes the audience through a wonderful journey of dance and rhythm, and has the rare gift of giving the dancer a sensory and physical experience with the magical sets that he creates.
Somethin Wit Jazz was first released in 2005 as part of the Dance Ritual Project on the Sole Channel label , and subsequently appeared on Mr V's Welcome Home album as well as the Bargrooves Bar Anthems album. The original version features a mesmerising and minimal jazzy vibe. Mr V's signature rhythmic rap-style vocals are confident, uplifting and intimate, encouraging the dancers to move their bodies and shake their booty. Anybody who has felt intoxicated by the vibes of a special tune will identify with the lyrics which are all about the joy of dancing and becoming one with the music.
The ten year anniversary remix package includes remixes from Man Without A Clue Jay Kutz and Reelsoul.
Dutch producer Man Without A Clue (real name – Alex van Der Meijden) has more than a decade's experience in the music business and has previously worked with the likes of Roger Sanchez and Kenny Dope. His remix complements the original with a heavier tech feel that is deeply hypnotic but still retains the four to the floor pulse of the track.
Jay Kutz (Jason Peralta) hails from New Jersey and focuses on quality House productions but also has an affinity with 90's Hip Hop, Melodic Trap, and RnB. Another variation on the traditional House backbeat, his version exhibits hints of film noir eeriness and deepness which give it a late night atmospheric vibe.
Talented Californian producer Reelsoul (Will Rodriquez) has been making waves worldwide since he started creating quality cuts back in the 90's. Will's 2016 rework is pacey, upbeat and bouncy, giving us a clever fusion of soulful jazz that has a carefree vibe running throughout. The brass elements are highlighted and there are touches of humour interlaced into the warmth of the track. Will also provides a keyapella and instrumental version.
This release of Somethin Wit Jazz is has a flavour to suit every mindset and will embrace every dancer on the floor, creating feelings and memories that will continue long after the music has ended.
SCM052 – Somethin Wit Jazz (Ten Year Anniversary Remixes) – Mr V – Sole Channel released May 2016 on Bandcamp.
https://solechannelmusic.bandcamp.com/album/mr-v-somethin-wit-jazz-10-year-anniversary-remixes-part-1