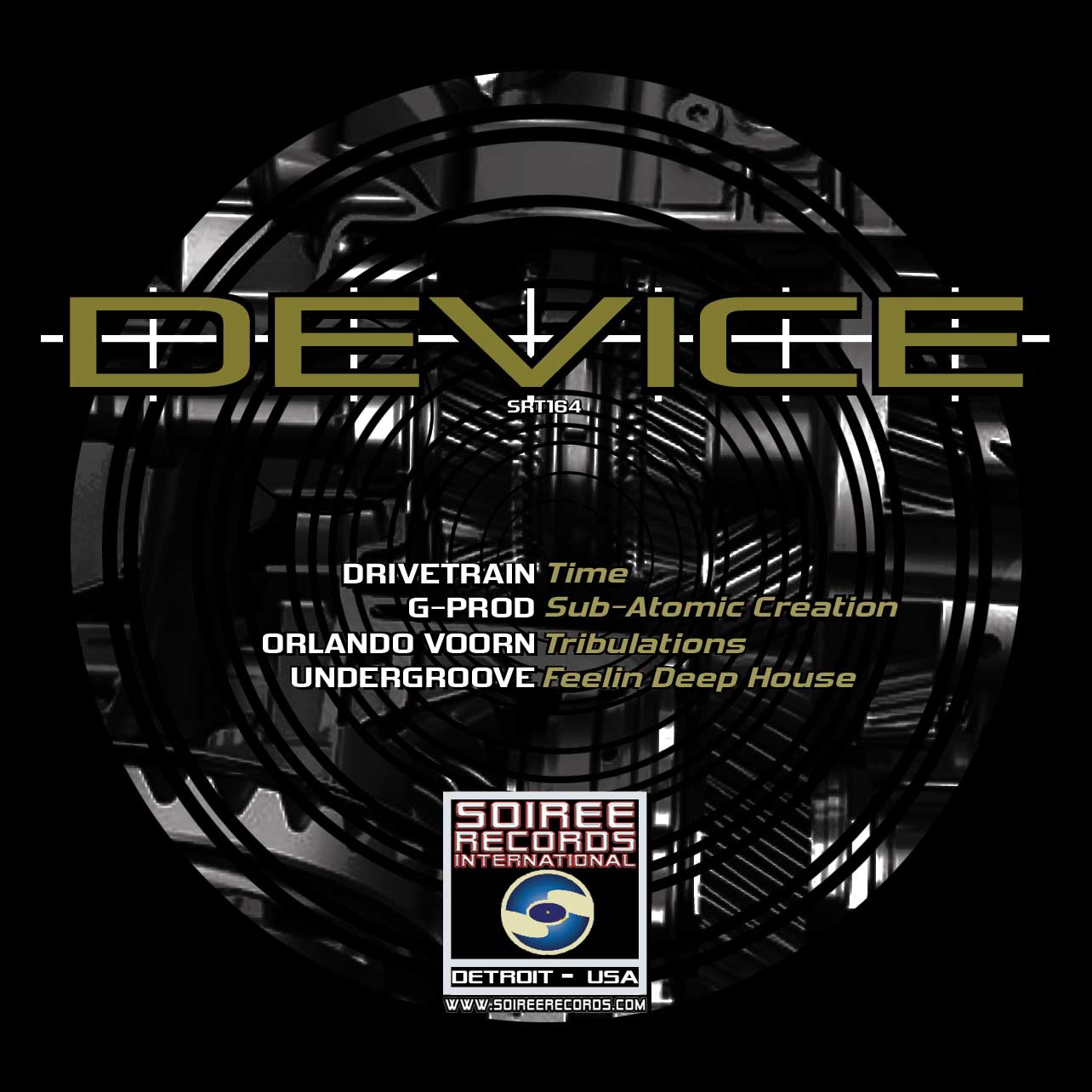 Various - Device EP
Device: A production elaborately designed to necessitate movement.
The next EP on Detroit's Soiree Records International takes a more Techno route with four new cuts when the USA, represented by Drivetrain and Orlando Voorn meets France, hosted by G-Prod and Undergroove.
On the A-Side Soiree's own Derrick Thompson is back under his Drivetrain moniker with 'Time'. This gritty opener exudes science with an impenetrable attitude. Derrick effortlessly transports an unrelenting sub-bass beneath stabs, filtered synths and mysteriously dark vocals. The second track, 'Sub-Atomic Creation' comes from French duo, G-Prod as the brothers Gaugain (David and Nicolas) enthral us once again with another sleek and polished late night excursion. Chopping chords piercing through rich, plush strings exemplify a signature technique.
The mighty Orlando Voorn makes a welcome appearance to open the B-Side with 'Tribulations' and with it, this accomplished techno warrior drops pure non-stop aggressive energy. A merciless kick and ruthless bass line propel the mechanical rhythmic turbulence of industrial strength tronic-fusion. Then finally it's back to L'Hexagone for the final groove from Undergroove. 'Feelin Deep House' is deep and enticing, featuring thick pads and seductive syncopation, this journey captivates from the introduction. Elegant and sophisticated, it's wrapped in dynamic detail.
Track List:
A1. Drivetrain – 'Time'
A2. G-Prod – 'Sub-Atomic Creation'
B1. Orlando Voorn – 'Tribulations'
B2. Undergroove – 'Feelin Deep House'
The 'Device EP' is released 13 June on Soiree Records International