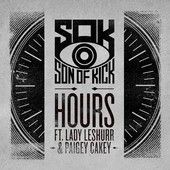 Son of Kick – Hours
Son Of Kick is not an artist who plays it safe. Following on from the mind-bending trap-rap hybrid 'Black Towel' ft. Metropolis of Foreign Beggars, Son Of Kick is ready to unleash yet another envelope-pushing, subwoofer-stressing slice of experimental heaven.
Featuring the vocal talents of both Lady Leshurr and Paigey Cakey 'Hours' draws you in with an infectious synth melody and grinding bass notes while furious bars batter you from all angles. As the tempo increases, so does your heart rate, you're pulled into a paranoid world of sonic assaults as Son Of Kick tests your limits before dropping down to a euphoric break that provides a brief moment to catch your breath before you're assailed again.
Undoubtedly challenging, 'Hours' is a testament to Son Of Kick's ability to break new ground without straying into self-indulgent territory. Never sacrificing his ability to hit hard on the dance floor, he's an artist who demands that we face the future and open ourselves up to new musical possibilities; an artist who deserves to be heard; an artist who refuses to play it safe, which is exactly what we need right now.