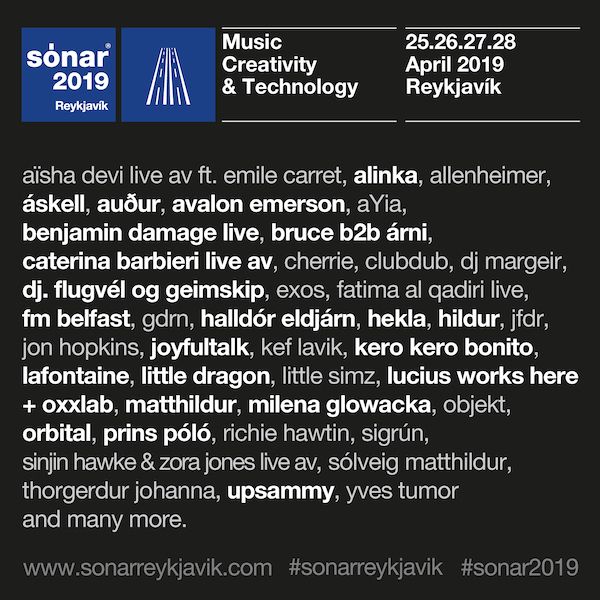 Sónar Reykjavík 2019 – Little Dragon, Orbital, Kero Kero Bonito, Avalon Emerson & more announced
The most Northerly outpost of the cutting edge Sónar Festival family, Sónar Reykjavik, returns to the atmospheric Icelandic capital from 25th – 27th April 2019.Freshly expanded to a three-day event, Sónar Reykjavik also introduces a new line-up of innovative A/V experimentation on the SónarComplex stage, showcasing special A/V shows from some of today's most innovative artists.

Joining previously announced headliner Richie Hawtin will be Swedish dreamy synth pop band Little Dragon and British dance legends Orbital. Alongside contemporaries such as Robyn and The Knife, Little Dragon have helped to push the boundaries and redefine electronic pop over their illustrious near-twenty year career, while brothers Phil & Paul Hartnoll are responsible for some of the most seminal electronic tracks of the last 25 years. Their live shows are unfailingly entertaining: celebratory showcases of their inimitable sound which blends rousing acid house, trance, techno, house, breakbeat and everything in between.
Undoubtedly the world's leading showcase for Icelandic electronic music in all its guises, this year Sónar Reykjavik will once again provide a global platform for some of the most exciting music to emerge from the country. Confirmed artists include electronic-pop four-piece FM Belfast; RBMA alumni and slick R&B producer Auður; 'intensely hued, unapologetically quirky and seriously spacey one-woman orchestra'Dj. Flugvél Og Geimskip, and Iceland's catchiest rising electro scandi-pop princessHildur.
Also announced today, Resident Advisor will be returning to the atmospheric basement car park to host a stage of altogether heavier and grittier sounds. Confirmed for the stage are leader of the techno new-school Avalon Emerson and British techno mainstay Benjamin Damage alongside previously announced artistsObjekt and Exos. Joining Hessle Audio regular (and creator of one of 2018's best techno albums) Bruce for the annual Icelandic B2B session will be Árni, a key figure in Iceland's bass scene and one of Reykjavik's biggest DJs.
Elsewhere, radically positive J-Pop inspired British pop trio Kero Kero Bonito will close the Red Bull Music stage on Saturday.
Sόnar Reykjavik will once again be located at the city's internationally renowned cultural hub Harpa. Just minutes away from the city centre, the striking, acoustically-optimised concert hall hosts the festival across four spaces. Red Bull Music will also be returning as partners, continuing their long standing support by hosting the SónarHall stage with Little Simz, Fatima Al Qadiri – Live, Yves Tumor, Cherrie, GDRN, JFDR and kef LAVIK.

Aside from its world class line-up and ultra-modern line-up, Sόnar Reykjavik'slocation makes it a highlight of the international festival circuit. Iceland is a destination like no other. Reykjavik offers a compact city, with an individualistic creative scene that informs everything from its hedonistic party vibes to its bold New Nordic cuisine. While Mount Esja provides a stunning cinematic backdrop toReykjavik, heading a short distance outside of the city centre offers some of the world's most beautiful sights including the shimmering Northern Lights and the awe-inspiring natural beauty of the Golden Circle. Where else can you start the day relaxing in a geothermal bath before listening to techno in the Harpa basement carpark?
ANNOUNCES MORE NAMES FOR 2019

LITTLE DRAGON (SE)
ORBITAL (UK)
KERO KERO BONITO (UK)
AVALON EMERSON (US)
FM BELFAST (IS)
BRUCE B2B ÁRNI (UK / IS)
CATERINA BARBIERI (IT)
BENJAMIN DAMAGE LIVE (UK)
PRINS POLO (IS)
AUÐUR (IS)
DJ. FLUGVÉL OG GEIMSKIP (IS) / JOYFULTALK (CA)
HILDUR (IS) / UPSAMMY (NL) / MATTHILDUR (IS) / HEKLA (IS) / ALINKA (US) / HALLDÓR ELDJÁRN (IS) / LUCIUS WORKS HERE + OXXLAB (ES) / ÁSKELL (IS) / MILENA GLOWACKA (PL) / LAFONTAINE (IS)