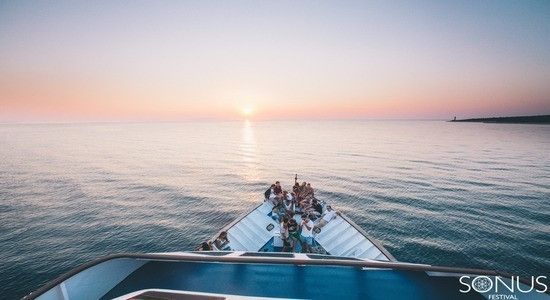 Sonus 2013 Roundup
Embedded in the beautiful surroundings of Croatia's hidden treasure Pag Island, Sonus Festival made a great impact on its first appearance and earned amazing feedback from both its 5000 visitors and artist alike.
"A magical moment, that we will carry on in our hearts forever" – these words, spoken by a festival guest from Italy, perfectly describes the experience that 5000 visitors from all over Europe shared between 21st and 25th of August 2013 on Croatia's party hotspot Pag Island. With focus lying on underground house and techno, Sonus brought a completely new kind of understatement to the Island. Headlined by Ricardo Villalobos, Loco Dice and Seth Troxler, Sonus Festival saw many of electronic music's key players like Cocoon, Desolat, Cadenza and of course Time Warp joining forces to make up a truly unique festival atmosphere. Unfortunately Luciano had to cancel his gig due to health issues.

The festival was held at Zrce Beach's well-known venues Papaya and Kalypso. While Papaya was the perfect place to create an epic main-stage atmosphere, Kalypso impressed clubbers with its intimate setting right next to the sea, with the sun rising directly behind the stage. This leaves visitors breathless especially in the morning hours. Another highlight were the six boat parties, all of them with different artists on board and combining open water with electronic music and the beautiful sunset, allowed the crowds to dance the twilight away in frenzy.
With their debut festival a resounding success, Sonus' promoters came to the very positive conclusion… "It was a completely new experience for all of us" says Robin Ebinger, head of marketing at Cosmopop. "We had to acclimatise on-site but we got along with that very quickly and it was a pleasure to work with all the local partners. The city of Novalja is a really friendly spot and offers various accommodation facilities close to the festival site. We were especially happy that our visitors really seized the combination of holiday, electronic music, nature and sea." Also Dalibor Zjacic found many positive words to say about the first Sonus edition: "It was simply amazing. We want to say Thank you to all our guests, our artists and of course our team"