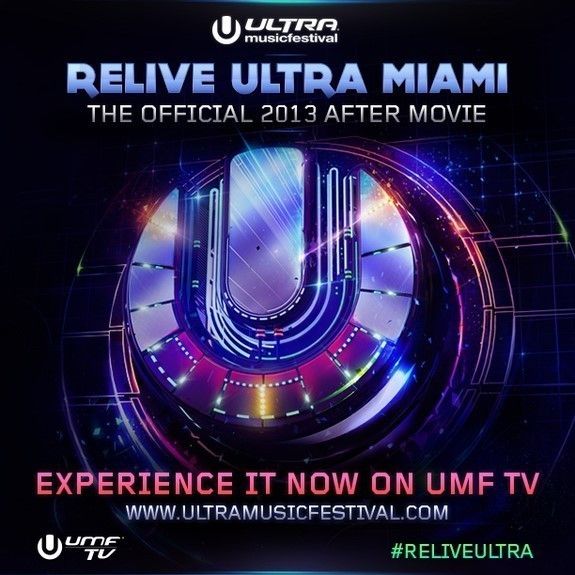 RELIVE ULTRA MIAMI 2013
The wait is finally over for Ultra fans worldwide as Charly Freidrichs – aka FINAL KID – and ULTRA MUSIC FESTIVAL unveil what is without question one of the most incredible festival after movies ever produced.

Directed, edited and mixed by Friedrichs himself, RELIVE ULTRA MIAMI 2013 is nothing short of a beautiful piece of audio-visual artwork. Not only does it perfectly capture the absolute essence of Ultra Music Festival's 15th anniversary, it also delves deep into the truly unique experiential journey that the World's Premiere Electronic Music Festival offers artists and fans alike.

"The 15th anniversary of Ultra Music Festival Miami earlier this year in March was truly an unprecedented success, and one I'll always remember. For the first time in not only our history, but the history of any major electronic music festival in the world, Ultra took place over two consecutive weekends, each one complete with the most diverse, captivating artist line up and mind-blowing stage production that we've ever produced. Charly's after-movie reflects this perfectly and I truly believe it is the very best of its kind. Never before have I seen such an emotive piece of festival filmwork, that captures the very essence of what it's like to take part in an event such as Ultra Music Festival", said Russell Faibisch, Ultra Music Festival Founder, Executive Producer, CEO & President.

Charly Friedrichs went on to comment;

"This has to be the best piece I have ever created. I have never before worked with so much amazing footage and I literally watched every second of it to pick only the most incredible shots. I don't think there is any music event in the world where the cinematography is at this level, and I am blessed to work with a team that has so much vision and talent", he said, referring to the 150-strong team that captured the inaugural double weekender in Miami, led by producers Robert Buisman and Constantijn van Duren.

Featuring exquisitely executed footage from the inaugural double-weekender in Miami – including the final ever show by the Swedish House Mafia; the mind-blowing production and magnitude of the newly designed Ultra Main Stage; the madness of the Ultra 'Megastructure', which featured custom arenas for Carl Cox & Friends and A State of Trance; and the epic journey that world-class talent and 330,000 'Ultranauts' all took to downtown Miami this past March – Friedrich's packs all of this and much more into a perfect 17 minute after-movie masterpiece. In capturing the massive production might that organizers promised and delivered for the 15thedition, all captured in full HD, it's the soundtrack that completes this effort, and that combined with what you see unfold will leave you teary-eyed and gasping for Ultra 16!

A stirring and emotive review of the most historic Ultra to date, and a reminder of what's going to come in 2014 in considering the festival's history in delivering more and more each year, RELIVE MIAMI 2013 is the perfect tribute to the world's most global festival brand – Ultra Music Festival.