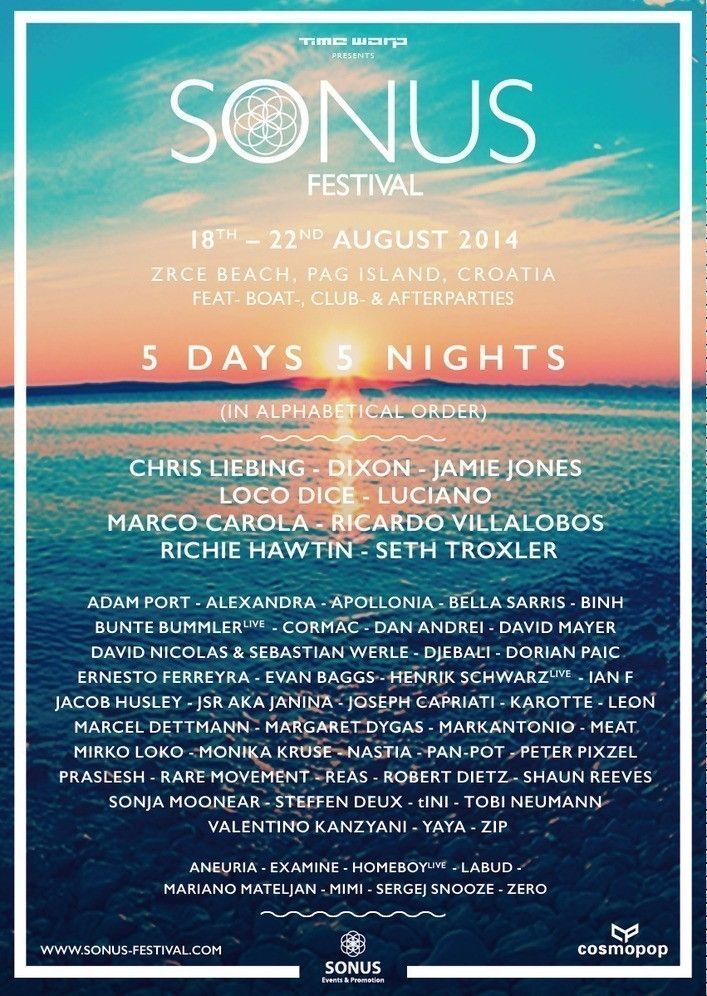 Sonus Festival 2014 announces full lineup
Time Warp's Croatia adventure Sonus Festival 2014 brings together an exciting lineup for its second Croatia outing, as it announces its full lineup for the Zrce Beach extravaganza.
Sonus Festival returns to Pag Island on August 18-22 for five days and five nights of techno's brightest stars as you've never seen them, with Dixon, Jamie Jones, Marco Corola, Ricardo Villalobos, Richie Hawtin and Seth Troxler among others joining Chris Liebing, Loco Dice, Luciano, as well as Monika Kruse, tINI and more representing a new underground direction for this year. Sonus Festival 2014 presents more than 50 international acts.

Here's the full lineup (in alphabetical order):
Chris Liebing – Dixon – Jamie Jones – Loco Dice – Luciano – Marco Carola – Ricardo Villalobos – Richie Hawtin – Seth Troxler
Adam Port – Alexandra – Apollonia – Bella Sarris – Binh – Bunte Bummler live – Cormac – Dan Andrei – David Mayer – David Nicolas & Sebastian Werle – Djebali – Dorian Paic – Ernesto Ferreyra – Evan Baggs – Henrik Schwarz live – Ian F – Jacob Husley – JSR AKA Janina – Joseph Capriati – Karotte – Leon – Marcel Dettmann – Margaret Dygas – Markantonio – Meat – Mirko Loko – Monika Kruse – Nastia – Pan-Pot – Peter Pixzel – Praslesh – Rare Movement – Reas – Robert Dietz – Shaun Reeves – Sonja Moonear – Steffen Deux – tINI – Tobi Neumann – Valentino Kanzyani – Yaya – Zip
Aneuria – Examine – Homeboy live – Labud – Mariano Mateljan – Mimi – Sergej Snooze – Zero
Sonus Festival is located at Zrce Beach on Pag Island, croatia's renowned party spot. The closest city is Novalja, and the party is presented across two on-site venue Club Papaya and Kalypso Club as well as beach parties that extend the sun-kissed vibe, and boat parties that tour the stunning coastal line. Zadar is the closest airport, while Split and Zagreb are also within a shuttle ride away. Check out sonus-festival.com/how-to-get-there/index_eng.html for details.
Tickets are €129 (just over £100) and are available now at sonus-festival.com/tickets/index_eng.html.
In Sonus we trust.
Time Warp presents
Sonus Festival 2014
August 18-22
Zrce Beach, Pag Island, Croatia
www.sonus-festival.com/
www.facebook.com/sonusfestival
www.facebook.com/events/1392974910948953/