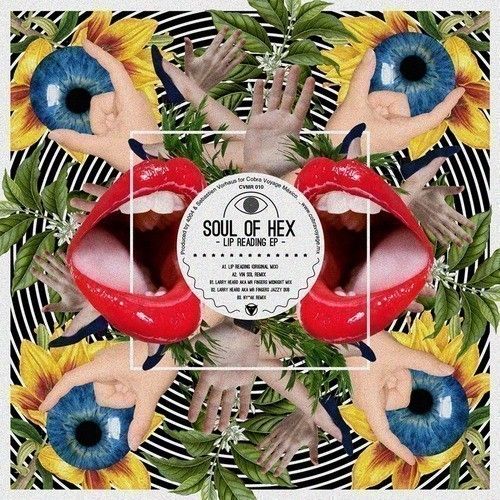 Soul Of Hex – Lip Reading
This October will see Mexico City's leading CVMR imprint release the 'Lip Reading' EP from Soul Of Hex, backed with two remixes from Larry Heard aka Mr. Fingers, and two more courtesy of Vin Sol and Ny*Ak.
Tijuana, Mexico based artists 4004 & Sebastien Vornhaus launch their exciting new project (with guest appearances by Berlin-based Albert Vogt), entitled Soul Of Hex. Between them the duo can boast material on the likes of MCDE, Quintessentials and their own Vicario Musique, the new project which has already seen huge support from Larry Heard (leading to the remixes on this package), is a multi-instrumentalist live and visual show showcasing their newly formed, sophisticated house sound.
Kicking things off is the original mix of 'Lip Reading' from Soul Of Hex, a gritty, low-slung house number employing Juno bass hooks, warm blossoming pad melodies and bumpy organic percussion to form the hypnotic and understated opening cut.
Following are the two mixes from House veteran Larry Heard aka Mr. Fingers, the first of which Heard's 'Jazzy Dub Remix', showcases the striking production style that he's so highly praised for, as the name would suggest embracing a jazz-tinged aesthetic, while retaining the warmth and charm of the original track. Following is the second offering from Heard, the 'Midnight Remix', taking on a darker, more atmospheric aesthetic with this mix bringing the cosseting melodies and rugged bass to forefront.
Closing the release is two more takes on 'Lip Reading', first up is the Vin Sol Remix, which strips things back to a percussive led state, bringing organic rhythms into prominence while the soft pads flutter away in the depths of the background. Ny*Ak then rounds things off with this interpretation, dropping the tempo and generating a rawer edge with the production, as loosely programmed drums and evolving jazz licks intricately flourish over the track's seven and a half minute duration.
Soul Of Hex 'Lip Reading' EP is out on CVMR 14th October 2014.