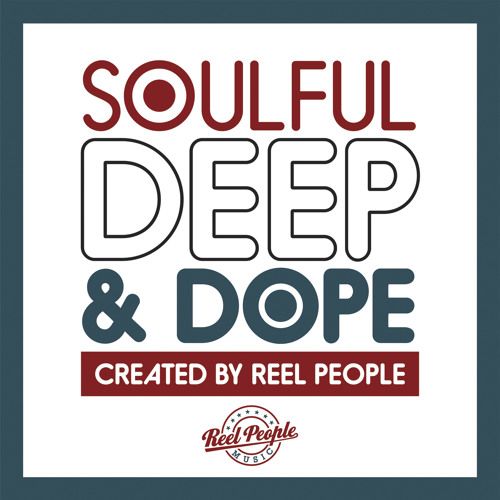 Created by Reel People - Soulful, Deep & Dope
One of the UK's best loved independent imprints, Reel People Music, continue to push their love and passion for all things Soulful as they get set to launch an exciting new compilation series 'Soulful, Deep & Dope'. The first instalment is selected and mixed by label boss Reel People (aka Oli Lazarus) and features a stunning collection of Reel People Music gems and uplifting grooves from other top label peers including Night People, GoGo Music, Peppermint Jam, Rhemi Music and more. The digital version is made up of 29 gorgeous slabs of Soulfulness and complimented with a superb 75 minute DJ mix by Reel People. There will also be a collectable Ltd Edition 12 track CD version released too.
"I am very excited to be kicking off this new series on Reel People Music. Soulful Deep & Dope has allowed me to put together a selection of music that i'm really feeling that has had 'Feel Good Factor' stamped all over it." – Oli Lazarus (Reel People)
'Soulful, Deep & Dope' crosses all genres between Nu-Disco to Deep & Soulful House and beyond! It features exciting cuts like the Nu-Disco Boogie vibes of Eli Escobar – 'Seein You' and Reel People's stunning rework of Eloni Yawn 'No Excuses', through toJoey Negro's classic Garage remix of Portia Monique 'Never Give You Up' and recent club favourite 'Diamond' by Rhemi feat. Hanlei. There is also some peak time dance floor heat courtesy of Dario D'Attis and his remix of Urban Sound Lab feat. Ursula Rucker 'Be Gone' and also Drop Out Orchestra feat. Yvette 'I Got It (H.I.M.W.O.L Remix)'. Also thrown into the pot are a couple of Soulful classics including, Cunnie Williams 'Spirit (MAW Mix)' and the DJ Spinna favourite feat. Selan 'Back 2 U (The Realm Remix). The track listing features some of the best artists the genre has to offer including Ralf GUM, Omar, Gwen McCrae, Opolopo, Julian Gomes, Andreas Saag, MdCL, The Layabouts, Frankie Feliciano, Tony Momrelle, Imaani, Liquideep and of course the homegrown musical heavyweight that is Reel People.
'Soulful, Deep & Dope' CD Version Track Listing
1. Eloni Yawn feat. Paris Toon & Mother's Favorite Child – No Excuses (Reel People Rework)
2. Eli Escobar – Seein You
3. Ferry Ultra feat. Gwen McCrae – Let Me Do My Thang (Opolopo Remix)
4. Real Deep feat. Jaidene Veda & MdCL – You Got This (Real Deep Vocal Mix)
5. Reel People feat. Omar – Outta Love (Souled Bootelg Mix)
6. Urban Sound Lab feat. Terrance Downs – Karma (Opolopo Remix)
7. Cunnie Williams – Spirit (MAW Mix)
8. The Layabouts feat. Omar – As Long As You Believe (Jullian Gomes Remix)
9. Drop Out Orchestra feat. Yvette – I Got It (H.I.M.W.O.L Remix)
10. Rhemi feat. Hanlei – Diamond (Original Mix)
11. Portia Monique – Never Give You Up (Joey Negro Extended Mix)
12. Tyrone Lee – Get My Life Back (DJ Spinna's Galactic Soul Mix)
Soulful, Dope & Deep will be released on September 18th 2015 on Reel People Music.