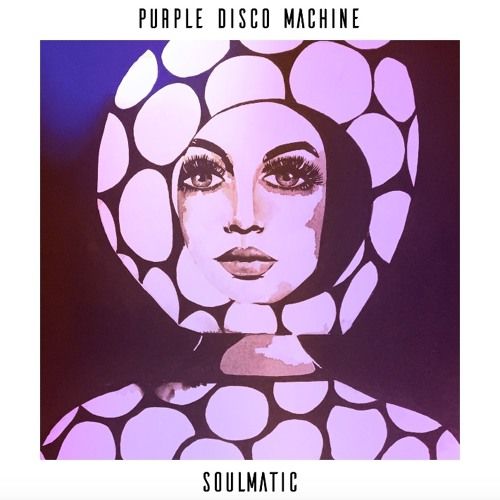 Purple Disco Machine - Soulmatic LP
On 20th October 2017 one of world's leading disco house artists Purple Disco Machine is set to deliver his highly anticipated debut LP, 'Soulmatic', via Australian tastemaker label, Sweat It Out.
Tino Piontek aka Purple Disco Machine has been shaking up the world of dance music since the 2009 conception of his highly successful disco house project. Over the years, the Dresden-born artist has racked up numerous accolades and achievements including ranking #18 in Beatport's all-time Top 100 artists chart, releasing on labels such as Defected, OFF Recordings, Club Sweat and Spinnin' Deep plus amassing a mouth-watering remix résumé of A-list artists such as; Jamiroquai, Gorillaz, Two Door Cinema Club, New Order, Claptone, Tom Odell, Faithless, Shapeshifters, Hercules & Love Affair and Sigma Ft. Paloma Faith.
With all of this success and experience under his belt, the time has come for the talented German to release his much awaited 13-track debut long-player,'Soulmatic' – comprising of a stellar collection of tracks that touches on all aspects of disco from traditional disco house grooves, through to funk, soul, boogie, nu disco and indie dance jams, all masterfully showcasing Purple Disco Machine's own unique sound whilst also giving a nod to past legends such as; Chic, D-Train and Patrick Cowley plus modern contemporaries like Daft Punk, Todd Terje and Tuxedo.
The album's impressive opener 'Music In You (Ft. Lorenz Rhode)' takes the listener on a mesmerising funk-fuelled journey of vocoded vocals, funky beats and an outstanding lead synth solo. The LP continues with an abundance of electronic masterpieces including; the album's chart-topping Sylvester and Hot Streak sampling warm-up single 'Body Funk', the uplifting House gem 'Love For Days (Feat. Karen Harding)' with Boris D'lugosch and the album's infectious official first single 'Devil In Me' which incorporates a catchy vocal over PDM's club classic 'My House', co-written by​ ​Duane Harden (from Armand Van Helden's 1999 club classic, 'You Don't Know Me') and sung by the UK-based ​​Joe Killington.
Other highlights include; the Daft Punk inspired 'Pray For Me' which has been co-produced with Australia's Bag Raiders and features the distinctive vocals of the world-renowned American soul singer CeeLo Green, the upbeat funky disco workout worthy of the hallowed dancefloor of the Paradise Garage 'Play', the lush sounding 80s-esque 'Take It Easy (Ft. Crush Club)', the album's instrumental title track 'Soulmatic' and the 'Mistress (Ft. Hannah Williams)', the euphoric epic classic house tour de force.
The album concludes with three enthralling cuts such as; 'Let The Music Play' which was co-produced and co-written by the pioneering UK-based dance group Faithless, the Hip-House nugget 'Memphis Jam' which features the legendary US rapper Kool Keith and the super smooth Tuxedo esque closing number 'Encore (Ft. Baxter)'.
Overall, 'Soulmatic' is a very uplifting and entertaining listening experience, ideal for both club and home environments, that's been extremely well executed by one of dance music's much loved and in form artists. A debut long-player to be proud of.
'Soulmatic' is available on 20th October via Sweat It Out.
TRACKLIST
01. Purple Disco Machine – Music In You (Ft. Lorenz Rhode)
02. Purple Disco Machine – Body Funk
03. Purple Disco Machine & Boris Dlugosch – Love For Days (Ft. Karen Harding)
04. Purple Disco Machine – Pray For Me (Ft. CeeLo Green)
05. Purple Disco Machine – Devil In Me (Ft. Joe Killington & Duane Harden)
06. Purple Disco Machine – Play
07. Purple Disco Machine – Take It Easy (Ft. Crush Club)
08. Purple Disco Machine – Soulmatic
09. Purple Disco Machine – Mistress (Ft. Hannah Williams)
10. Purple Disco Machine – Falling Down (Ft. Ella)
11. Purple Disco Machine & Faithless – Let The Music Play
12. Purple Disco Machine – Memphis Jam (Ft. Kool Keith)
13. Purple Disco Machine – Encore (Ft. Baxter)
FIND PURPLE DISCO MACHINE ONLINE:
https://twitter.com/PurpleDiscoM
https://www.facebook.com/purplediscomachine
https://soundcloud.com/purplediscomachine
FIND SWEAT IT OUT ONLINE:
http://www.sweatitoutmusic.com
https://www.facebook.com/sweatitout
https://twitter.com/sweatitoutmusic
https://pro.beatport.com/label/sweat-it-out!/9418