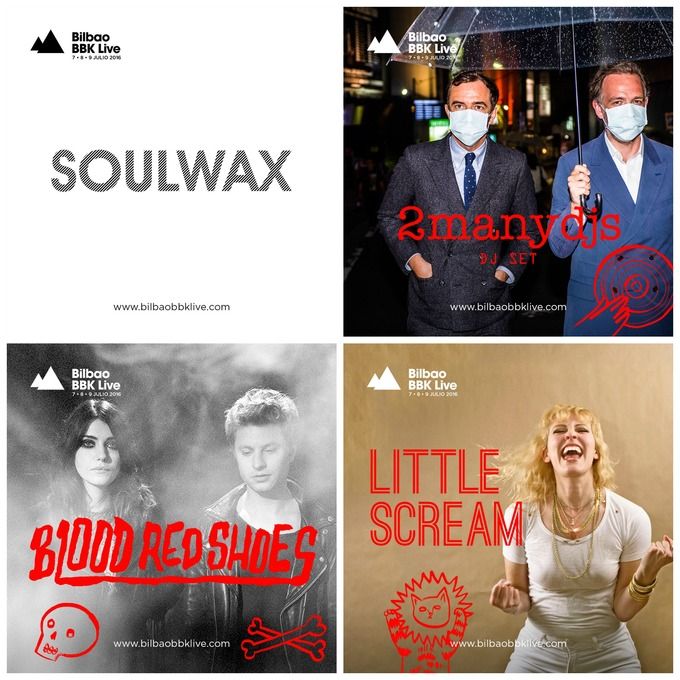 Soulwax, 2manydjs, Blood Red Shoes and more for Bilbao BBK Live 2016.
Bilbao BBK Live are excited to welcome electro legends Soulwax, 2manydjs, Brighton duo Blood Red Shoes, singer-songwriter Little Scream, and Leon Benavente to their already jam-packed 2016 lineup.
Since the 90's few groups have had as big an impact on electro as Belgian pioneers Soulwax. Whether it's the infectious dance punk provided by them when in full band or the Dewaele brothers' expert DJing under their 2manydjs moniker they are rightly a go to act for everything from huge remixes to even huger festival slots. Bilbao BBK Live proudly welcomes both iterations of the group to this year's lineup and with Soulwax having released their first LP in seven years last month and 2manydjs' seemingly bottomless record bag in typically great form, both acts are unmissable additions to the festival.
As Blood Red Shoes, the duo of Laura-Mary Carter and Steven Ansell are responsible for some of the most vital and dynamic indie rock of the last decade. With a new album on the horizon their stomping two-pronged guitar and drum attack is not to be missed at this year's festival.
Laurel Sprengelmeyer, better known by her stage name Little Scream has become one of the key figures in Montreal's indie music scene and received praise from the likes of Arcade Fire's Richard Parry who went on to co-produce her debut album 'The Golden Record' in 2011. Having just joined Merge Records, if new singles 'Love as a Weapon' and 'Someone Will Notice' are anything to go by, her new LP on the way for 2016 is certainly going to be worth the wait and we're thrilled to have her on board for this years festival.
Also joining the lineup are Spanish supergroup Leon Benavente and with their second album '2' due for release in April, Bilbao BBK Live are excited for their show for 2016!
Set upon the stunning Kobetamendi Hill Bilbao BBK Live combines breathtaking views across the city and beautiful, golden, sandy beaches, with some of the best and most exciting artists worldwide. The 2016 edition is set to be the festival's biggest and best year to date offering the perfect holiday-festival fusion. Tickets, priced at £93.00 + bf are available now at www.bilbaobbklive.com.
LINE-UP
July 7
Arcade Fire / New Order / M83 / Chvrches / Hot Chip / Years & Years / Blood Red Shoes / Hola A Todo El Mundo / Hidrogennese / Little Scream / Rural Zombies / Begiz Begi
July 8
Pixies / Underworld / Grimes / Love of Lesbian / José González / Junior Boys / Slaves / Blossoms / Belako / Nudorzurdo / WAS / C. Tangana / Inheaven / Green Class
July 9
Foals / Tame Impala / Editors / Father John Misty / Soulwax / 2mandjs's dj set / Courtney Barnett / Wolf Alice / Jagwar Ma / Triángulo de Amor bizarro / Leon Benavente / Yellow Big Machine
+more acts TBA
TICKETS
General Admission 3-Day Ticket from £93.00 GBP +BF
General Admission 3-Day Ticket + Camping from £100.50 GBP +BF
Book now at bilbaobbklive.com/en-us/tickets
Connect
Website bilbaobbklive.com
Facebook facebook.com/bilbaobbklive
Twitter twitter.com/bilbaobbkliveen
Spotify spotify.com/user/bilbaobbklive
Instagram instagram.com/bilbaobbklive