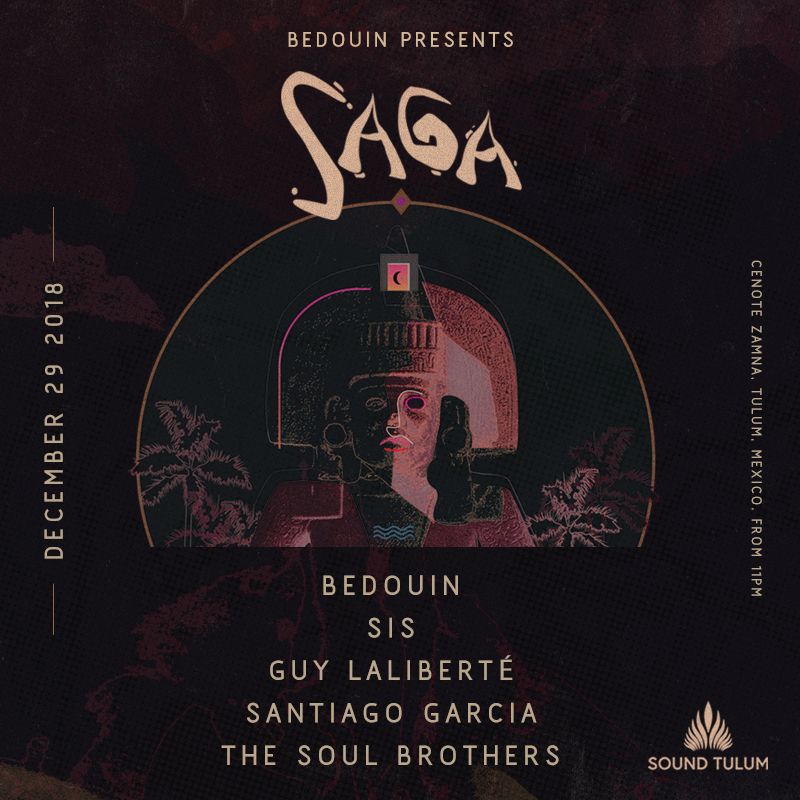 Sound Tulum reveals SAGA's complete line-up
Sound Tulum reveals opening party lineup with BEDOUIN presents SAGA
Sound Tulum is pleased to announce the full lineup for the festival's Opening Party hosted by Bedouin as they present their renowned international series, SAGA. With the much-loved DJ duo at the helm, Bedouin will be joined by SAGA favorites SIS, Guy Laliberté, Santiago Garcia and The Soul Brothers to kick off the festivities on Saturday, December 29.
As dancefloor leaders of the deeply emotive tech sound they're now synonymous with, Bedouin's rapid ascent is as much thanks to their love of melodic deep grooves, percussive beats and instrumental sounds as it is to their hugely successful SAGA residency in Ibiza, which earned them the accolade of Mixmag's Best Breakthrough DJs of 2017.
The SAGA journey continues fittingly in the jungles of Tulum as Bedouin are joined by Crosstown Rebels signee SIS, Cirque du Soleil founder and emotive deep house DJ Guy Laliberté, Innervisions favorite Santiago Garcia, and Mexico's own ethereal beatmakers The Soul Brothers. Presenting a blend of the underground's finest international and local talent with signature custom visuals, art installations, soft lighting and animated performances, SAGA is designed to inspire participation by engaging those with a shared passion for spellbinding melody and emotional connection.
Sound Tulum's second edition takes place December 29, 2018 to January 13, 2019.
Tickets are on sale now via http://bit.ly/SagaSoundTulum.