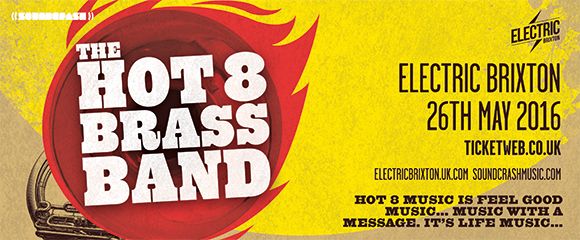 Soundcrash Music presents: Hot 8 Brass Band at Electric Brixton
An extraordinary, raw and funky brass band from the streets of New Orleans. The Hot 8 are famous for playing all day in the sun, then hopping to a club gig and playing through the night. But even more than their boundless energy, what makes them special are the sounds they coax from their well-loved, well-worn horns. Just listen to their recordings for a sampling of the rich harmonies and the magical, sweet tone that make it impossible to mistake this band for any other.
Since signing for Soundcrash favourites Tru Thoughts in 2007, Hot 8 Brass Band attracted a phenomenal buzz in the UK, recording a Maida Vale session for Gilles Peterson's show on BBC Radio 1, laying down tracks with Basement Jaxx and tearing up festivals up and down the country.
Hot 8 Brass Band have always believed in contributing to their culture by playing in traditional Second Line parades, expressions of freedom and community through music and interaction. They have earned a great reputation on the streets, with seemingly boundless work ethic and energy: Hot 8 have been known to pack in nine shows in a single day.
For a full list of shows coming up please visit: http://electricbrixton.uk.com/events