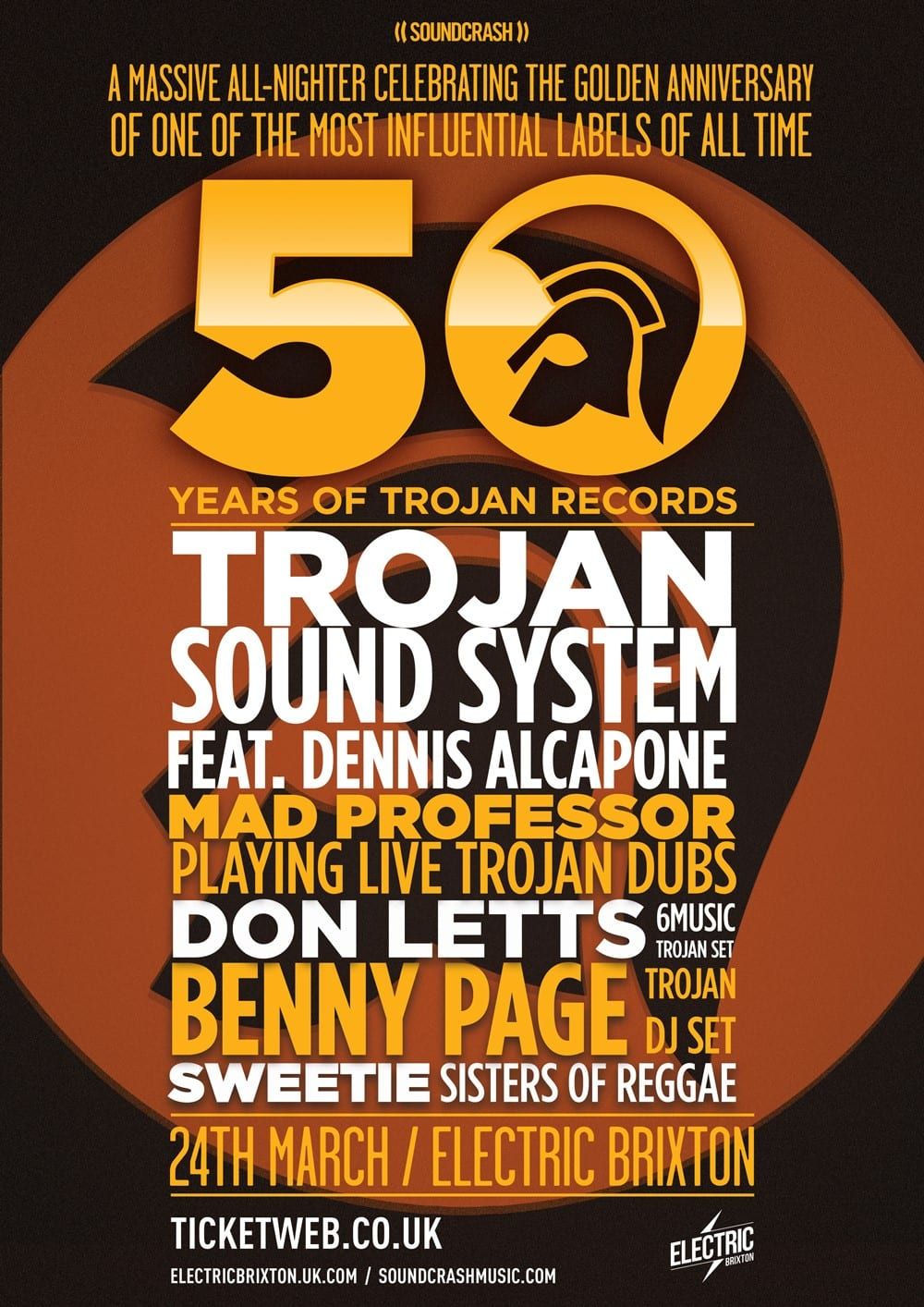 Soundcrash Presents 50 Years of Trojan Records
Massive all nighter celebrating the Golden Anniversary of one of the most influential labels of all time
Trojan Records, home to the best artists in ska, rocksteady, reggae and dub music, is turning 50 and they, along with the mighty Trojan Sound System, Dennis Alcapone, Mad Professor, Don Letts, Benny Page, and Sweetie, celebrate this monumental achievement at Electric Brixton on 24 March.
Known back in the day for introducing reggae to a global audience with the likes of Desmond Dekker, the Maytals and Bob & Marcia, Trojan Records are still the untouchable torch bearers for Jamaican and world music in the UK.
Their presence in the music industry is tangible, and their artists have gone down in music history.
Formed in 2004, London based Trojan Sound System are an institution in Sound System culture and have toured the globe to spread their message of love and unity through the power of ska, rocksteady, roots reggae, dub, dancehall and UK bass music.
Dennis Alcapone, one of the original DJs, is a true veteran of reggae and dancehall. With a career spanning decades, his appearance list reads like a who's who of reggae, and with Alcapone manning the tables, expect the dance floor to come alive under the addictive sounds of skanking guitars, driving bass, and singable tunes.
Mad Professor has collaborated with a dizzying amount of notable artists, including reggae artists such as Lee "Scratch" Perry, Sly and Robbie, Pato Banton, and Jah Shaka – and that's only naming a few. His skills are unmatched and his sets are always on point.
BBC6 Music's very own Don Letts was known in the late 70's as the DJ that single handedly turned a whole generation of punks onto reggae. Guaranteed to bang out the best of the best in both old and new tunes from the genre, it's impossible to keep still during one of his sets.
Benny Page, master of Jungle, will take the reins on heart-pounding, floor shaking, downright dirty tunes that'll have you living and breathing rapid fire drum breaks and sweet hooks.
Finally, this earth shattering night of reggae, jungle, ska, dancehall, and dub will end withSweetie from Sisters of Reggae, known for pulling out ska, rocksteady, reggae, revival, roots and early digital reggae bangers from the 80s and 90s.
Tickets are available now.
Listings info:
Soundcrash presents
50 Years of Trojan Records
Trojan Sound system
Dennis Alcapone
Mad Professor
Don Letts (6music Trojan set)
Benny Page (Trojan DJ set)
Sweetie (Sisters of reggae)
24 March 2018
Electric Brixton
10.30pm-4am
18+
Tickets :
https://www.ticketweb.uk/event/50-years-of-trojan-records-electric-brixt…