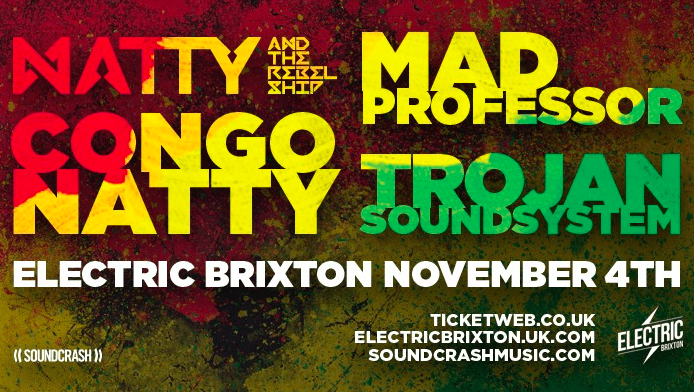 Soundcrash Presents Congo Natty
Soundcrash presents a night of jungle, roots, bass and reggae with huge performances from Congo Natty, Natty, Mad Professor, Trojan Soundsystem and Subajah all in one place for one night only on Friday 4th November, at Electric Brixton.
Jungle pioneer Congo Natty, the unmistakable troubadour of bass music who lives and breathes the genre will take you on a nostalgic trip through the ages. Expect blood and fire, the sternum-buzz of sub-bass, rapid-fire drum breaks, sweet hooks, righteous anger and professions of religious fervour when he returns to South London.
London's very own Natty will be taking us on a journey through love, redemption, self-identity and unity as he performs hits from his recent album 'Release the Fear', as well as classic material.
Described by the Telegraph as a "soul-reggae crossover sensation", Natty is an artist who brings the revolutionary spirit of the 60s and 70s into current times. A seriously talented force who has been building his own unique brand, independently releasing an award-winning EP, setting up his record label Vibes & Pressure and running a monthly club night by the same name, he is very active on the live music circuit so expect big things as he graces the Electric Brixton stage.
The promising line up transposes to the digital age with performances on the night from the iconic man himself Mad Professor. Known as one of the leading producers in dub reggae's second generation, he started to make a name for himself outside of the reggae community, and soon found himself in demand as a remixer for rock, r&b, and electronica acts.
Trojan Sound System, an institution in British Sound System culture, are also on the bill. Formed in 2004, the legendary team of selectors, vocalists and MCs relentlessly tour the globe, promoting a strictly vinyl way of life. They'll be bringing nothing but good vibes, spreading a message of reggae healing.
Rounding things off will be the positive meditations of Subajah, a musician who wandered through the musical doors of London on a mission to instigate laidback tides of music, a progression that has seen him join Natty's Vibe and Pressure collective as well as creating the Subajah Family, his own collective that ensures all musicians of the same mentality can join his conquest towards creating constant good vibes.
"The British artist is a creative mind that doesn't bother about drawers or labels – his music explores the depths of emotions and expressive possibilities " – ReggaeVille on Natty
"Congo Natty always brings confrontational or cultural elements to set the context of the tracks" – The Wire
"Mad Professor's Ariwa Sounds stable is a veritable institution of British reggae." FACT Mag
"The group has transcended British music whilst infiltrating the club scene, successfully making reggae and dub relevant in an age of aggressive beats and violent sensibilities." Dummy Mag on Trojan Sound System
Prepare yourself for a night of pure old school reggae and soul entertainment. Don't miss out!!