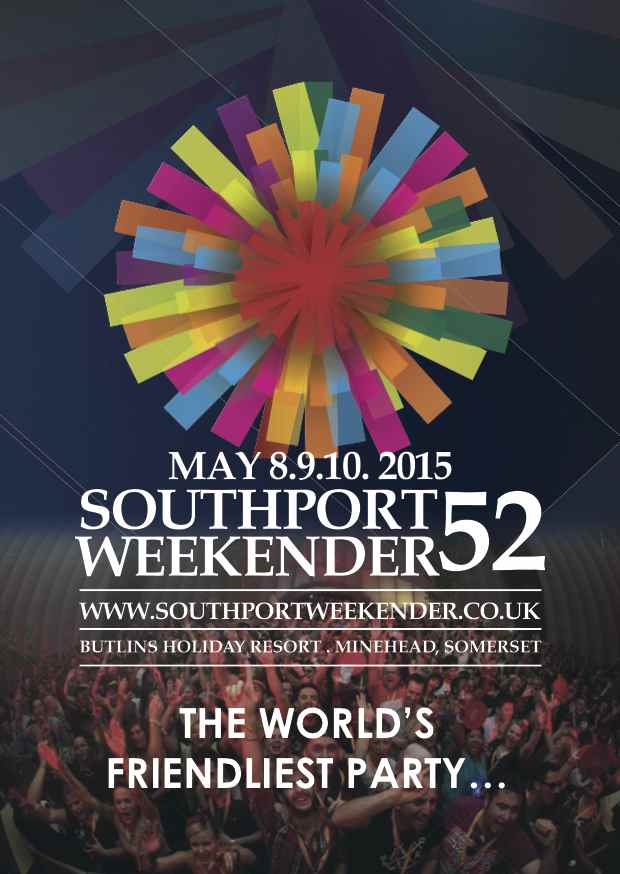 Southport Weekender – Full line-up revealed
With only two weeks to go until Southport Weekender 52, excitement has reached unprecedented levels as the festival reveal the full class of 2015 set to join them for one final blowout at Butlins, Minehead from 8 – 10th May. New additions include live performances from leading music maestros Peven Everett, and Kenya, plus sets from Dennis Ferrer, Richy Ahmed, Paul Trouble Anderson, John Morales and Spoony.

In Peven Everett, Cecilia Stalin and Kenya, the festival boasts an extraordinary range of decorated live acts, demonstrating both the reach and appeal of Southport Weekender. Responsible for providing the vocals in arguably one of the greatest dance music records of all time, 'Gabrielle' – a collaboration with the legendary Roy Davis Jr – Peven Everett has been dubbed as one of the finest songwriters of his generation, with the ability to cross genres from rhythm & blues, soul, funk, rap and contemporary house sounds. Adding to an incredible offering of female vocalists at this year's festival, Southport Weekender will welcome Swedish songstress Cecilia Stalin and the joyful Kenya SoulSinger.

Live house-music group Tortured Soul will also be on hand to inject plenty of fun into Southport's celebratory finale, alongside Los Angeles based The Rebirth – a seven-piece band that combine influences from traditional soul, hip-hop, jazz and funk. Rounding off the live-act additions is the iconic Michael Watford, whose instantly recognisable gospel-influenced vocals graced countless records during dance music's golden years, from 'Luv-4-2' to 'Michael's Prayer' to 'Holdin' On' – and perfectly encapsulates Southport Weekender's festival ethos.

Adding to an already stellar DJ cast will be the iconic Dennis Ferrer. A consistent and visionary force in electronic music, Ferrer's influence has been instrumental in shaping not only the dance landscape, but also the careers of a whole host of contemporary artists. Hot Creations stalwart Richy Ahmed will also join Dennis hot off the back of 2014's 'Sneaky Acid', while influential former Kiss DJ Paul Trouble Anderson – himself a regular feature at Southport Weekender over the years – will play a fitting final set. Former BBC Radio 1 DJ Spoony and disco-funk aficionado John Morales will complete the line up alongside DJ Cash Money, DJ Swerve, Diggz, Mr Burnz, Wayne C McDonald, Bigger, JP and Mad Mats, who will round proceedings off at the last ever Southport Weekender.

With the festival close to selling out, a small number of cabins remain for what is sure to be a send-off for the history books.