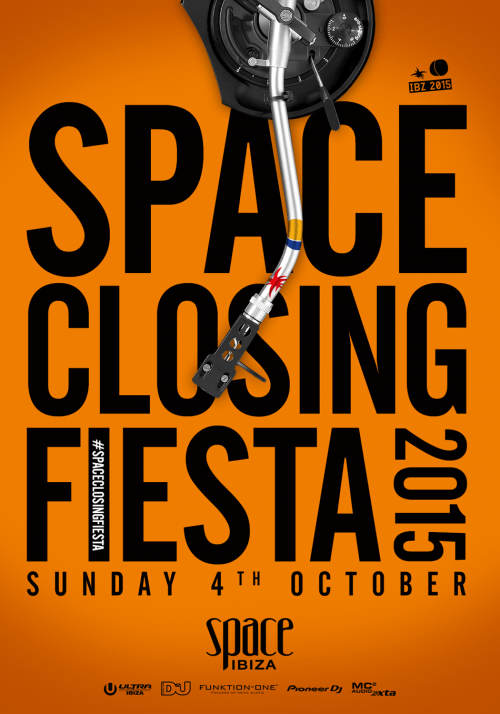 Space Closing Fiesta 2015: the final countdown
The expectation for the party that marks the end of summer in Ibiza begins: Space Closing Fiesta 2015. As it is tradition in the White Island for 26 years already, thousands of people will gather again to say goodbye to the Ibizan season while enjoying an amazing line up and the spectacular production that defines the best club in the world. In short, an exciting bomb of sensations that will explode on Sunday October 4th at the most special Space Closing Fiesta of recent years.
The Space Closing Fiesta 2015 is preceded by a massive opening and a very successful season. The new parties of RAW CHANGE, Glitterbox and Vagabundos have been very well received by the pubic, while the veteran residencies Carl Cox Music Is Revolution, ENTER., elrow-Kehakuma and Clandestin pres. Full On Ibiza keep leading their respective nights in Ibiza. We're sure that the most representative names of the season will constitute the line-up of this interesting farewell.
For this Space Closing Fiesta, six areas will be opened, including the favorite stage by the attendees: the outdoor zone located in the rear of the club, which will be hosted by Ultra Ibiza, representing the largest independent brand and world's most successful electronic music festival. This charismatic outdoor area that only opens during the Openings and Closings; and exceptionally during the last anniversary, will be the first to open at 4:30 in the afternoon. In addition, the world's biggest electronic music magazine DJ Mag will host the Main Room getting the most out of it. And, on top of that, elrow will bring their personal touch of color, madness and fun at the Sunset Terrace. El Salón and the Premiere Etage will also be open to complete the 6 different rooms offered at the Space Closing Fiesta. The Funktion One sound system and a spectacular stage production will be other aspects to note about this event that should be experienced at least once in a lifetime.
What better way to say goodbye to a season full of good times than dancing together for more than 20 hours at Space Ibiza. The line up will be announced soon. See you on October 4th at the Space Closing Fiesta 2015!
You can buy now your tickets for the Space Closing Fiesta 2015 on Space Ibiza website.