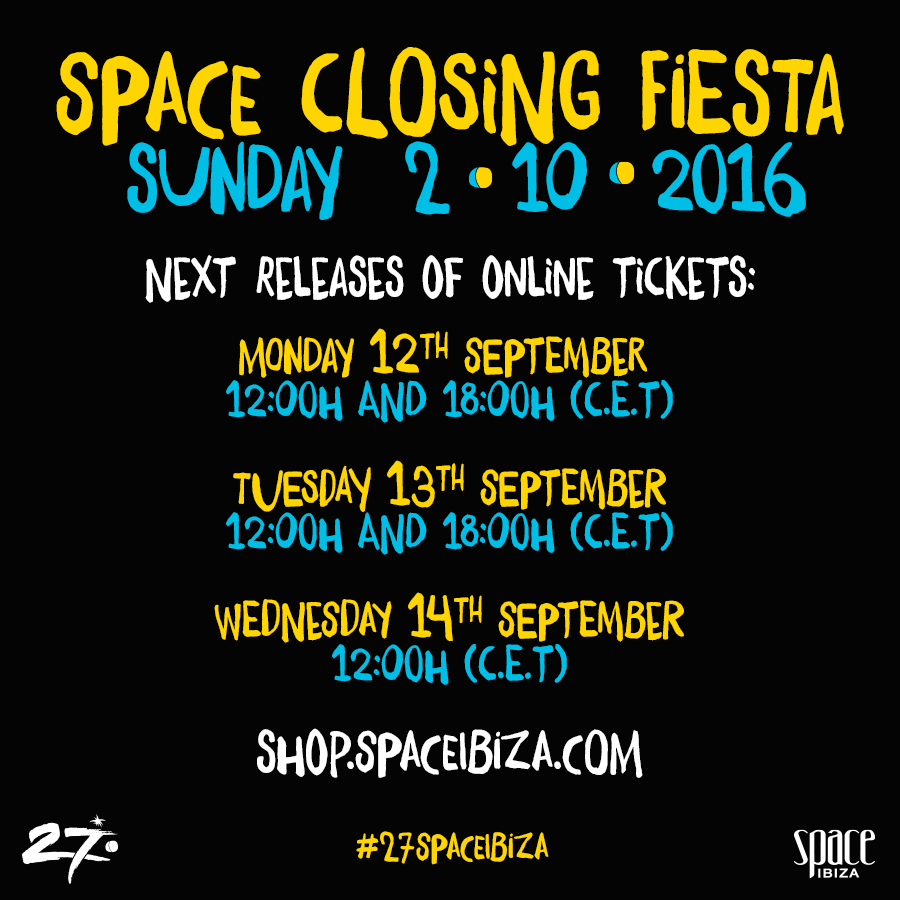 SPACE CLOSING FIESTA – OFFICIAL ANNOUNCEMENT
The world's DJs and clubbing community unite in a final show that will mark the end of an incredible era in dance music history.

Without hyperbole, this without doubt will be THE party of the decade at the world's best club.

DJs confirmed in alphabetical order:

Aleksia, Alex P, Alfredo, Andy Baxter, Anja Schneider, Anna Tur, Aphotek, Bastian Bux, Blackhall and Bookless, Brandon Block, Bruno From Ibiza, Bushwacka!, Camilo Franco, Carl Cox, Charlise N Chaplin, Clara Da Costa, Daniel Klein, Danny Serrano, Darius Syrossian, David Morales, David Moreno, De la Swing, DJ Oliver, DJ Pippi, Eats Everything, Edu Imbernon, Eddy M, Elio Riso, Federico Grazzini, Francisco Allendes, Iban Mendoza, Igor Marijuan, James Zabiela, Jason Bye, Javi Bora, Jesse Rose, John Acquaviva, Jon Rundell, Jonathan Ulysses, Josh Wink, Juan Gomez, Kaleshy, Kopanos, Kölsch, Los Suruba, Maceo Plex, Mambo Brothers, Marc Maya, Mark Brown, Mark Knight, Mind Against, Moy Santana, Nick Fanciulli, Nilo R, Oscar Colorado, Paul Reynolds, Pepo Lanzoni, Rad Damon, Rafa de Siria, Ramon Castells, Rebeka Brown, Remo, Roger Sanchez, Sam Divine, Sasha, Smokin Jo, Somne, Stefano Noferini, Steve Bug, Tale Of Us, Technasia, Toni Moreno, Toni Varga, Uner, Valentin Huedo, Wally Lopez, Yaya, Yousef.

AND MANY MANY MANY MORE…

In 1989, When Pepe Rosello, the founder and owner of Space Ibiza, first took the control of Space Ibiza, it seemed a crazy idea. Perhaps it was. Playa d'en Bossa was a place aimed at family tourism, a far away cry from the nightlife established in other areas of the island.

That year, in Ibiza, a new a definitive venue was to be established to serve a purpose, it was to be a place that from its very conception would offer a different musical, sensorial and hedonistic experience to any other club.

Ten years after its birth, Space Ibiza became one of the worlds first super clubs, setting the standard for sound production and being the place where the best emerging DJs of the time would be found playing records behind the bar. Carl Cox, Erick Morillo and David Morales at the beginning of their careers. This was also the year that the terrace became a crutial part of its history and in 1999 the English club brand "Home" negotiated with Pepe to take part in Space's Sundays establishing the day as the club's strongest days.

Thus, Sundays in Ibiza were born in to legend and so began the 22 hours marathons, from 8am on Sunday to 6am on Monday, where the club hosted an incredible day-night festival as never seen before on the island.

Over the years, Space has become the most awarded worldwide, receiving awards until this last year (Best Club in the World – DJ Mag 2016). Numerous clubbers, year after year, come religiously to Space from all over the world. And It is well known that the season in Ibiza starts with the opening of the club, and similarly, the season on the island ends when the club closes its doors.

Now the final moment has arrived, this really is it. A time of absolute emotion and joy, tinged with a little sadness. it is time to celebrate the 27 years of ground breaking music and its contribution to three decades of youth and DJ culture .

2nd OCTOBER 2016 – SPACE CLOSING FIESTA

Come celebrate the end of an era – tickets will be limited so please act fast and secure your place to make clubbing history.