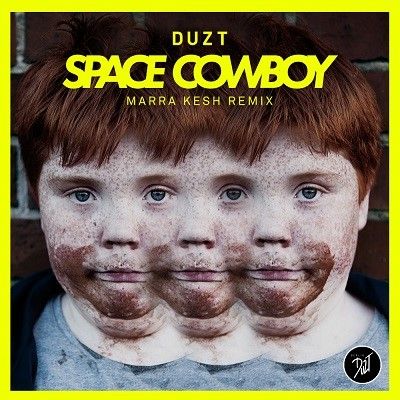 DUZT - Space Cowboy (Marra Kesh Rmx)
A fresh new artist emerging from Berlin's prolific electronic scene, singer/songwriter DUZT is set to release his debut single 'Space Cowboy' via Berlin DUZT this August.

Although inspired by artists such as Drake, Frank Ocean, James Blake and Michael Jackson, DUZT gives his music a unique DNA and soundboard. Easing in with a mellow beat, the track develops from dubstep bass and future glitches into a catchy, up-tempo refrain. Although a wide vocal range is maintained throughout, the decelerating bridge particularly showcases DUZT's vocal prowess. Demonstrating flawless song writing abilities, 'Space Cowboy' is the perfect balance of electro and future R&B, a combination he describes as 'milk and honey or movies and popcorn'.

Already peaking at #14 on the Music Week Urban Club Chart, 'Space Cowboy' has remained on thechart for 7 consecutive weeks to date. With its broad appeal, the single has also been remixed by DJ/Producer Marra Kesh, whose portfolio includes work with Universal Music, Warner and Sony, as well as inclusions in the Top 20 of the International DJ Top 100 Charts, and German production duo Interzoo. Whilst Marra Kesh's deepens the bass and slows down the pace, erring to a darker side reminiscent of the early works of The Weeknd, the remix by Interzoo ups both the tempo and synths to create a more high energy feel.

Whilst his music speaks volumes, DUZT chooses to remain in the shadows. Representing the boundless sound of the current era, he blends elements from several genres, including pop, electronic, contemporary R&B and dubstep, to create a dynamic sound experience.

Accompanying the single is a quirky music video, directed by Berlin-based film director and photographer Lennart Brede. Drawing on his work in the worlds of art, film, commercials, music and fashion, Brede's creative eye explores the issues of human emotions and identity in the single's lyrics in an outlandish and unique way that poignantly complements DUZT's style. There is also an alternative video for the Marra Kesh Remix, fitting to its slower pace and darker tone.

Currently in the studio with his production team working on a debut album to follow 'Space Cowboy', clearly DUZT is only just getting started.