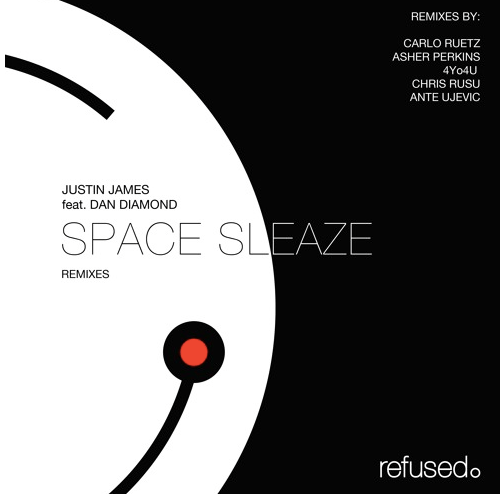 Justin James feat. Dan Diamond - Space Sleaze (Remixes)
December 8th, 2015 Justin James released Space Sleaze on his own refused. imprint, which featured vocals from Toronto local Dan Diamond. The Original Space Sleaze begins with heavy, thumping bass that hits you directly in the chest. The record comes full circle, ending just as it had begun with small gasps of breath and relentless, thumping bass.
Following this release Justin James has put together a 5-track remixes package, which takes Space Sleaze in new directions, with alluring remixes by Carlo Ruetz (Minus), Asher Perkins (Minus, refused.), 4Yo4U (Minus, refused.), Chris Rusu (SCI+TEC, refused.), and Ante Ujevic (refused.) The EP features five versions of the original dark, groovy excursion featuring hypnotic and seducing vocals from artist Dan Diamond, known for his provocative monologue on Peace Division's classic "Club Therapy."
First up, Carlo Ruetz strips down Space Sleaze to emphasize a dark, minimal, industrial techno tone while the vocal sample remains clear and pronounced. The elements in Ruetz's remix make for an excellent track to work with on the decks. Asher Perkins manipulates Dan Diamonds vocals in his remix by deepening the voice which expresses a darkness in Space Sleaze. The Twinkling percussions send the listener into a deep trance. Moscow techno quartet 4Yo4U plays with hi's and playful effects to give their remix a unique adventure. Many elements come in and out throughout the track and and fill this remix with surprise and allure. American producer Chris Rusu picks up the pace with his heavier techno adaptation of Justin's Space Sleaze. The bassline rumbles, and pieces of the vocals loop in and out of the track. Lastly, Ante Ujevic gets bass heavy with his remix adding industrial and a subdue bassline.