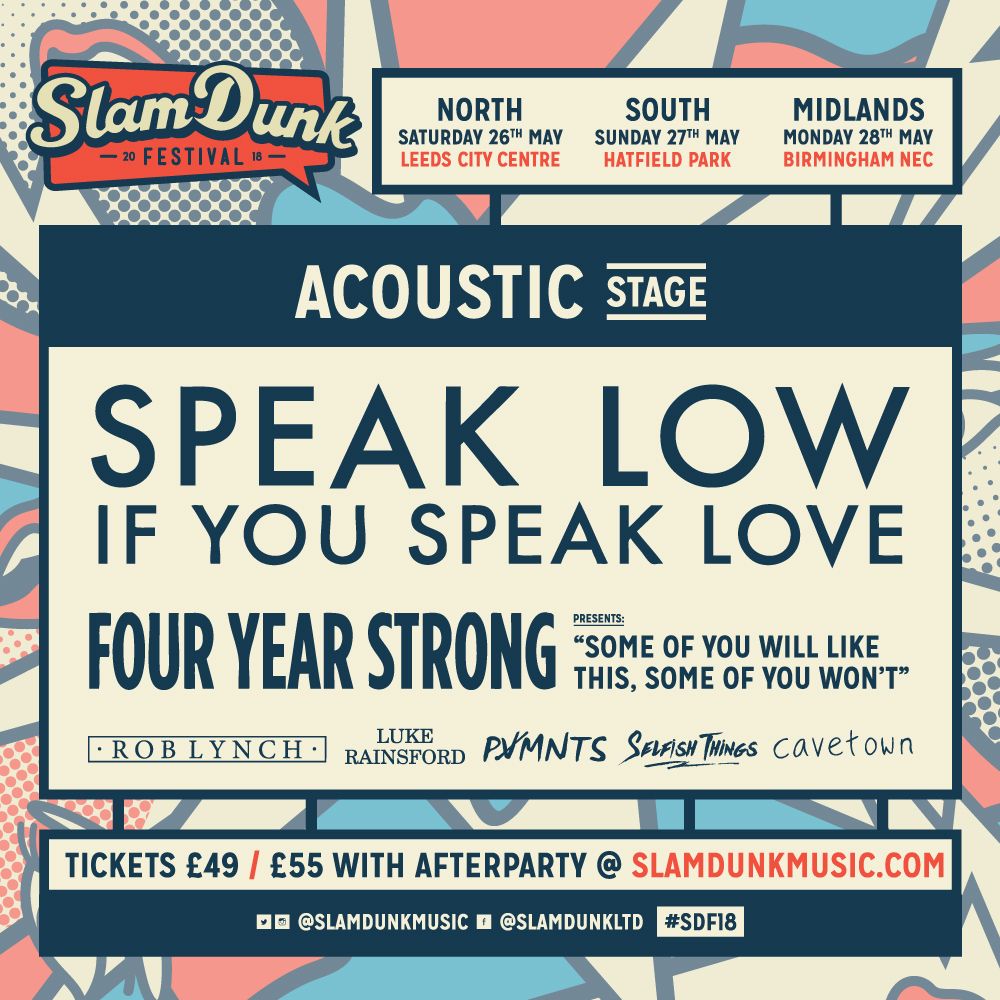 Speak Low If You Speak Love To Lead Wave Of Names For Slam Dunk Festival Acoustic Stage!
In yet another amazing lineup announcement, Slam Dunk Festival are pleased to reveal the details of this year's acoustic stage where Speak Low If You Speak Love, Four Year Strong Presents: Some Of You Will Like This, Some of You Won't, Rob Lynch, Luke Rainsford, PVMNTS, Selfish Things and Cavetown will all be making hotly tipped unplugged appearances at Leeds, Hatfield and Birmingham all over the May Bank Holiday weekend.
Revealed as the acoustic stage headliner, State Champs' beloved bassist Ryan Scott Graham will be bringing his stripped back project Speak Low If You Speak Love to Slam Dunk Festival, following State Champs appearance earlier in the day. Following the release of sophomore LP Nearsighted in early January, the hauntingly heartbreaking solo performance will be sure to attract an attentive crowd, eager to witness the electro-tinged acoustic spectacle.
Previously announced Slam Dunk Festival legends, Four Year Strong have confirmed that they will be making another appearance at this year's festival as they settle in to host Four Year Strong Presents: Some Of You Will Like This, Some Of You Won't – the live performance of their cherished acoustic album of the same name. Promising the very best unplugged favourites, originals and unheard rarities, this spectacle will be a highly regarded set for any die-hard pop-punk fan!
Known for putting a fresh twist on alternative folk and creating heartfelt crowd pleasers,Rob Lynch will be returning to Slam Dunk Festival to deliver his trademark solo sound through delicate tracks such as 'My Friends & I', 'Hawking' and 'Broken Bones'.
Birmingham native Luke Rainsford is poised to pick up his acoustic guitar and make his Slam Dunk Festival debut over the May Bank Holiday weekend with energetic yet fragile storytelling and musicality. The hotly-tipped single 'Sweet Briar' is taken from the highly-anticipated EP 'I Just Don't Deserve To Be Loved', which is set for release ahead of the Slam Dunk Festival weekend – meaning fans have plenty of time to learn lyrics for perfect singalongs.
Making the transatlantic journey to Slam Dunk Festival will be PVMNTS and Selfish Things, hailing from Los Angeles and Toronto respectively. Teen Wolf star Tyler Posey will be rounding up the PVMNTS gang for a sincere singalong on Slam Dunk's acoustic stage. Also stopping by will be Selfish Things' frontman Alex Biro, who is set to stripbacktheir impassioned rock hits for a memorable delicate rendition.
In addition to this great names, Cavetown will be bringing his relaxed bedroom jams to the acoustic stages too.
In the biggest line-up to date, Slam Dunk Festival 2018 is set to play host to an unparalleled exhibition of pop-punk movers and shakers as it welcomes blistering performances from co-headliners Good Charlotte and Jimmy Eat World, reunion exclusives from Thursday (UK exclusive) and The Audition (Worldwide exclusive) as well as highly anticipated sets from the likes of Frank Carter & The Rattlesnakes, PVRIS, Taking Back Sunday, Creeper, Every Time I Die, Sleeping With Sirens and many more. Whether you're at Leeds City Centre on May 26th, Hatfield Park on May 27th or Birmingham's NEC, Slam Dunk Festival 2018 will be the ultimate alternative party of the summer.

FULL LINE-UP TO DATE
Good Charlotte, Jimmy Eat World, PVRIS, Frank Carter & The Rattlesnakes, Taking Back Sunday, Sleeping With Sirens, State Champs, Twin Atlantic, Reel Big Fish, Goldfinger, Every Time I Die, Creeper, Thursday, Four Year Strong, The Skints, Zebrahead, The Audition (Worldwide Reunion Exclusive), Set Your Goals, Real Friends, Knuckle Puck, Northlane, Capdown, Save Ferris, Comeback Kid, Crown The Empire, Counterparts, Trash Boats, ROAM, Broadside, Can't Swim, Palaye Royale, Sleep On It, Stand Atlantic, Milestones, Chapel, Dream State, Holding Absence, The Faim, Grayscale, The Dangerous Summer, As It Is, Moose Blood, Templeton Pek, Woes, King Prawn, Guttermouth, Astroid Boys, Brutality Will Prevail, The Devil Wears Prada, Loathe, Speak Low If You Speak Love, Rob Lynch, Luke Rainsford, PVMNTS, Selfish Things, Cave Town
TICKET INFORMATION
Tickets on sale now and are available from http://slamdunkmusic.com/
Cost £49 or £55 including the infamous afterparty. All subject to booking fees.