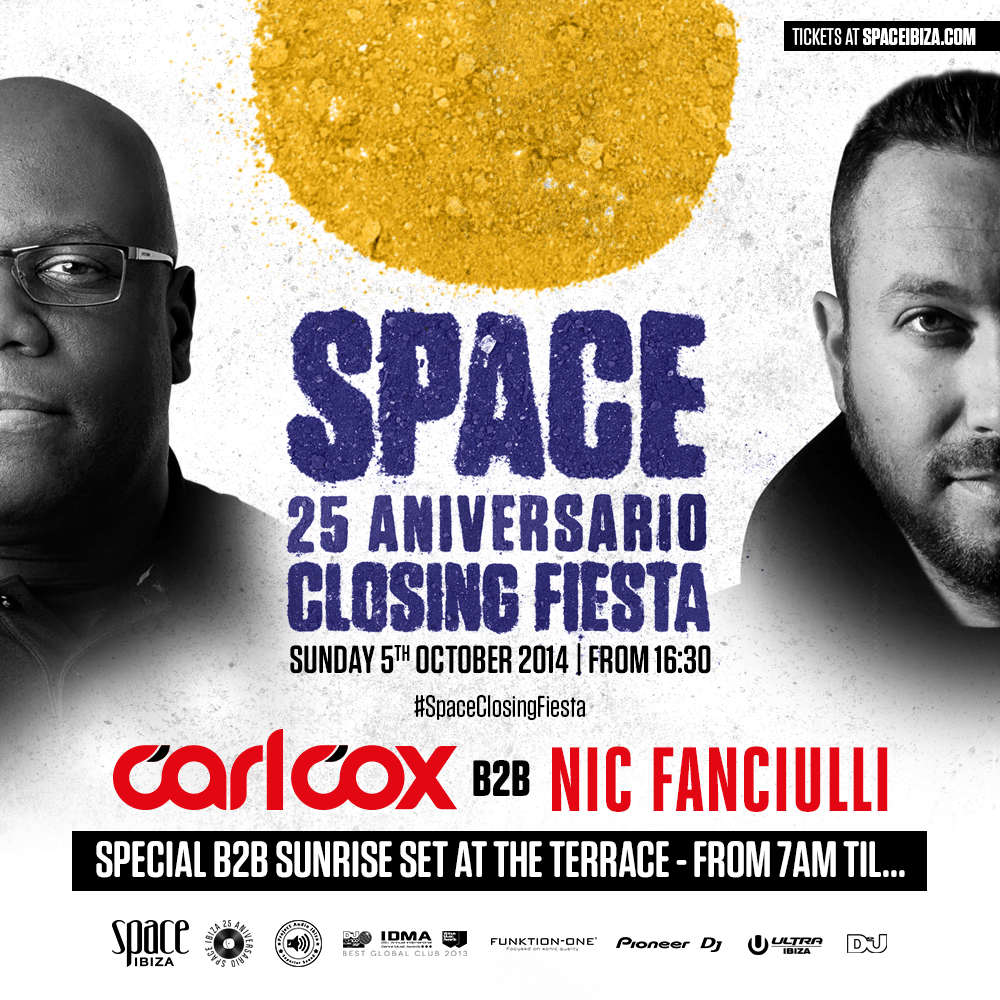 special b2b set by Carl Cox and Nic Fanciulli in the Space Closing Fiesta
Starting at 7AM, special b2b set by Carl Cox and Nic Fanciulli in the Space Closing Fiesta
The farewell to the 2014 season is getting closer and the club has prepared some surprises so that the event is very special; marked by the 25th anniversary celebration, the Space Closing Fiesta will feature Carl Cox b2b Nic Fanciulli on the final leg of the party. As you wouldn't expect, the legendary Space Ibiza Terrace will be the stage where a vast amount of talent will unite for the closure of the 2014 season.
This special set of Carl and Nic will be the second one for the great Carl Cox on this closure celebration as he will be closing, from midnight, the stage Ultra Music, one of the preferred areas by clubbers, completely outdoors.
Just as happened last year, these two eminences of Techno demonstrate their complicity and good understanding on the decks with a session that will begin at 7 am and most likely will run until you drop. Carl Cox, who has thirteen years of residency on Tuesdays at Space Ibiza, and Nic Fanciulli,immersed in his projects with his label Saved Records, will repeat one of the most memorable closings by recent times. In addition, Carl is also closing Ultra Music stage with a two-hour set; a double helping of the usual forcefulness and charisma of one of the best DJs of all time.
The Space Terrace will relive the moments in which made it a world reference of the after-hour circuits' thanks in large part to the actions of a young Carl Cox. In honor of the 25th anniversary of the club, during the set, the Terrace windows will open to fit the first rays of sun so the audience can dance to the light of day in the room that started the history of Space Ibiza.
Besides Nic Fanciulli and his main source of inspiration, Carl Cox, the Space Closing Fiesta will unite over 30 DJs such as Agoria, Deep Dish, Disclosure, DJ Tennis, John Talabot, Josh Wink, Pional, Visionquest and the special artists that will announced on October 3rd. Not forgetting the doublet of Carl Cox on the Ultra Music stage and the closing of the Terrace, the last dance floor that opened Space Ibiza this summer.
Buy your ticket for the Space Closing Fiesta and say goodbye to summer with the best line-up of the 2014 season on Sunday, October 5th from 4:30 pm.