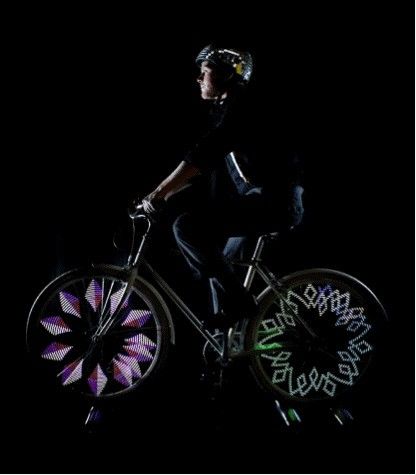 Spin Xmas
Christmas is coming .. and so is Spin Xmas. Between Friday 5th and Sunday 7th December, Rochelle School in Shoreditch will host London's only festive bike festival.
There will be bikes, beer, mulled wine, street food, cycling-themed art and illustration: entry is free and it's the perfect place to pick up some bike-related gifts for the cyclist(s) in the family.
Notable exhibitors include Shinola Detroit, Shand Cycles (who'll exhibit their one-off HOY collaboration track bike) and Monkeylectric from The Netherlands. Fashion, accessories, jewellery, apps, gadgets and tools all feature in a varied line-up of exhibitors.

Spin London Director Luke Mclaughlin said: "Spin Xmas is a unique cycling-themed experience. We showcase the most innovative and interesting products, independents, start-ups and the most talented designers and producers from the cycling industry.
"Spin Xmas is also a chance to have your say on Transport for London's plans to remodel Old Street roundabout, which is a really important issue for everyone who rides a bike in London."
There will be a range of craft beer, mulled wine and cider, gourmet balls from The Bowler, and Christmas cakes/puddings from eat'n'mess Cakes.

Coffee will be served by We Walk the Line, who empower tomorrow's entrepreneurs with business and barista skills. They're a not-for-profit social enterprise working with people who need a chance.

Spin Xmas will be open 6pm-9pm on Friday 5th December, 10am-6pm on Saturday 6th and 10am-5pm on Sunday 7th. Register for tickets for guaranteed entry – walk–ins WILL be permitted all weekend, depending on capacity.

More about Spin
Rochelle School is a two-minute walk from Shoreditch High Street station, close to Boxpark and Redchurch Street.
Spin 2015 will take place at The Sorting Office on New Oxford Street on Friday 8th-Sunday 10th May. The show will feature a test track and race circuit, and fuse the worlds of cycling and fashion like never before.

Spin London is the fastest-growing consumer show in the ever-more-vibrant UK cycling industry – it's for anyone who likes bikes and the lifestyle that goes with them.
Spin London has staged two major shows at the Truman Brewery on Brick Lane and is now setting its sights on central London for next year. For more information on Spin Xmas or Spin London 2015 please contact [email protected]
"The go-to exhibition for city-cycle enthusiasts, with brands from Brooks to Foffa to Moulton all pitching up to display their wares." (The Guardian)
Website http://spinldn.com/ | Twitter: @SpinLDN #SpinLDN | facebook.com/SpinLDN
TEN OF THE BEST AT SPIN LONDON
SHINOLA
In 2011, Shinola, a Bedrock Manufacturing Company, LLC brand was conceived with the belief that products should be built to last, and they should be built in America. As makers of modern, handcrafted watches, bicycles, leather goods, journals, and pet accessories, Shinola are proud to be based in Detroit, a community-minded city with a strong manufacturing legacy.

MONKEYLECTRIC
The first thing you notice when you ride around town with a MonkeyLight is how many smiles you get! They will be bringing all of their consumer products to Spin Xmas, including the very new M204 light as well as their MonkeyLight Pro. The Pro creates stunning images and animations within a bicycle wheel. You can download your own images and animations to the Pro and display them while you ride.

ALBAN BIKE BAGS
Alban create elegant and robust bags for people who cycle. Inspired by a British vintage and workwear aesthetic, Alban bags are made from traditional materials, but deliver modern performance. Designed to keep your belongings safe, dry and packed away in style, their bags are for everyday use, on and off your bike.

CYCLE ALERT
Manufactured in the UK, Cycle Alert is the world's first RFID safety system that specifically detects cyclists in close proximity to HGVs and buses. The system comprises of a tag fitted to the cyclist's bike and sensors on the vehicle to alert the driver of a cyclist's presence.

FINDRA
FINDRA is a fashion-led performance driven bike wear apparel brand. Designed specifically for women, 'FINDRA' is based in the heart of the stunning Scottish borders home to some of the best trails in the world.
GINGER & FRENCH
Ginger & French are all about creating visual reminders of the active life. Their products are stylish and simple with a sprinkle of humour. They will be showcasing their range of bike themed greetings cards, wallpaper, wrapping paper & tags, bone china mugs, wall stickers and prints.

GEOFF WAUGH PHOTOGRAPHY
Geoff Waugh is one of the most respected – and most creative – cycling photographers in the business. He will be exhibiting his work at Spin Xmas and will also be photographing the event throughout the weekend.
HENRICHS
Henrichs is a fashion collection of high-visibility reflective clothing for outdoor activities. The design is water- and windproof, offering extreme visibility in the dark by up to 100 metres, especially in the glare of car or streetlights. Henrichs combines safety and quality with style for an independent, design-conscious urban citizen.

RIDING HOOD
Inspired by East London cycling lifestyle and getting caught in the unpredictable British weather one too many times, Riding Hood design and create rainwear that takes you from bike to pub, cafe or work without any fuss. Made in England.
HUEZ
Huez draws inspiration from the most amazing places on the planet, and use the finest materials from Europe, USA and Japan. They deliver performance and style for the competitive road racer, everyday cyclist and for all you people who just like to have fun on your bikes
TRANSPORT FOR LONDON
Transport for London will be at Spin Xmas to consult on plans to redevelop Old St roundabout: They will be at Spin Xmas on Friday 5th and Saturday 6th December and want to hear your views on their plan to make Old Street roundabout safer for cyclists and pedestrians.
SPIN London 2014 from SPINLDN on Vimeo.