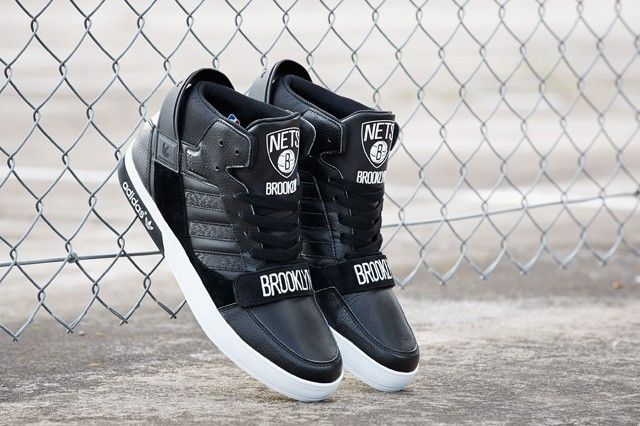 Sponsored Video: Adidas & Footlocker presents Originals Brooklyn Nets collection
Fashion today is all about looking fresh and clean and having a look that turns heads is vitally important. Style over substance is key and with Adidas you can be sure that this is going to be exactly just that. The adidas Originals Brooklyn Nets collection is a collection that absolutely cannot be ignored. Brooklyn has always been at the heart of new and exciting fashions that bring people together, and Adidas have done this brilliantly!
The extensive range consists of Pants, Letterman Jackets, Zip Hooded Fleece, snap backs and then the famous basketball trainers that cannot be ignored! Strongside, Hardcourt, Crazy 8 retro and HC Defender literally bring style to the court. All products come in the signature colour of the Brooklyn Nets which is Black and White and there is also a team logo, Trefoil and NBA Sign off stamp.
This kind of exclusive collection requires a unique launch which is why Adidas teamed up with Foot Locker to hold a night in London that was full of fun and great memories. Some seriously cool people gathered for the launch and the party was off the hook! With a cocktail of all different people, it meant that the perfect recipe was in place for top night. With artists, dancers and cheerleaders the party was sure to show off exactly what Adidas Brooklyn Nets Collection is all about. The purpose of the launch was to bring everyone together and this was achieved brilliantly with there being no VIP area! This meant that the stars were partying with every day people. One star who caused a stir on his arrival was Fernando Torres. The video shows Fernando showcasing his skills on the basketball court causing much excitement and thrilling the crowd.
The thing to remember is that the main stars of the party are the Brooklyn Nets Basketball sneakers. The showstoppers and the main act, they really did stand out. These sneakers mean business and their classy yet urban look would give them some serious credit not only on the Basketball court but also on the street, versatility is where it is at! The Hard Court Defender is head and shoulders about all competition and their boldness and hard look shows that they are up to the task. This collection really does offer a unique look that carries a lot of street-cred. A style and look can be created with very little effort, this is why the Adidas Brooklyn Nets Collection is king!
Foot Locker website: http://unr.ly/18jRUtM
Foot Locker facebook: http://unr.ly/1aUaFSQ
This post is sponsored by Foot Locker.