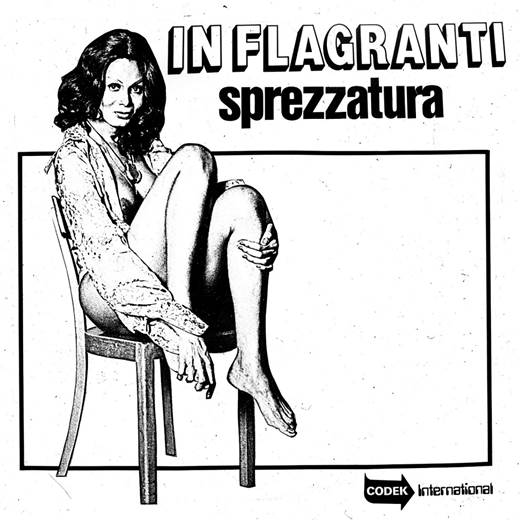 In Flagranti - Sprezzatura
On April 14th the other heroic Swiss electronic duo In Flagranti present their pre-internet-record-buying-phoneline-concept-album-come-mixtape 'Sprezzatura'.
"Back in the early 80s when I lived in Switzerland, I use to travel to Italy a lot for clubs and record shopping. In Rimini there was a great store called Disco Piu. They had this service where if you were out of town or from another country, you could sign-up and get a cassette of all the new releases in the post every week. Each new track was recorded for about a minute and there was a voice counting – so you could write down the tracks you liked – then phone or fax the track numbers and the date of the cassette, they'd send you the records and you'd pay on delivery, which was amazing", says In Flagranti's Sasa Crnobrnja on 'Sprezzatura's inspiration, concept and format.

He further explains, "So this album will be available as a mix on cassette with each track playing for a minute or two. You're basically listening to it like a mixtape and in the same manner as the tapes from Disco Piu. You'll be able to choose your favourite tracks from 'Sprezzatura' and buy the full versions as downloads."

This unique approach to their fourth album offers a squelchy, exciting and unusual romp across fragments of disco, real electro, raw house, uplifting Balearica, Latin touches, slow-mo chug, dub and even techno, but it's also much more than that.

The duo utilise years of artistic studio refinement and sample sources ranging from "TV to YouTube to old VHS videos to anything" to create something unclassifiable, which although coated liberally in vintage dust and pleasing analogue hiss is resolutely modern. This is unrecognisable "dissected and reassembled" Frankenstein dance music, that's streets ahead.

The open-minded sources and overall effect is not only a reminiscent of Daniele Baldelli and Mark Kamins' stylistically diverse mixes, but in its format and creative use of samples also closer to sonic capers from The Orb, the KLF's 'Chill Out' or J Dilla beat tapes than any generic bearded nu disco fodder.
In Flagranti are the DJ, producer and visual artist partnership of Alex Gloor and Sasa Crnobrnja. Both are from Switzerland and currently live in Basel and Paris respectively. The duo were originally inspired by the pioneering Cosmic scene that emerged from 80s Italy, plus a general eclectic bag of genres including "funk, rock, punk, afro, electronica, house, reggae, kraut, classic, glam, blues and hillbilly".
Having collectively soaked up sounds at iconic nights from The Paradise Garage, The Loft, Soul II Soul to The Wag, plus Sasa's own fabled late 90s parties Organic Grooves, their move into music making in was fairly inevitable, birthing both In Flagranti and their label Codek records during 1996, whilst living in New York.

In addition to a large catalogue of work on their own imprint, the pair have released on RVNG Intl., Kitsuné, Mindless Boogie, Gomma and Erol Alkan's Phantasy Sound. Countless high profile remixes of note include those for Blood Orange, Hercules and Love Affair, Royksopp and The Avalanches.

Advocates of a cut and paste method in all aspects of their work, In Flagranti are as renowned for their visual output as for their music. Found images from books, magazines, photos, film and video are creatively collaged to create a record sleeves and videos as a perfect visual accompaniment to their work, each medium augmenting one another into an aesthetic and thematic whole.
Incidentally, 'Sprezzatura' is an Italian term defined in the Renaissance that means doing something extremely well without showing effort, and on the evidence of this joyful, mind-bending and next-level creation, it's impossible to disagree.