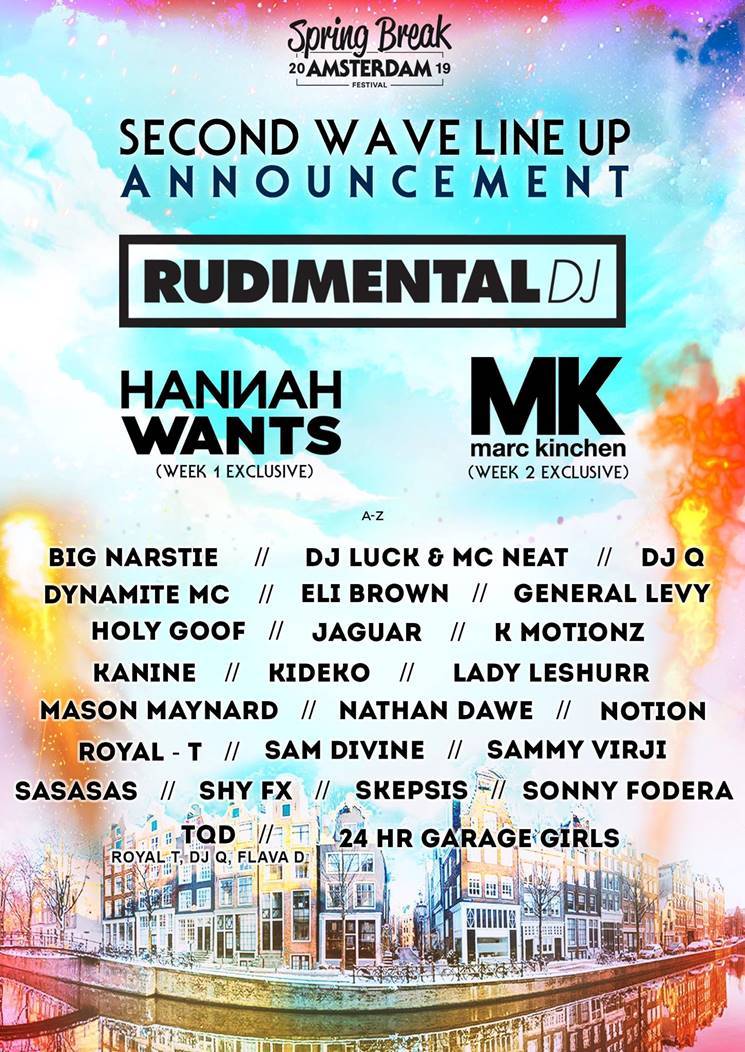 Spring Break Amsterdam Announces Phase 2 Lineup For 2019 Festival
More than 50 acts will play across two unforgettable weekends in April 2019 at this city break meets metro-festival. The latest wave of international names and hot, up and comers join the previously announced Rudimental (DJ), Big Narstie, DJ Q, Eli Brown, General Levy, Holy Goof, Jaguar Skills, Lady Leshurr, Sam Divine and many more. All of this comes for an unbeatable £99 per ticket, with accommodation from £89 and travel for just £68.
Following annual sell out shows since 2015, Spring Break Amsterdam will be bigger and better than ever before in 2019. It has expanded to take place across two weeks in April—Sunday 7th April to Tuesday 9th April and Sunday 14th April – Tuesday 16th April, and once again takes over five of the most essential venues in the beautiful city. Playing Melkweg, Air, Escape, Club NYX and Claire will be more than 50 mouth-watering names from drum & bass, house and grime. The latest wave includes globe trotters Hannah Wants and MK who will each headline as exclusive guests in week one and week two respectively, whilst featuring over both weeks is Mason Maynard, DJ Luck & MC Neat, Kideko, Kanine, K Motionz, Jaguar and Hott Like Detroit. A festival only ticket starts at £99+bf and can now be purchased from www.springbreakamsterdam.com.
Spring Break Amsterdam has become a rite of passage for students all over the UK, not just for its huge musical offerings, but also for the many other exiting thrills and cultural highlights the storied and historic Dutch capital offers. From boat trips down the canal to world famous museums, the Red Light District, rich cafe culture, and so much more, the opportunities to get lost and explore are endless. From the most party hungry young students to those professionals who like the high life, they all unite in one common theme as they seek out a quality and credible festival experience.
The lineup this year is as hard hitting as ever, featuring the previously announced big names such Rudimental, Big Narstie, Lady Leshurr, Holy Goof and DJ Q. Whilst more A-list acts been announced, the latest additions also feature plenty of hot young acts for true music heads seeking out the stars of tomorrow.
The latest big addition is MK, the dub house don from New York who defines his own niche style and has released on the likes of Hot Creations, as well as running his own Area 10 brand, which sees him host events all over the world. MK exclusively joins the Spring Break Lineup in week two only, while Hannah Wants plays an exclusive set to clubbers joining Spring Break in week one. She is a real house tastemaker who has a bass heavy sound that has taken her to huge gigs all over Ibiza this summer, with a big European tour planned in the next few months, all of which proves just how in demand she is, next to releases on labels like Dirtybird and Simma Black and a famous official mix for Fabric London.
Also amongst the phase two additions is Mason Maynard, whose huge track 'Puffy' on Nothing Else Matters and releases like his '13th Street' EP (supported by Jamie Jones) on Solardo's Sola Record imprint, as well as being 'Solardo Sessions' tour DJ, have made him a hot property. Then comes the legendary garage duo DJ Luck & MC Neat, Brighton's Relentless records associate Kideko, plus fast rising stars Kanine, K Motionz, Jaguar and Hott Like Detroit.
Spring Break Amsterdam is the ultimate way to experience the famous city with a world class soundtrack, and for that reason the festival has grown from just a few hundred people in 2015 to 7,000 in 2018 – and it'll double capacity in 2019. The fact the celebrated venues are all so close together makes it easy to explore the musical program each night, with the 2,000 capacity Melkweg – housed in a former milk factory, quirky Club NYX sprawling over three floors with urban graffiti décor, leading electronic music venues, Escape and Air, and the stylish Claire, all suited on Rembrandtplein so revelers can quickly jump from place to place until their heart's content.
Tickets for Spring Break Amsterdam 2019 come in a variety of packages to suit varying budgets and requirements. The festival only ticket for weeks one or two costs £99 and grants entry to each club event over the three days. Add on £89 for basic accommodation (hostel) or for £110, stay in a more premium level of accommodation. All that's required to reserve a place is an advanced £50 deposit which can be secured via www.springbreakamsterdam.co.uk.
Spring Break Amsterdam runs coach services (£68) departing from London, Manchester, Birmingham, Bristol, Bournemouth and Plymouth, each hosted by an official event rep. The overnight journey takes 12 hours, so guests can sleep through the night and wake up in the 'dam where they'll then be escorted to their chosen accommodation. Guests can of course, opt out of the coach service altogether and take their own route by any means they choose.
Guests can select up to four extras when booking tickets. These include, an unadulterated, four-hour boat party hosted by big name DJs (£29); a guided pub crawl around the city's charming array of watering holes with free shots on arrival (£15); the official Spring Break Amsterdam t-shirt to help spot fellow Spring Breakers a mile off (£15); and the VIP upgrade which includes a place on the pub crawl, an official t-shirt, and access to the exclusive VIP areas in each venue, per night (£39).
Stay tuned for further lineup announcements by following Spring Break on Facebook – www.facebook.com/springbreakamsterdam.
Spring Break Amsterdam 2019 Lineup:
NEW ADDTIONS IN RED
Rudimental (DJ)
Hannah Wants (Week 1 Exclusive) / MK (Week 2 Exclusive)
Big Narstie / DJ Luck & MC Neat / DJ Q / Eli Brown / General Levy / Holy Goof / Hott Like Detroit / Jaguar / Jaguar Skills / Kanine / Kideko / K Motionz / Lady Leshurr / Mason Maynard / Nathan Dawe / Notion / Royal T / Sam Divine / Sammy Virji / SASASAS / Shy FX / Skepsis / Sonny Fodera / TQD (Royal T, DJ Q, Flava D) / 24 Garage Girls.