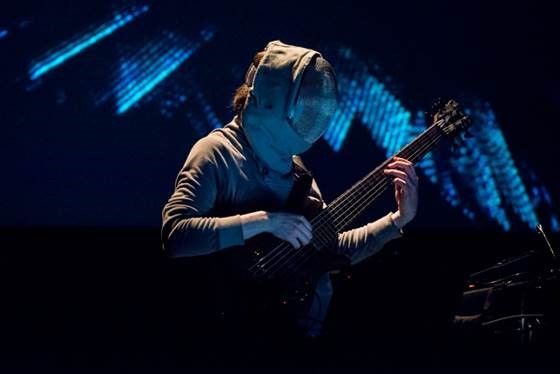 Squarepusher live at The Troxy
On 24th October Soundcrash present a one-off unique night, headlined and curated by the pioneering renaissance man Tom Jenkinson AKA Squarepusher, who will perform two distinct sets which are guaranteed to wow.
Following a sold out headline show at the Barbican and a rapturously well-received world tour, Squarepusher performs his acclaimed recent longplayer for Warp – 'Damogen Furies' – in its entirety, as a fully-integrated audio-visual live experience.
The recordings on 'Damogen Furies' were all done in one take and born out of Squarepusher's development of his own bespoke software, designed for a spontaneous, streamlined way of performing live and, in turn, making the record. All this makes for Damogen Furies being an ideal work to hear in concert, as genuinely live electronic music, with the capacity for improvisation a primary objective.
Shobaleader One first emerged as a vehicle for Jenkinson's group compositions and evolved into the killer release 'd'Demonstrator'. Tom has since been developing this approach to writing and performing with a band, and has recently been working with an ensemble of like-minded musicians to develop new ideas and reinterpret choice nuggets from his catalogue. This event marks the live world premiere of his band Shobaleader One performing tracks from classic Squarepusher records released between 1995 and 1999. This new chapter of Squarepusher on stage is set to be monumental.
The story of 808 State and their inspirational early exploration of acid house, techno and beyond defined an era of electronic music and set a blueprint of possibilities for future generations.
Although technology is to the fore at an 808 State live show, they are known to surprise audiences with their flexible, musicianly presence as a 5-piece live band. It's a way of putting some "blood and chaos back" into their monumental anthems and live jams, as Graham Massey explains.
Formed in Manchester in 1988, 808 State's first full-length 'Newbuild' is now regarded as a milestone in UK electronica. 'Quadrastate' followed, including the evergreen 'Pacific State', which became an end-of-night anthem at the Haçienda.
A prolific output followed, including the album 'Ninety' for Paul Morley's ZTT label, their biggest selling LP 'ex:el' (which featured Björk and Bernard Sumner) and two of the most brutal and absorbing instrumentals ever to enter the UK top ten: 'Cübik', and 'In Yer Face'.
2 iconic acts, linked by the rich lineage of underground sounds, both of whom have mastered the art of live performance, accompanied by cutting edge visuals. Unmissable.
Stay tuned for further line-up announcements.