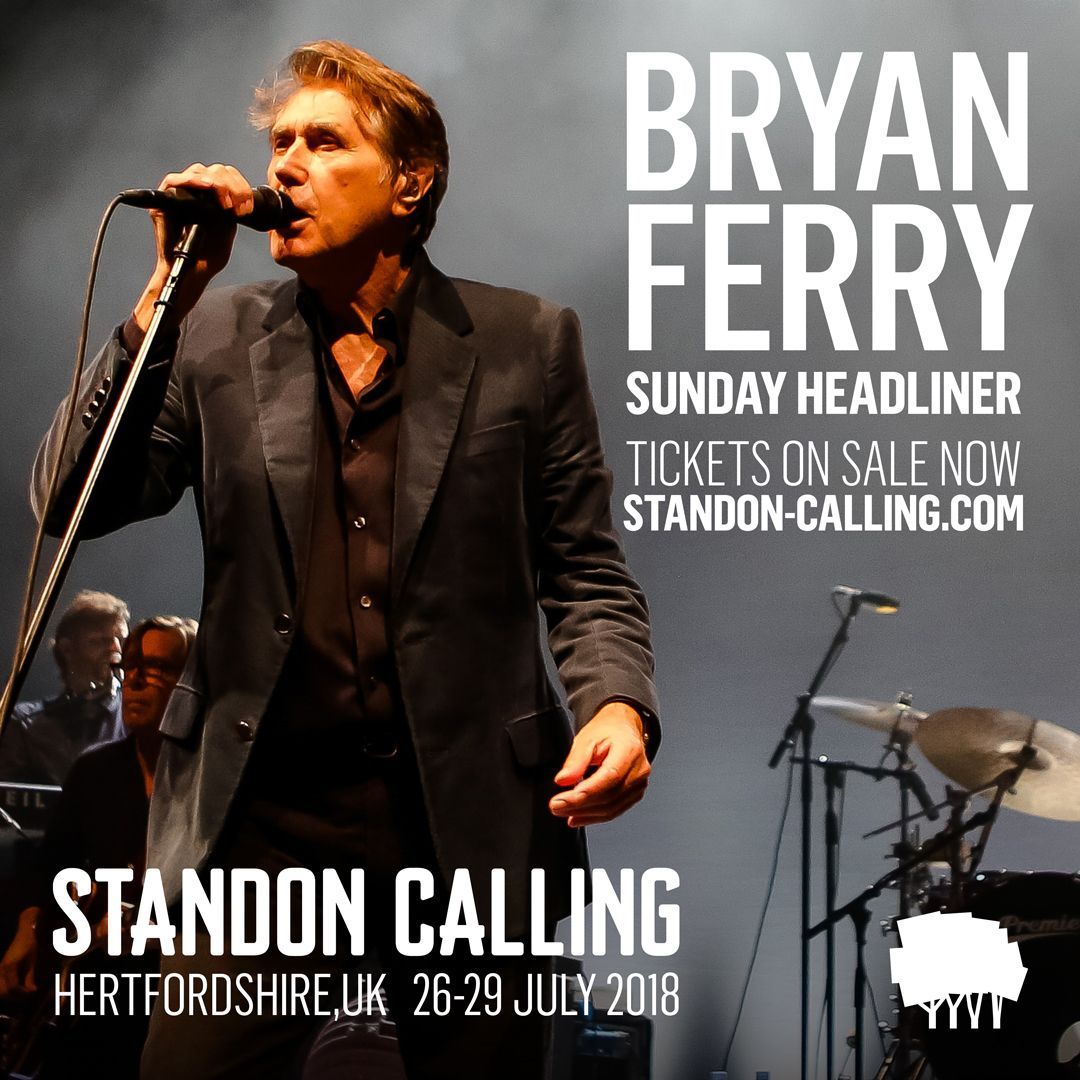 Standon Calling Announces Bryan Ferry As First Headliner For 2018
Continuing its reputation as the universally-acclaimed weekend of the festival calendar, Standon Calling once again opens its doors in 2018 for an unparalleled and down-to-earth celebration of community and entertainment – with Bryan Ferry announced today as the first headline act for next year's festival.
An indisputable icon and svengali of fashion and style, Bryan Ferry is one of the true pioneers of British music history. From his time as frontman of the legendary Roxy Music, through a dazzling catalogue of solo work, his hip-shaking, sharply-dressed attention to detail has stunned audiences around the globe, making him an unmissable spectacle each time he steps on the stage. From eruptive classics like 'Let's Stick Together', 'Slave To Love' and 'Don't Stop The Dance' to Roxy favourites 'Love Is The Drug', 'Dance Away' and 'Angel Eyes' – Bryan Ferry stands as one of the most influential artists of all-time. A sizzling party atmosphere is guaranteed, as he headlines Standon Calling 2018 for what's sure to be a dynamite evening in the company of a master.
Now in its thirteenth year, Standon Calling offers a welcoming embrace to a weekend of music, arts, fun and pure festival joy. With an ever-growing and loyal audience from around the country, it's a calling to an unparalleled and down-to-earth celebration that once a year pulls a community together. Nestled in the stunning Hertfordshire countryside, it's an easy-to-reach voyage into something truly special. At Standon Calling they dare to be different, with a purposefully eclectic, inclusive and creative programme, carefully curated to reflect the diverse interests of the crowds that gather year after year in its fields.
By day, expect music to touch your heart, make you think, make you mosh and make you dance. Indulge with award-winning food & drink, settle in to enjoy acclaimed comedy, or entertain the whole family with activities and performances for all ages. Dip into the swimming pool or take in the dog show. The options are endless. By night, this is one bold, show-stopping beast, as world-class performers arrive in full force. Don't miss late-night frivolities from some of the most celebrated electronic acts and DJs on the planet, leading the party right up to 4am. The perfect home for summer memories, Standon Calling is a defining beacon of the British festival experience.
Looking ahead to 2018 and the news of Bryan Ferry's headline slot, Founder and Festival Director Alex Trenchard said:
"Bryan Ferry is an icon who created, defined and influenced an entire musical generation. As a solo artist and as part of Roxy Music, he has steered popular music toward the way of cool for the last forty years. His lyrical brilliance and powerful performances are legendary and Standon Calling is going to be purring in appreciation of his silky stylings as he closes the festival in 2018."
After its most successful year to date in 2017, Tier 3 tickets are now on sale forStandon Calling 2018 – with previous tiers selling out in record time. For further details, head to http://www.standon-calling.com/tickets