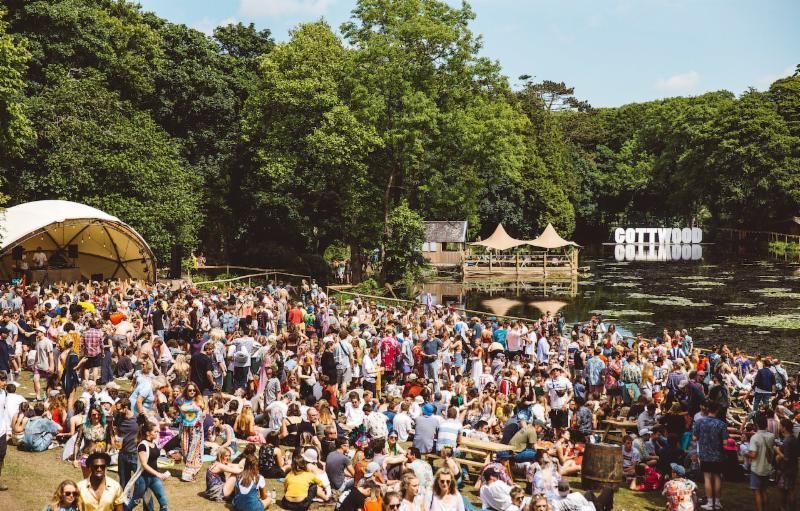 Gottwood Announce Lineup for 2018
Nestled in the picturesque, mystical woodlands of North Wales, Gottwood – a beacon of the UK electronic dance music scene and now embarking on its 9th year, is a truly intimate affair for music lovers.
Year after year, Gottwood's loyal family following make the pilgrimage to what has been deemed as 'the most beautiful festival in Britain'. From sensational breakthrough artists to accomplished and worldly trailblazers, everyone comes out in full force for this unmissable party.
Standing by their testament to bring together a collection of some of the finest selectors in the world, Gottwood welcomes a host of new and faithful returning acts including Avalon Emerson, Ben UFO, Rodriguez Jr, Dominik Eulberg, the multifaceted Paul Woolford and his genre hopping alias Special Request, plus Andrew Weatherall who'll play twice across the weekend, with a special Music Is Not For Everyone set inspired by his NTS show.
Over the last three years Gottwood has taken the lawn stage from a DJ based affair to what is now one of the most forward thinking live stages on the festival circuit. Further affirming that status Gottwood have curated a perfectly balanced live bill which sees Romare, Rival Consoles, Dark Sky, Weval, Africane 808, Wolf Muller & Niklas Wandt, Tenderlonious & The 22archestra, Happy Meals, Febeuder and Ariwo all playing fully fledged live sets across the weekend.
Move D, who has played more sets at Gottwood than any other artist, returns along with the likes ofHunee, Palms Trax, Axel Boman, Felix Dickinson, Bufiman and Amsterdam's master of off kilter and unpredictable party starting sets San Proper.
Gottwood have taken a stand against short sets with Manchester's Mr Scruff signing up for a long extended performance on the picturesque Lawn Stage as well as Shed on the now infamous Trigon and of course their close Houghton Festival counterpart and man of the moment Craig Richards in the Walled Garden.
Margaret Dygas, Nicolas Lutz, Binh, Archie Hamilton, Enzo Siragusa, John Dimas, Job Jobse, Saoirse, and Sonja Moonear will all be leading with their stripped back minimal sounds and grassroots headsy approach to partying. Serial crate digger now record store owner Ruf Dug, Rhythm Sections Bradley Zero, Red Light Disco's Orpheu The Wizard, Robert Jonson main man Ata, DJ Nomad the lauded collector of exotic rhythms from across Africa, Latin America and the Caribbean and Willow who got her first break at Gottwood after partying with Move D in a campsite afterparty will all also be playing.
The full Gottwood 2018 lineup is listed below, with remaining tickets available via www.gottwood.co.uk
Andrew Weatherall / Axel Boman / Avalon Emerson
Ben UFO / Binh / Commix / Craig Richards / Crazy P (Soundsystem)
Dark Sky (Live) / Dominik Eulberg / DMX Krew
(Live) / Enzo Siragusa /
Hunee
Jackmaster b2b Grain /
Job Jobse /
Mr Scruff /
Margaret Dygas / Move D

Nicolas Lutz / Palms Trax /
Paul Woolford /
Rival Consoles (Live)
Rodrigues Jr.
(Live) /
Romare (Live) /
San Proper / Shed /
Sonja Moonear
Special Request / Weval (Live)
2 Bad Mice / Adam Shelton / Africane 808 (Live) / Aiden Doherty / Archie Hamilton Ariwo
(Live)
/
Ata / Banoffee Pies / Blackhall & Bookless / Brazdley Zero / Bufiman
Cedric Maison / Christophe / Dave Harvey / Denney / DJ Nomad
eLDOKO / Febueder (Live) / Felix Dickinson / Geddes / Happy Meals (Live)
Homeboy / Jasper James / John Dimas / Josh Tweek /
Krywald & Farrer
Lukas Wiglex / Maxxi Soundsystem / Michael Zitara / Neil Diablo / Not An Animal Orpheu The Wizard /
Ralph Lawson / Rich Reason / Robert James / Ruf Dug
Saoirse / Subb-An /
Tenderlonious & The 22archestra (Live)
Tristan Da Cunha / Voigtmann /
Waifs & Strays / Willow / Wolf Music
Wolf Muller & Niklas Wandt (Live) & Special Guests + Many More