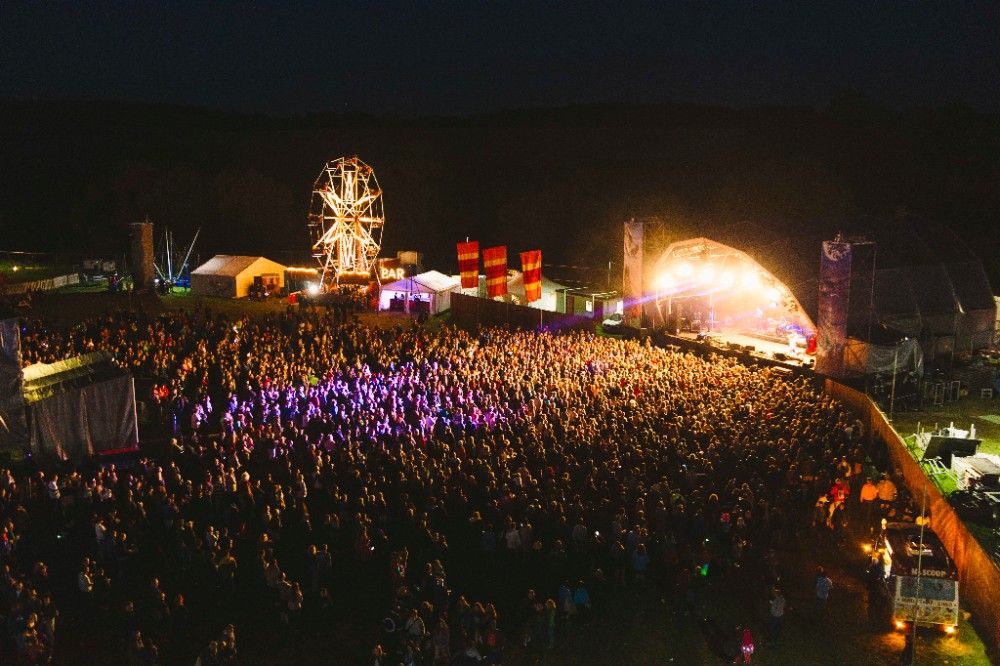 Standon Calling Announces Fresh New Names Across Music, Comedy + Late Night Electronica
Boasting incredible headline names and an unabashed programme of unrivalled entertainment for all the family, Standon Calling stands as the epitome of what a festival experience should be, continuing to unveil more monumental names for its biggest year to date.
Playing host to some of the best in the game, Standon Calling's Lawn is the ultimate destination for comedy fans to get their daytime fix of comic stalwarts and sensational newcomers alike this summer. Leading the impressive comedy line up across the weekend is the infectious presence of Seann Walsh. Since making his debut on shows like Mock The Week and 8 Out Of 10 Cats, he's become a mainstay in British comedy – with his unrialled energy and razor-sharp punchlines taking him across the globe. Also announced as a comedy headliner, renowned household name Lucy Porter, bringing her critically-acclaimed show to the Lordship for a side-splitting display set to showcase a comedian in her element. Revered favourite Kerry Godliman will also bring the laughs this July, taking her star turns on shows such as Live At The Apollo, and her own Radio 4 show, and bringing them to a set full of hilarity and observations on modern life. These stellar headliners are supported by a huge range of rising and acclaimed names, including Rhys James, Spencer Jones, Cally Beaton, Glenn Moore, Owen Roberts, Jake Lambert and Jack Barry, with further hilarious moments from Marcel Lucont's Whine List and Timberlina Presents FFS!! to ensure Standon Calling is packed full of top-draw comedy from start to finish.
Boasting an assorted and unique musical lineup already, Standon Calling continues to grow with phenomenal new additions, lead by the mercurial figures of Black Rebel Motorcycle Club. Since emerging in the early 2000s with their classic LP 'B.R.M.C', they've continued to be champions of the power of primal rock 'n' roll, packing a live show of immeasurable power that's seen huge crowds around the globe diving into every note. Unmissable and a vital reminder of the sheer force live music has, Black Rebel Motorcycle Club will be nothing short of mesmerising at Standon Calling this year with one of their only UK shows of the summer.
Continuing that spirit of diverse and down-to-earth experiences, 90s electronic weavers Morcheeba are set to bring their distinctive style to Standon Calling this summer. Iconic albums 'Who Can You Trust?' and 'Big Calm' gave birth to a vast following, combining magnetic hip-hop with majestic pop, and their set at Standon Calling is bound to be a masterclass in a band willing to bend genres to their whim. Famed Supergrass frontman Gaz Coombes joins the lineup at Standon Calling this summer, in the thrall of a truly creative period with his acclaimed solo work ushering in a mesmerising new chapter in his already iconic career. With new album 'World's Strongest Man' set to make a mark this summer, expect an unmissable set at the Lordship this summer from one of the nation's great songwriters. Offering something completely different is the spoken-word prowess of Akala, delivering outspoken calls that never shy from the most current of social and political discussions. With a reputation as one of the most inspiring wordsmiths of a generation, his set will offer a chance to bear witness to one of UK hip-hop's most influential figures. Serving up a modern slice of pop to Standon Calling this year, Nina Nesbitt will bring her critically-tipped new sounds for all to see at the festival – weaving songwriter charm, with effortlessly cool vibes. Set for huge things in the year ahead, get prepared to fall into her world.
When Standon Calling heads into the night, the party is unrivalled – and it's only going to get bigger this year as 2ManyDJs turn up with their full-throttle show. Renowned for their splicing sounds, amazing originality and unparalleled shows, 2ManyDJs are a phenomenon around the world, playing some of the biggest stages on the planet. One not to miss at Standon Calling this July. The electronic royalty continues, with indie-tronic icons Hot Chip Megamix injecting a carnival atmosphere by fusing sounds from their wide range of influences for the ultimate party soundsystem moment. Helmed by Hot Chip themselves, expect club classics, underground groovers and much more – as the band open up their record box for a magical night of big-time-bangers. With long-awaited new album 'All That Must Be' set for release on March 9th, electronic maestro George FitzGerald is set to captivate the Standon Calling audience this summer with his sensational live show a must-see for all electronic lovers, while Britain's favourite UK Garage duo, DJ Luck & MC Neat, famed for chart-topping anthem 'With a Little Bit of Luck', will be echoing classics long into the night. If that wasn't enough, the splicing disc-jockey charm of DJ Yoda will be bringing the big-leagues with a huge live set in the stunning Hertfordshire hills.
Standon Calling also welcomes back their legendary Groove Garden party with performances by The Nextmen (Friday), The Reflex (Saturday) and Dr Packer (Sunday). UK drum & bass heavyweights Hospitality are also on hand to ensure the party never ends, with storming takeover sets from high-flyersLondon Elektricity, Fred V & Grafix, Etherwood, Hugh Hardie, Unglued, Metrik, Danny Byrd, Nu:Tone, Krakota and Keeno.
Mind-blending psychedelic cult legends Acid Mothers Temple & The Melting Paraiso UFO will be adding something completely different to Standon Calling this summer with one of their only UK shows of the summer, bringing their indescribable soundscapes and powerful stomping morphs for a performance that needs to be seen to be believed. Gengahr are set to prove why they're one of British guitar music's most talked about bands when they drop into Standon Calling this summer, building on the rich and expansive sounds of second album 'Where Wildness Grows'. They'll be joined across the weekend by some of the most exciting emerging names in new music, whether that's the wistful harmonies of Hudson Taylor, the gritty fever of Queen Zee, the sound of raw inner-city life that stems from the voice of Hak Baker, the sizzling LCD Soundsystem-esque party vibes of Park Hotel, the talked-about-tales of Jade Bird, Welsh singer-songwriter Bryde, the fizzing fever and flow of Danish trio Nelson Can, the anthemic and mesmerising presence of York guitar lifters The Howl & The Hum, kaleidoscopic alt-pop favourite Amaroun or the fresh North London swagger of Meggie Brown.
With eclectic party-throwers and Standon favourites Baron Goodlove & The Dreadful Noise, Uncle Funk & The Boogie Wonderland, The Haggis Hornsand the Andy Grant Trio also on board, there's something for everyone at Standon Calling this year.
These names join an astonishing array of entertainment for the whole family across the weekend, lead by headline sets from Bryan Ferry and Paloma Faith, with a homecoming headline performance by local Hertford sensationGeorge Ezra. They're joined by established titans Goldfrapp, The Horrors, Django Django and Maribou State and innovative and fresh live favourites Tokio Myers, Little Simz, The Amazons, Marmozets, Pale Waves, Shame, Ibibio Sound Machine, Dream Wife, Tom Walker and Confidence Man. The Cuban Brothers are set to perform their 20th Anniversary Show, making it an unrivalled weekend of varied and thrilling music for all. With family fun fromHorrible Histories Live and Andy Day & The Odd Socks and much more, Standon Calling is unlike any other festival this year, and a standout of the summer festival season.
Speaking about the new additions and how this year's Standon Calling is shaping up, Founder and Festival Director Alex Trenchard said:
"Standon Calling is a non-stop four day music festival experience in the fullest sense. From day to night, from the guitars of Black Rebel Motorcycle Club, to the nostalgia of Morcheeba's 90s electronica, from the psychedelia of a rare Acid Mothers Temple performance to dancing into the small hours with 2ManyDJs and the new George FitzGerald live show – Standon Calling 2018 will be about discovering new music, pairing the unexpected and the joys of a diverse and truly original festival experience."
Standon Calling is the full 360-degree festival experience. It is the biggest dog-friendly festival in the UK with an inimitable Dog Show, you can enjoy a mouth-watering array of stellar Food & Drink from London's very best street food favourites, take a dip in the heated Swimming Pool, relax in the Hot Tubsor take part in a whole range of Wellbeing Classes and Workshops. Standon Calling is a trip into something more and an invitation for everyone to escape the world around them.
Now in its thirteenth year, Standon Calling offers a welcoming embrace to a weekend of music, arts, fun and pure festival joy. With an ever-growing and loyal audience from around the country, it's a calling to an unparalleled and down-to-earth celebration that once a year pulls a community together. Nestled in the stunning Hertfordshire countryside, it's an easy-to-reach voyage into something truly special. At Standon Calling they dare to be different, with a purposefully eclectic, inclusive and creative programme, carefully curated to reflect the unique interests of the crowds that gather year after year in its fields.
The perfect home for summer memories, Standon Calling is a defining beacon of the British festival experience.