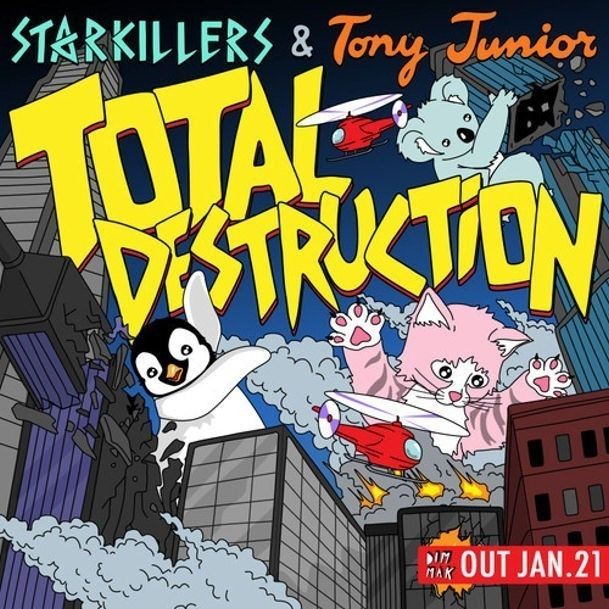 Starkillers & Tony Junior – Total Destruction
U.S talent Nick Terranova AKA Starkillers has been cutting a swathe through the bolshier end of the global house music scene with his tough-edged, eclectic sound and is set to release 'Total Destruction' with Netherlands based DJ Tony Junior on Steve Aoki's Dim Mak Records on the 21st January.
Starkillers is responsible for that perfect blend of high-octane, fierce energy and accessible appeal, blending big hooks and riffs, thumping beats and mind-bending effects trickery which has made him The DJ to collaborate with. Following on from his first official release of 2013 with fellow producer Dmitry KO and vocalist Amba Shepherd with 'Let The Love' which dropped on the formidable Dutch imprint Spinnin' Records, premiered on BBC Radio 1 and went on to muster over 2million Youtube hits. Starkillers took 2013 by storm with releases on Ultra, Spinnin Doorn Records including the remix of Armin van Buuren's 'Turn This Love Around' and Hadouken!'s 'Levitate'.
Dim Mak Records, an independent record label, has commuted itself to maintaining a progressive mindset in the music community and prides itself as a lifestyle brand, merchandise and event production company. Founded by DJ and Producer Steve Aoki, they are committed to staying one step ahead of the game in all realms of the music industry and make no exception with this collaboration from Starkillers and Tony Junior.
Starkillers kicks off 2014 with Tony Junior with their huge release 'Total Destruction' out on the 21st January on Dim Mak Records. Marking the first of a string of releases expected in 2014 from Starkillers as he moves towards a change in direction as he ventures back to his house roots.