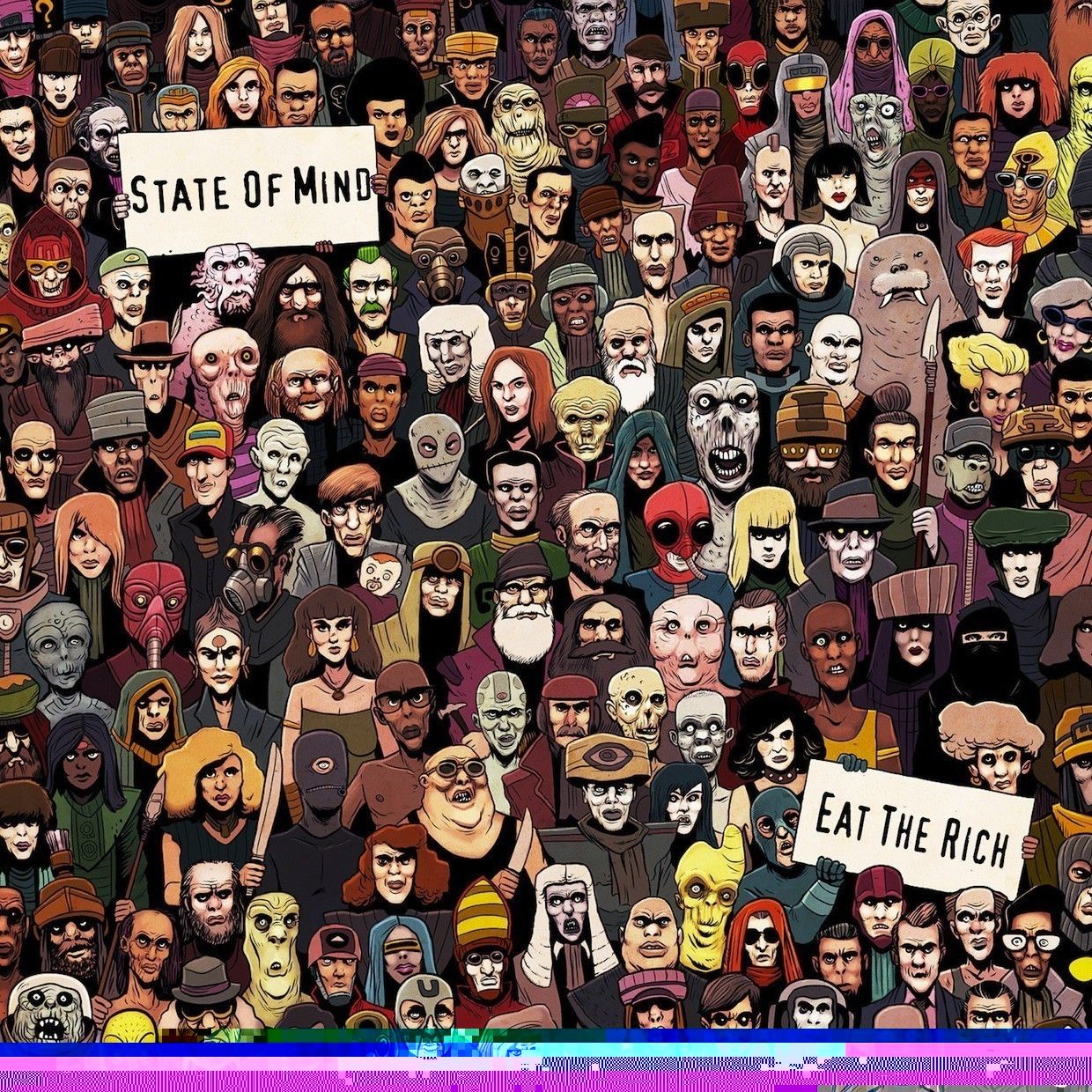 State Of Mind – Eat The Rich
Following the release of virtuoso new singles 'Mr. Cover Up' and 'No-Operative' across January and February, seminal DnB duo State Of Mind are to present their fourth album, 'Eat The Rich', on March 31st. To be released by Black Sun Empire's 'Blackout' imprint, the album celebrates some of the best work of their career to date, underlining their remarkable pedigree and with it, their ability to fuse darker, hard-edged sounds with genuine dance floor credibility.
Famed for their rugged basslines, steely percussion and huge, driving synth lines, State Of Mind also showcase different sides to their craftsmanship on 'Eat The Rich', with a number of vocal features taking centre stage. As well as NZ rapper PercIEve's appearance on the storming, tear-out anthem 'Mr. Cover Up', the duo also join forces with promising songstress Sacha Vee on the wonderfully eerie 'Black Raven'; although still bullish in style, it highlights a softer, more thoughtful side to State Of Mind.
Heavyweight second single 'No-Operative' is also an album highlight, as are further future dance floor anthems like 'Where You At' and 'Put It On', as well as two unique collaborations with fellow revered DnB figureheads Black Sun Empire. To compliment the rich diversity of sound on offer, the idiosyncratic, breaks-driven heat of 'Fast Life' and the outer-worldly, synth-laden intro on 'U Control Me' complete what is a stunning, career-defining album.
With a European tour in support of the album set to commence in March, ahead of further headline dates in Australia and New Zealand throughout April, 'Eat The Rich' is set to cast State Of Mind into the spotlight like never before.
Tracklist // State Of Mind – 'Eat The Rich'
'Unconscious' feat. Black Sun Empire
'Ghosts' feat. MC Dino
'U Control Me'
'Mr. Cover Up' feat. PercEIve
'Danse Mac'
'Bigger, Faster, Stronger'
'Black Raven'
'No-Operative'
'Where You At'
'Rain Maker'
'Long Time Dead' feat. Black Sun Empire & Codebreaker
'Response Signal'
'Put It On' feat. Nymfo
'Fast Life'
'Helios' (Bonus Track)
'Eat The Rich' (Exclusive DJ Mix)
For more information on Blackout, see below:
http://www.blackoutmusic.nl/
https://www.facebook.com/blackoutmusicnl
http://twitter.com/Blackout_music
http://soundcloud.com/blackoutmusicnl
For more information on State Of Mind, see below:
http://www.stateofmindnz.com/
https://www.facebook.com/stateofmindnz
https://twitter.com/StateofMindNZ
http://www.soundcloud.com/stateofmindnz
)