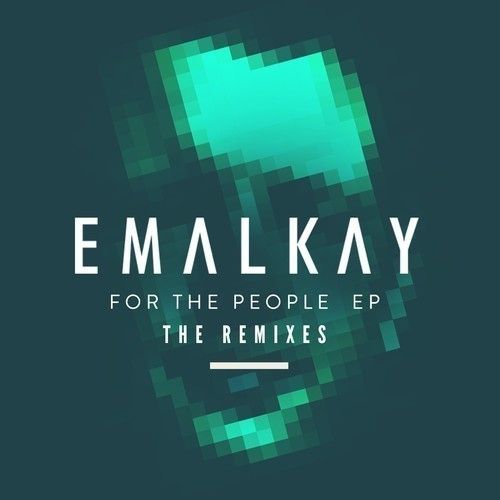 Emalkay – For The People EP – The Remixes
Closing out 2013 one of electronic music's most fearless sonic warriors dropped a brand new EP on his own brand new label. That sonic warrior is Emalkay, responsible for some of the most revolutionary anthems in the heyday of dubstep; when it was less about face-melting drops and all about incredible, forward-thinking bass music.
The 'For The People' EP proved that Emalkay hasn't lost his touch, dropping to the thunderous applause of dancing feet and bassbins stressed to their very limits. Supported by a diverse range of DJs, all once again connecting with emotionally charged electronic music that's not afraid to face the future, Emalkay's debut on his Bring It Down label was undoubtedly received well by the people.
Here we have another gift to the masses. An immense 'For The People' remix EP featuring some of the brightest talent and freshest musical ideas. Covering epic dubstep, triplet trap, funky electro house and blissed-out synthesizer beauty, this will no doubt feed the people once more.
Kicking things off Rogue steps in to rework 'Tell Me' into a hands-in-the-air affair that can't fail to get fans of 140 excited. Huge trance chords and that emotionally charged vocal all combine to create a killer remix that will be at home in the clubs and on your iPod.
Next up Dub Motion take 'Aerosol' and twist it into a trap and bass mix that's packed with booming subs and penetrating synths. Rolling snares and cheeky sound FX all combine to drive this forward with an intensity that few trap tracks can match making this a sure-fire dance floor anthem.
Draft offers up a blend of electro and French house on his remix of 'Tell Me' that's reminiscent of the glory days of Ed Banger and Daft Punk but dragged kicking and screaming into 2014. This is an impressive rework, offering a distinctly different flavour from the original, but retaining all the important soul.
And last, but by no means least, Grant Bowtie, winner of the Earmilk remix competition steps up with a remix that blew the other entrants away. Twisting 'Tell Me' into a beautiful synthed-out version that's the perfect antidote to the filthy drop culture that's surrounded electronic music in recent years, Grant Bowtie has achieved something incredible with his remix and is undoubtedly a name to watch for the future.
Emalkay
01. Tell Me (Rogue Remix)
02. Aerosol (Dub Motion Remix)
03. Tell Me (Draft Remix)
04. Tell Me (Grant Bowtie Remix) – Earmilk Competition Winner