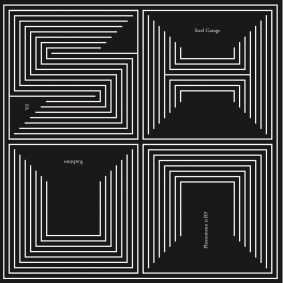 Shun - Steel Garage EP
Japanese producer and DJ Shun joins the roster of Blackstrobe Records this May with his 'Steel Garage' EP, featuring four original cuts.
Tokyo based Shun is a relative newcomer on the production scene with only a handful of releases under his belt on the likes of Toronto's Wet Trax and DPRB and Den Haku Records on his home turf of Japan. Here though we see Shun joining Arnaud Rebotini's revered Blackstrobe Records, the long running imprint which has been home to the label owners material under various guises for over fifteen years as well as well as remixes from the likes of Chloe, Acid Washed and Hot Toddy amongst others.
Leading on the release is title-track 'Steel Garage' with it's gritty acid-tinged arpeggio bass, thunderous kicks, shuffled hats and dynamically evolving percussion throughout before 'FA' drops the tempo slightly whilst retaining a similar aesthetic with acid arp lines at the core of the composition alongside heady, resonant synth blips and tension building strings.
'Kamino' is up next, taking things into darker realms via a modulating bass lead, hypnotic vocal chants and choppy synth stabs. 'Phenomeno' then rounds out the package with swinging rhythms and ever unfolding 303 style licks at it's core whilst airy synth pads and hooky vocal murmurs ebb and flow throughout.
Shun's 'Steel Garage' EP is out on Blackstrobe Records 18th May 2018.
Tracklist
1. Steel Garage
2. FA
3. Kamino
4. Phenomeno