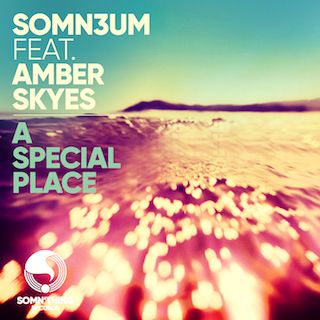 Somn3um feat. Amber Skyes - A Special Place
Somn3um's new single will leave 'A Special Place' in your head and heart!
Somn3um drop their first single of 2018 and it's been worth wait! They've teamed up with rising US dance star and vocalist Amber Skyes to create an absolute monster of a tune! The uplifting feel grabs you immediately as Amber's distinct and sexy vocals wash over hooky synths and hypnotic piano's. This is a real house journey full of colour and positivity. Dreamy and melodic it really does evoke that special place. A great return for one of the UK's most exciting house producers and DJ's.
Somn3um (pronounced 'som-nee-um') are David Newsum and Scott Forshaw. Between them they have a wealth of electronic musical know-how and since forming as Somn3um have been DJing around the world sharing stages with the likes of Hannah Wants, Darius Syrossian, Jonas Blue, Sonny Fodera, Danny Howard and Mark Knight.
'A Special Place' is released via the duo's very own label Somn'thing Records. The label already has an impressive catalogue of forward-thinking house music from artists including Freejak, Damon Hess, Maff Boothroyd and Deep Matter, Rare Candy, Matt Darey and Hollaphonic.
In addition to the label & their Zero Gravity Residency in Dubai and The Gallery at London's Ministry of Sound, Somn3um also host their global weekly radio show 'Somn'thing Else'. The show is available on iTunes here: https://itun.es/i6hW9jY
'A Special Place' is released on March 9th 2018 via Somn'thing Records.
Follow Somn3um:
FACEBOOK
TWITTER
INSTAGRAM
SOUNDCLOUD
Follow Somn'thing Records:
https://www.facebook.com/somnthing
https://twitter.com/somnthing
https://soundcloud.com/somnthing