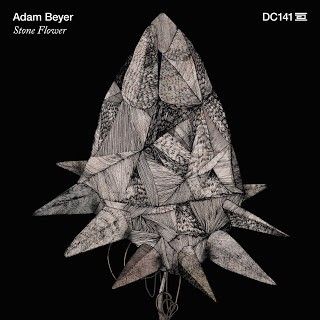 Adam Beyer - Stone Flower
Drumcode is keeping up the refined techno sound that they're known for, going strong throughout 2015. Head-honcho Adam Beyer delivers the next release with his new four track EP 'Stone Flower' out now via Drumcode Records. The release follows a monumental 2014 year from the "master of techno," as Mixmag has named him, which included two singles on the Drumcode A-sides compilations, a multitude of releases on different labels such as Truesoul and Crosstown Rebels, a seven hour live broadcast from Awakenings festival, ten shows in Ibiza for Carl Cox, Cocoon and Enter as well as an incredibly busy show circuit across the world.
These four tracks are deep and almost melancholic in their approach to techno, using effects to really help enforce an ambience only Beyer can achieve within his productions. The underlying throbbing of the drums drives this EP into the forefront of the heads down Drumcode sound and have been heard in many of Beyer's phenomenal sets throughout the year.
Coming up there are a multitude of Drumcode parties around the world including the US as Adam does double duty in a New York takeover May 24 during Memorial Day weekend. He will host the Adam Beyer Presents Drumcode stage at Mysteryland USA in Bethel, New York on the original 1969 Woodstock grounds and then sets his sights Brooklyn's Verboten which has been dubbed "Williamsburg's newest music mecca" by Rolling Stone. Adam Beyer is back on Drumcode with an impressive array of tracks that will get the senses tingling and shows us what Drumcode is all about.
Adam Beyer Tour Dates
May 8 Paris, France @ Marvellous Island
May 9 Toulouse, France @ Complexe Dune
May 20 Playa d'en Bossa, Spain @ Sankeys Ibiza
May 22 Rotterdam, Netherlands @ Toffler
May 23 Kelchterhoefstraat, Belgium @ Extrema Outdoor Festival – Drumcode Stage
*May 24 Bethel, NY @ Mysteryland USA – Drumcode Stage
*May 24 Brooklyn, NY @ Verboten
May 30 Essex, UK @ We are FSTVL
May 31 Dublin, Ireland @ Forbidden Fruit Festival
June 7 Manchester, UK @ Parklife
June 20 Barcelona, Spain @ Sonar by Night
*September 5 San Bernadino, CA @ Nocturnal Wonderland – Drumcode Stage