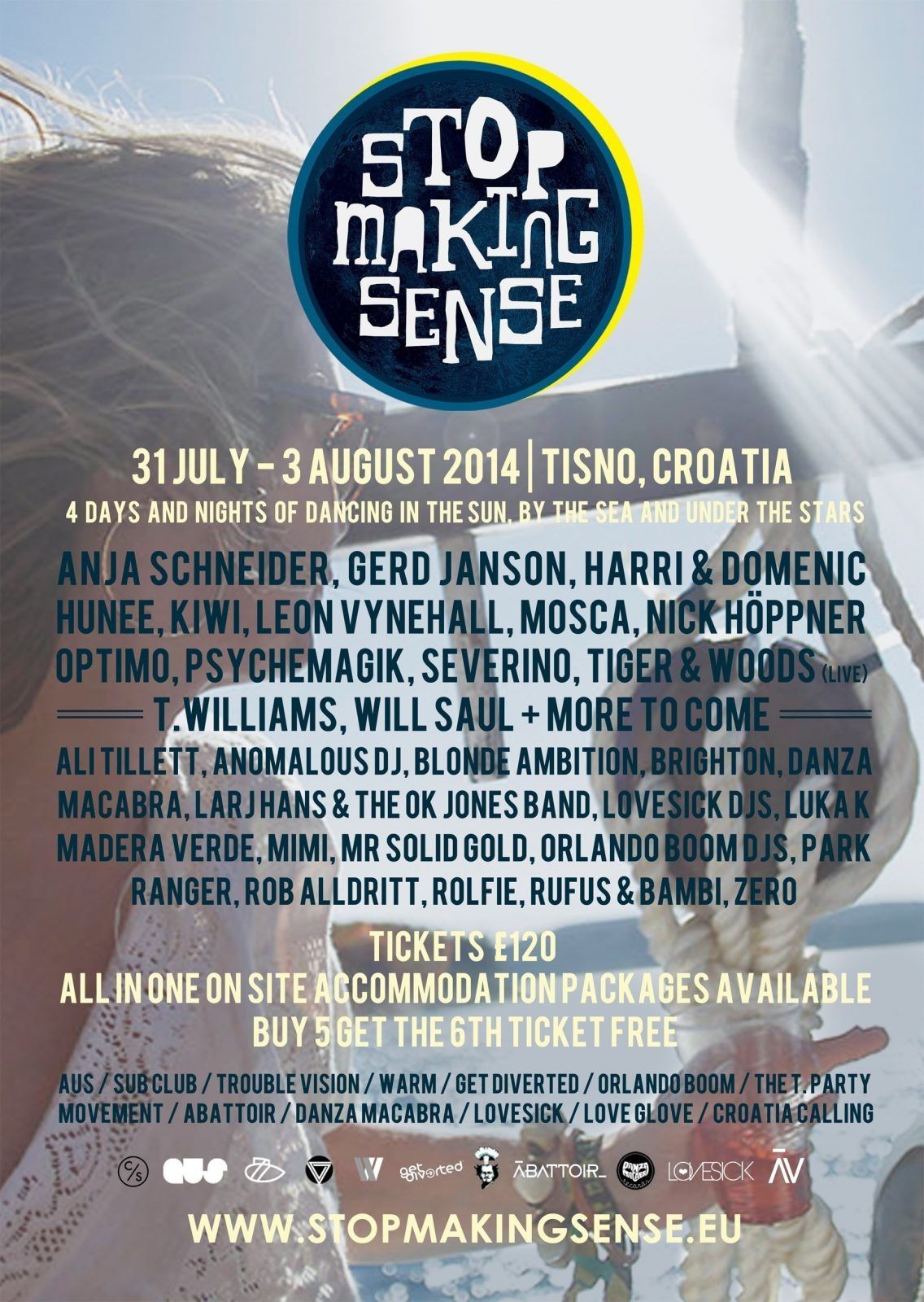 Stop Making Sense 2014 more acts announced…
Clocking up its hottest lineup in its five-year history, Croatia's Stop Making Sense welcomes aboard Anja Schneider, Hunee, Mosca, Optimo, Psychemagik and Tiger & Woods, who join Nick Höppner, Gerd Janson, T.Williams, Leon Vynehall and Severino and more for this year's Tisno trip.
A jewel in the Tisno festival crown, Stop Making Sense brings a whole new level of fun to Croatia, delivering a unique beach party experience in a beautiful location, with an unrivalled lineup, returning to Croatia's picture-perfect Dalmatian Coast from July 31 to August 3. An essential stop on the festival-holiday calendar, SMS provides an escape, perfectly soundtracked by carefully selected DJs and artists who really bring this event to life.
Collaborating with electronic music's most inventive collectives, prolific and passionate promoters, world-renowned DJs and artistic personalities, Stop Making Sense combines the tranquillity of a beach paradise with the excitement of a dance music festival. At Stop Making Sense participating crews carefully select artists and DJs, curating lineups that deliver a unique and intimate experience.
Located in the Croatian town of Tisno, Stop Making Sense hosts stages including the beach bar, the wood stage, set among the Mediterranean pines and oak trees, and the outdoor nightclub Barbarella's Discotheque, where the party continues until sunrise. Providing 18 hours a day of music to move you, Stop Making Sense offers house, techno and electro, funk, soul and disco, and boat parties host revellers, taking in the idyllic sights of the coast. Enjoy the tunes at the tiki bar, feast in the town, lounge on the beach, or simply dance in the sunshine like it's all that matters.
Tickets start at £120, but and special packages are available, including a group FIVE-FOR-SIX ticket offer and on-site ticket and accommodation packages for those seeking seven nights of fun in the sun, with options ranging from £798 for two people, and packages for three and four people too. Check outhttp://stopmakingsense.eu/sms-tickets/ for more details.
A summer haven for dance music lovers, festival-goers and holidaymakers alike, Stop Making Sense simply needs to be experienced to be believed.
See the Stop Making Sense magic for yourself: vimeo.com/80514658
Lineup so far:
Anja Schneider
Gerd Janson
Harri & Domenic
Hunee
Kiwi
Leon Vynehall
Mosca
Nick Höppner
Optimo
Psychemagik
Severino
T.Williams
Tiger & Woods (live)
Will Saul
Ali Tillett : Anomalous DJ : Blonde Ambition : Brighton : Danza Macabra : Larj Hans & The OK Jones Band : Lovesick DJs : Luka K : Madera Verde : Mimi : Mr Solid Gold : Ollie Seaman : Orlando Boom DJs : Park Ranger : Rob Alldritt : Rolfie : Rufus & Bambi : Zero
Aus / Sub Club / Trouble Vision / Warm / Get Diverted / Orlando Boom / The T.Party Movement / Abattoir / Danza Macabra / Lovesick / Croatia Calling / Love Glove
Tickets
Advance tickets £120
stopmakingsense.yokaboo.com
Check out stopmakingsense.eu/sms-tickets/ for details of accommodation and ticket packages – including BUY FIVE TICKETS AND GET SIXTH FREE special group ticket offer.