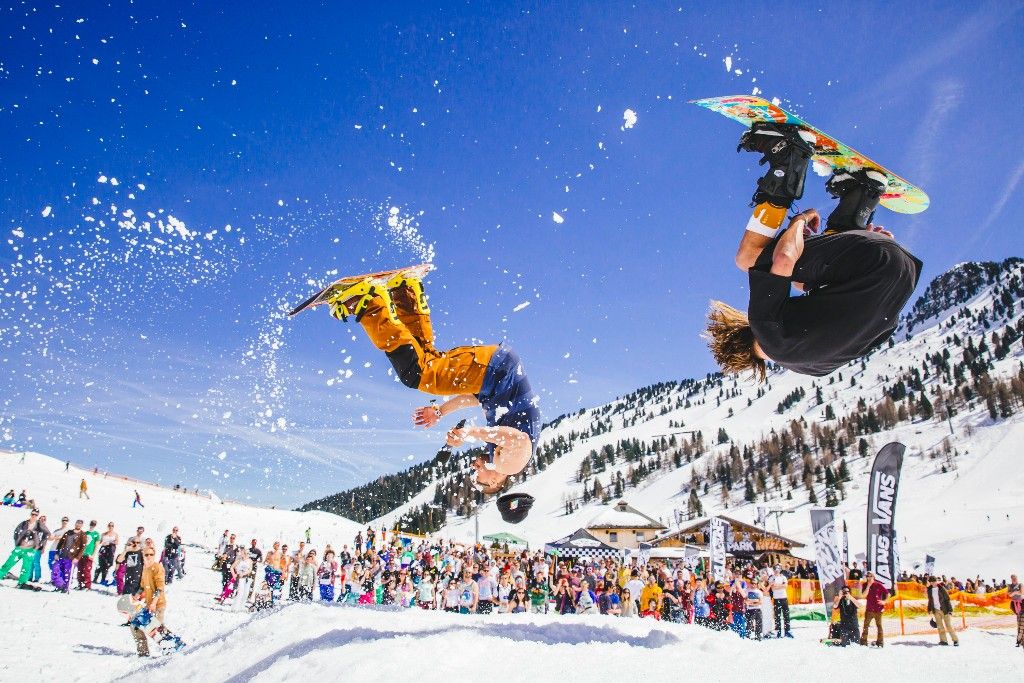 Stormzy, The Prodigy, Fatboy Slim + More Announced For Snowbombing's 20th Anniversary
The Original. Unparalleled. Undeniably Epic. For over two decades, Snowbombing has blazed a trail as the greatest party on the planet, bringing thousands upon thousands together for an unprecedented week of celebrations galore. Marking 20 phenomenal years, Snowbombing 2019 is stepping things up the only way they know how – by bringing the biggest and the best to the mountains and streets of Mayrhofen for an unmissable week that has to be seen to be believed.
When you think of a party, who do you call in 2019? You call Stormzy – one of the most important British artists of this generation, serving up a special slice of headlining goodness on the Mayrhofen slopes. Since bursting onto TV screens at the end of 2014, Stormzy has become a cultural hero, with debut album 'Gang Signs & Prayer' scooping awards and acclaim across the board as it stormed to number 1. Outspoken and influential, his live shows have become a true incendiary spectacle, and you can guarantee his show at Snowbombing 2019 will mark an exciting new chapter for the Wicked Skengman himself.
When you think of Snowbombing, you think of The Prodigy. The iconic rave trio stand in a league of their own as one of the planet's most celebrated live forces, triggering moshpits and pandemonium for nearly 30 years. Constantly reinventing and firing back on all cylinders, it's only right that they return home to headline Snowbombing's 20th Birthday in 2019. Another true original,Fatboy Slim is arguably the definitive name in electronic music, helping shift and shape the genre into a global stadium-filling power. With an arsenal of classic hits under his belt, expect the mountains to be alive with the sounds of a Snowbombing king.
Spanning across five special days in Mayrhofen, Snowbombing 2019 is filled with some of the most exciting names in modern dance, bringing beats and big moments at every step. Drum and bass heavyweight Andy C will take the decks for a thrilling journey through dance history, whilst breakthrough electronic favourites Bicep (DJ Set) will return to Snowbombing after their memorable set at The Racket Club last year. 'Superstylin' hitmakers Groove Armada (DJ) will be taking to the stage with the sort of set that combines almost 25 years of club expertise to the fore into one unmissable takeover. Elsewhere, live favourites Kurupt FM will bring their garage laughs to the slopes, with the celebrated Denis Sulta and the revered Hannah Wants spinning electric sets for Snowbombers. After his celebrated secret set in Hans The Butcher last year, Artwork is bound to create even more memories, with fellow party-starter Skream also bringing the birthday vibes with a vibrant set expected under Mayhrofen skies. With the likes of Maribou State (DJ Set), Hunee, Eats Everything, Monki, James Zabiela, Solardo, Saoirse, Melé, Doorly, Special Request, Craig Charles, Cassy, Barely Legal, Waze & Odyssey and more also booked in for the big birthday bash, Snowbombing is packed to the rafters with all the fun of the fair.
Speaking about Snowbombing 2019, Andy C said:
"Snowbombing is always such a vibe. One of my favourite crowds and an incredible location – see you on the mountain!"
Looking back on 2018's festival, Bicep said:
"We can't wait to be back in the Racket Club, this year's editions of Snowbombing was our favourite so far"
Returning to Snowbombing in 2019 to celebrate its 20th Birthday, Hannah Wants said:
"After two years of no Snowbombing for me, excited is a serious understatement knowing I'm gonna be back for 2019! Roll on April!"
Monki said:
''Happy to be landing at Snowbombing in 2019 again to celebrate it being on the earth for 20 years. I've always had a wicked time, can't wait to get on the slopes and looking forward to having a solid party with everyone!''
Gearing up for a huge set at Snowbombing 2019, Solardo said:
"Snowbombing is always one of the most mental festivals we play. We're absolutely buzzing to be coming back and can't wait to get fully involved in the 20th birthday celebrations next year!"
Talking about his love of Snowbombing, Doorly said:
"Snowbombing has become as important a part of my calendar as Christmas, my birthday and certainly any gig I play around the world. It's so much fun and a proper reunion with my regular bombers that it's one of the festivals that I completely block out the week for, drop everything and relocate myself and the missus to Mayrhofen and blast off. I wouldn't miss it for the world and every year I get more and more excited about it. It's always hard to describe the unity and inclusiveness of Snowbombing to anyone who hasn't been before but just take a look at that lineup and imagine it in the most beautiful chocolate box Sylvanian family village with a load of very friendly people who don't take themselves too seriously and book a ticket now! See You There! Xx"
Snowbombing favourites My Nu Leng said:
"Very, very excited to be back at one of our favourite festivals – Snowbombing has everything for the maddest week, been a highlight of our shows for years!"
James Zabiela talked about Snowbombing's 20th Anniversary, saying:
"Snowbombing is pure joy. It's the one time of year that my mates all get together, head over to Mayrhofen and forget about the rest of the world for a week. One of the many things that makes this festival so special is this magical town in Austria where we all Rave, Eat schnitzels and Shred the pistes together.
By the end of the trip my face is usually hurting from either grinning or from falling on it! It's a place where you can't help but make new friends. You might find yourself carving up the mountain with the Cookie Monster one day or sharing a morning schnitzel with someone dressed in a unicorn onesie the next, and it's always an emotional goodbye until the next year".
DJ Zinc said:
"Really excited to be coming back to play at Snowbombing 2019 for their 20thAnniversary! Always had a great time at this festival over the years"
What would Snowbombing be without some of its all-time favourite friends? Snowbombing 2019 is bringing the whole gang back together with those who've helped Snowbombing into what it is today coming back to play. From the guaranteed disc-jumping fun of DJ Yoda, the ripping grooves of DJ Marky to the essential licks of Scratch Perverts, Krafty Kutz & A-Skillz and beloved Bristolian's Stanton Warriors – the very best of 20 years are coming back to Snowbombing's streets. With Plump DJs, Justin Robertson and Jon Carteralso in the mix, a trip down memory lane never sounded so good.
Snowbombing provides the chance to party in and experience unique environments including the Forest Stage, The Racket Club, Spas & Saunas, Igloo Raves, Chairlift Speed-Dating, Alpine Yoga, Cable Car Raves, Ride & Seek, an award-winning Snow Park, Bongo's Bingo and The Snolympics. Visitors can eat authentic Austrian cuisine in real restaurants or see the incredible sights of Mayrhofen from the skies whilst trying Paragliding, all with the opportunity to stay in incredible accommodation options. From 5* spa luxury hotels and rooftop jacuzzis in the heart of Mayrhofen, to chalets, pensions and pocket-friendly apartments boasting stunning mountain vistas from the surrounding villages, Snowbombing really has something for everyone.
Serious skiers and beginner boarders alike are all encouraged to hit the slopes with 650km of piste and the 78° gradients of Austria's steepest slope The Harikiri on hand for those feeling adventurous, plus lessons and plenty of beginner-friendly slopes to get to grips with for first-timers. Black runs, blue runs, beer runs – there's something for all abilities on Mayrhofen's powdery peak district. Snowbombing has truly redefined winter sports holidays and shown what the ultimate alpine music festival looks and sounds like.
With much more to be announced, and a whole range of surprises to come, The World's Greatest Show On Snow is about to hit a whole new level with Snowbombing 2019.
Announced Today
STORMZY | THE PRODIGY | FATBOY SLIM
ANDY C | BICEP DJ | GROOVE ARMADA DJ
A-Z
ARTWORK | BARELY LEGAL | CASSY | CRAIG CHARLES
DARKZY B2B SKEPSIS FT. BRU-C | DENIS SULTA | DOORLY | DJ ZINC
EATS EVERYTHING | HANNAH WANTS | HUNEE
JAMES ZABIELA | KURUPT FM | MARIBOU STATE DJ | MELÉ | MELA DEE
MONKI | MY NU LENG | PALMS TRAX | PAUL WOOLFORD | REDLIGHT
SAOIRSE | SKREAM | SOLARDO | SPECIAL REQUEST
WAZE & ODYSSEY
PLUS 20 YEARS OF SNOWBOMBING ROYALTY:
DJ MARKY | DJ YODA | JON CARTER | JUSTIN ROBERTSON
KRAFTY KUTS & A -SKILLZ | PLUMP DJS | SCRATCH PERVERTS | STANTON WARRIORS
CONNECT WITH SNOWBOMBING
http://www.snowbombing.com
https://www.facebook.com/snowbombing
https://twitter.com/Snowbombing
http://instagram.com/snowbombingofficial
http://www.youtube.com/snowbombing
https://soundcloud.com/snowbombing-festival