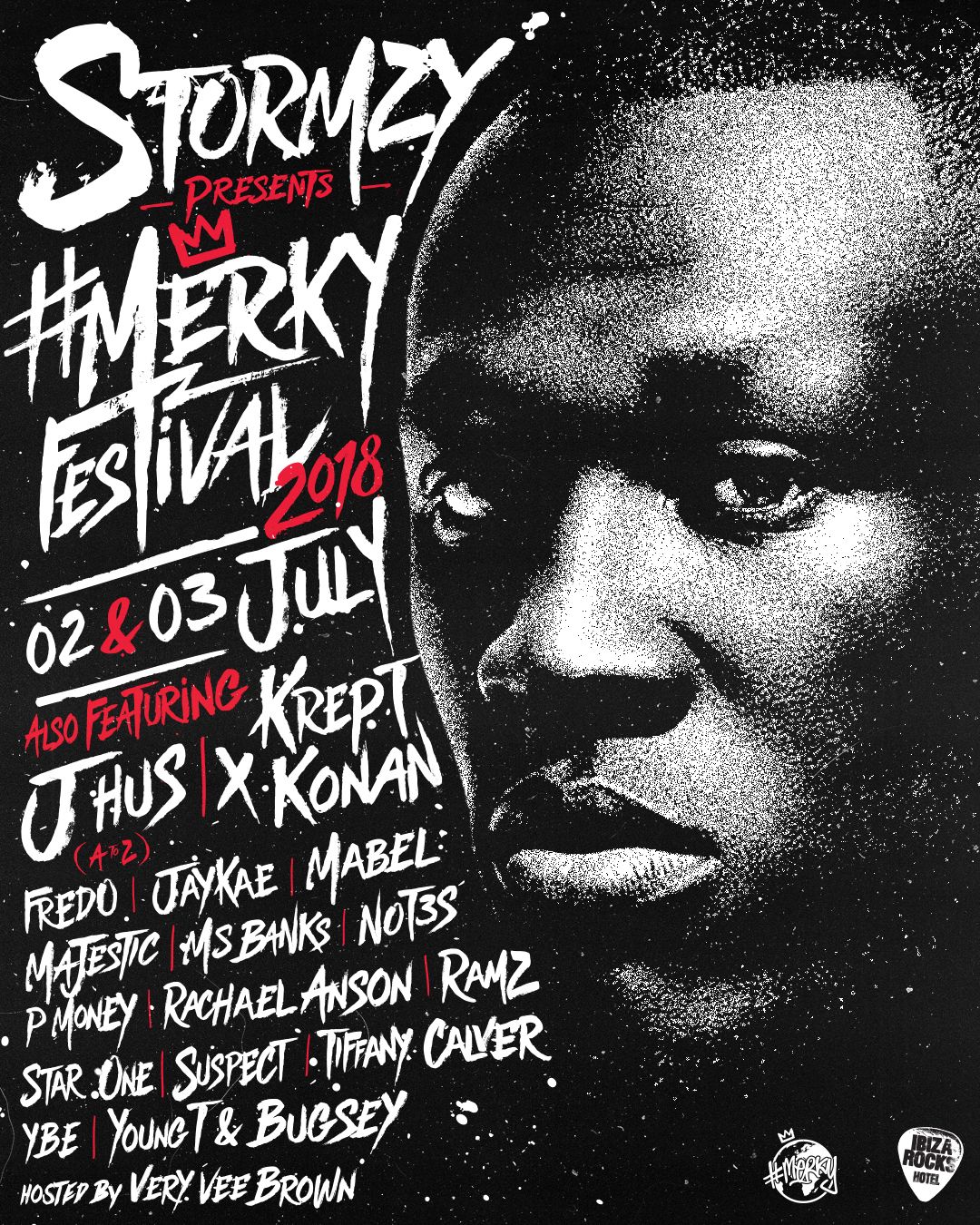 Stormzy's #merky Festival – Line Up Revealed
Ibiza Rocks made history last summer by teaming up with UK grime kingpin and hottest live act on the planetStormzy for the debut, sold out #MERKY Festival – Ibiza's first ever UK urban music festival. Having already announced that #MERKY Festival is back this July and increased to a huge two-day event curated by the wicked skengman himself, the full line up featuring the fiercest names in urban music is now revealed.
Monday 2nd July will kick off with dynamic daytime poolside sets from a hand-picked selection of the freshest and finest names on the scene before the sun begins to set and East London hitmaker and new king in waitingJ Hus brings #MERKY Festival day 1 to an almighty and unmissable climax. Joining J Hus on the incredible line up is critically acclaimed London Grime MC Fredo, fast-rising, fiery South London rapper Ms Banks, Birmingham Grime hero Jaykae, underground king Suspect, Grime legend and Dubstep icon P Money, with Garage, Grime and Jungle duo Star One representing Soundsystem culture plus acclaimed MC and Kiss FM DJ Majestic, London tastemaker and hip hop DJ Tiffany Calver and J Hus favoured selectors YBE.
Tuesday 3rd July will welcome another formidable line up of Stormzy's peers and most promising talents, with the #MERKY Festival being headlined by the main man Stormzy himself. From day to night, the world famous Ibiza Rocks Hotel will see poolside performances from South London Hip-Hop heavyweights Krept x Konan, multi-talented East London rapper Not3s, chart sensation Mabel, infectious Nottingham rap duo Young T & Bugsey, London rapper and 'Barking' hitmaker Ramz and 'one to watch' DJ Rachael Anson.
MONDAY 2ND JULY
J HUS | FREDO | MS BANKS | JAYKAE | SUSPECT | P MONEY | STAR ONE | MAJESTIC | TIFFANY CALVER | YBE
TUESDAY 3RD JULY
STORMZY | KREPT & KONAN | NOT3S | MABEL | YOUNG T & BUGSEY | RAMZ | PATRICK NAZEMI | RACHAEL ANSON
Stormzy Presents #MERKY Festival at Ibiza Rocks Hotel on Monday 2nd & Tuesday 3rd July. Limited day tickets onsale now priced from €50 (plus booking fee) from www.ibizarocks.com
Timings: 12pm – 12am
————————————————————————————————————————————————
SUMMER 2018 COMPLETE LINE-UP
ONE OFF SPECIAL EVENTS:
FRI 01/06 & 02/06: OPENING PARTY WEEKEND WITH RUDIMENTAL & FRIENDS (FRI) AND CRAIG DAVID'S TS5 (SAT)
MONDAY 02/07 & TUES 03/07: STORMZY'S #MERKY FESTIVAL
WEEKLY AGENDA:
MONDAYS: MK'S 'AREA 10' POOL PARTY RESIDENCY – WEEKLY FROM 09/07 TO 06/08
TUESDAYS: TODDLA T'S STEEZEY WONDERLAND POOL PARTIES – WEEKLY 05/06 TO 26/06
TUESDAYS: CRAIG DAVID'S TS5 POOL PARTY RESIDENCY – 10/07 TO 25/09
THURSDAYS: LOVELY LAURA WITH BEN SANTIAGO POOL PARTIES – 07/06,14/06 & 20/09:
THURSDAYS: GARAGE NATION POOL PARTIES – 21/06,28/06 & 06/09,13/09
THURSDAYS: MAJOR TOMS PRESENTS RUDIMENTAL & FRIENDS POOL PARTY RESIDENCY – WEEKLY 05/07 TO 30/08
FRIDAYS: CUCKOO LAND POOL PARTY RESIDENCY – WEEKLY 08/06 TO 28/09
Book holiday deals direct with Ibiza Rocks for the best prices guaranteed – up to 20% cheaper than other booking agents – www.ibizarocks.com