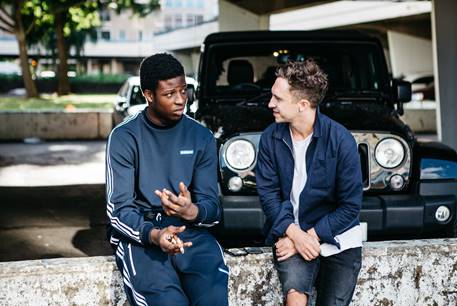 Joel Baker, Abra Cadabra - Story
Hotly tipped Nottingham born and raised singer songwriter and producer, Joel Baker shares the video for 'Story' featuring Abra Cadabra today.
Filmed in Stockwell and Tottenham, the video for 'Story' is the directorial debut for London's go-to Grime photographer Vicky Grout. "As my first time directing, it was an amazing experience working with two incredible, very different artists." says Vicky. "The video depicts a 'day in the life' of each of them, in their own, personal way. It was so sick to see both their personalities come out."
Co-produced by Joel and Courage (Ray BLK), the self-penned 'Story' was premiered by MistaJam on Radio 1xtra and follows the self-release of his critically acclaimed early EPs. 'Story' is the lead track to be lifted from Joel 's forthcoming Bag of Dreams Mixtape, which is produced by himself alongside Courage, Kin (Naughty Boy), Maths Time Joy, and features guest appearances from Kojo Funds and Abra Cadabra.
Speaking about 'Story', Joel says: "This song is inspired by many, many conversations I've had with the guys over the years about the complications of casual relationships. It's not this care free lifestyle people portray. It's actually a headache. I learnt the hard way, there's always strings attached. Me and Abs had a chat about the subject too and I think he puts it better than me actually. 'Make sure the girl you pick's just right'. I couldn't agree more."
WATCH THE VIDEO FOR 'STORY' HERE:
http://po.st/JBStory