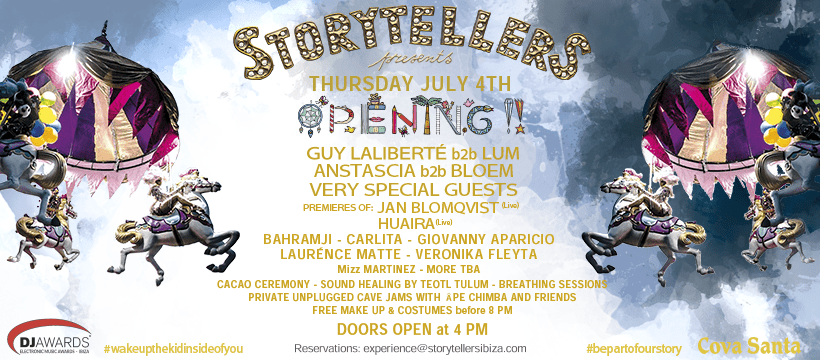 Storytellers Opening at Cova Santa Ibiza
"From the creators of Woomoon, a new edition of Storytellers in Ibiza is here, awarded the BEST NIGHT IN IBIZA in 2018 by the DJ AWARDS"
After winning "

Best Event In Ibiza

" award by the prestigious DJ Awards last year, Storytellers arrives

today

,

4th of July,

to

Cova Santa

. Ready to amaze us with an incredible production that will take us on a journey to a magic world, bringing us back to childhood.
For those coming early from

18:00 to 20:00

, there will be group sessions of Cacao Ceremony and "Sound Healing" by the famous group TEOTL Tulum. We will also have breathing sessions and Kundalini by

Miriam Adler

.
In the "Dreams Chapiteau" stage, you will enjoy the exclusive premiere on the island of two of the bests live artists of the moment, Jan Blomqvist and Huaira.
Additionaly, Guy Laliberté, the founder of Cirque du Soleil, will share a back to back next to LUM, known as the prince of sounds of Tulum.
Amazone's Cave
will have magnificent decoration and incredible visual content made by different artists. Working to bring this concept together and support women in the music industry. We will have joining us a very special guest, Anstasciab2b Bloem. Alongside, Veronika Fleyta, Carlita, Laurénce Matte, Mizz Martinez and many more…
Meanwhile, Bahramji's melodious music, Âpe Chimba, Celine Dewy and Balam will make us dance at the "Plaza de los Sueños".
Storytellers was created for the people of the Island, that's why Ibiza residents will have a 50% off with entry before 18:00hr and after 24:00hr.
"Storytellers is synonym of magic, happiness and mystery. Be part of our story."

More info

here

.