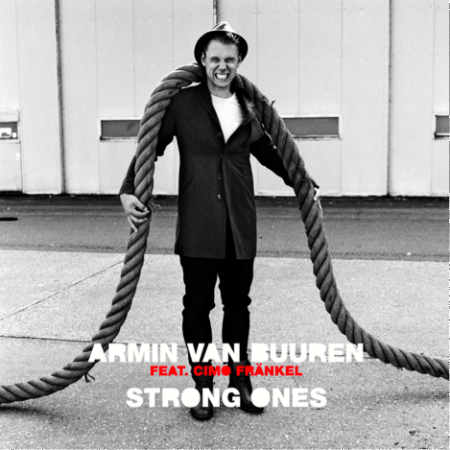 Armin van Buuren - Strong Ones
Today, Armin van Buuren released his new single 'Strong Ones' on record label Armada Music. The single features the distinctive tones of Dutch singer-songwriter Cimo Fränkel and is one of the many striking collaborations featured on Armin's sixth studio album called 'Embrace', to be released on October 29th.
The release of 'Strong Ones' had originally been scheduled for October 23rd, but the single quickly became in high demand due to simultaneous nation-wide radio premieres in the U.S. (Sirius XM, Evolution/iHeartRadio) and The Netherlands (Radio 538) on October 15th.
Fueling the widespread enthusiasm amongst Armin's fans even further, the teaser of the forthcoming official music video of 'Strong Ones' was launched later that day, merely a few hours after the radio premieres.
On the same day, Armin van Buuren was handed the first physical copy of his 'Embrace' album by fly board pilot Bo Krook, after a stunning performance on the Amsterdam canals. As it happened, it was the kick-start of a day filled with radio appearances and single premieres for the renowned electronic music artist, all leading to the ahead-of-schedule release of 'Strong Ones'.
Tracklist ´Embrace´
01 Embrace (feat. Eric Vloeimans)
02 Another You (feat. Mr. Probz)
03 Strong Ones (feat. Cimo Fränkel)
04 Make It Right (feat. Angel Taylor)
05 Face Of Summer (feat. Sarah Decourcy)
06 Heading Up High (feat. Kensington)
07 Gotta Be Love (feat. Lyrica Anderson)
08 Hands To Heaven (feat. Rock Mafia)
09 Caught In The Slipstream (feat. BullySongs)
10 Embargo (with Cosmic Gate)
11 Freefall (feat. BullySongs)
12 Indestructible (feat. DBX)
13 Old Skool
14 Off The Hook (with Hardwell)
15 Looking For Your Name (feat. Gavin DeGraw)