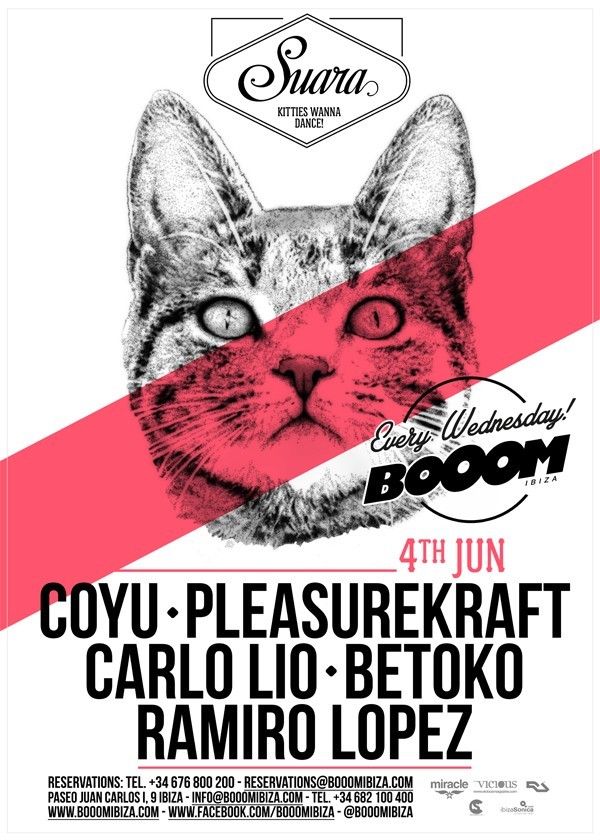 SUARA @ BOOOM IBIZA – JUNE 4TH OPENING PARTY LINE-UP NOW ANNOUNCED!
Spain's illustrious House and Techno imprint Suara is extremely proud to announce its 17-week Wednesday night residency at BOOOM Ibiza running from June 4th until September 24th.
The season is set to be packed full of impressive line-ups and will commence with their official opening party on June 4th, which sees Suara's master ​​cat Coyu team up with the likes of Pleasurekraft, Carlo Lio, Betoko and Ramiro Lopez to bring you the purrrfect ​start to the season.
Coyu says "It's so exciting that anyone visiting Ibiza this season can enjoy a weekly Suara experience. The kitties won't let you down as whoever wants a high quality dance will get one. We have a wonderful team of people and an incredible roster of DJs lined-up to play for us plus many surprises to come ​throughout the season​. See you on the island, Meeeeow!"
El próximo miércoles 4 de Junio se inaugura oficialmente la temporada Suara en la sala BOOOM de Ibiza (desde entonces todos los miércoles hasta el 24 de Septiembre), lo hará con el siguiente line-up: Coyu, Pleasurekraft, Carlo Lio, Betoko y Ramiro Lopez.
En palabras del mismo Coyu "Es muy excitante que todo el que visite Ibiza esta temporada pueda disfrutar semanalmente de una experiencia Suara. Los gatitos no os vamos a defraudar, quien quiera baile de calidad, lo tendrá. No hemos escatimado en contar para la ocasión con un maravilloso equipo de personas y artistas ¡Nos vemos en la isla. Meeeeow!"