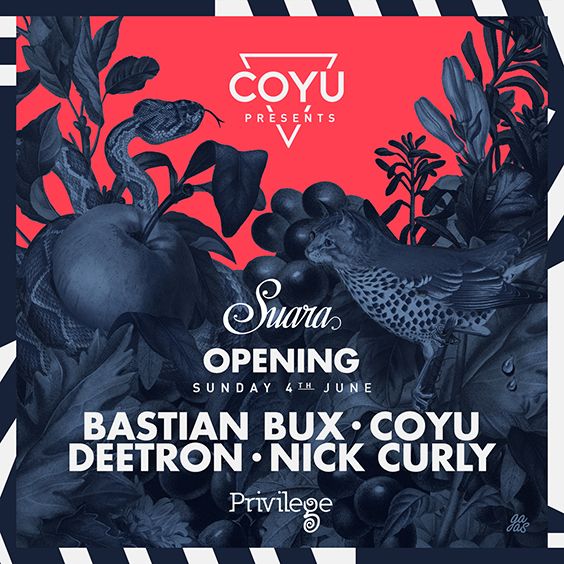 Suara Opening Party Lineup – Sunday 4th June
Suara, as you well know, and of course from the hand of its creator Coyu, returns to settle in Ibiza for the 2017 season. This is a weekly residency – every Sunday for 17 consecutive dates from June 4th until September 24th – at none other than the world's largest club: Privilege.
The Suara Opening this Sunday, June 4th will feature Coyu, Deetron, Nick Curly and Bastian Bux.
For the most representative artists of the house (Coyu, Bastian Bux) it is an honour to add the internationally recognized talent of Deetron (Music Man, Intec, SLS label of the Swedish Samuel L. Session). Serious house & techno that perfectly matches the science and versatility of Nick Curly's (Truesoul, Defected, 8Bit) skills on the decks, who continues to be one of the greatest names of the modern house era.
The season line-up for this exciting new summer for Coyu and his Holy Grail, Suara, at Privilege Ibiza will soon be unveiled.
Suara Opening Party Lineup
Sunday 4th June