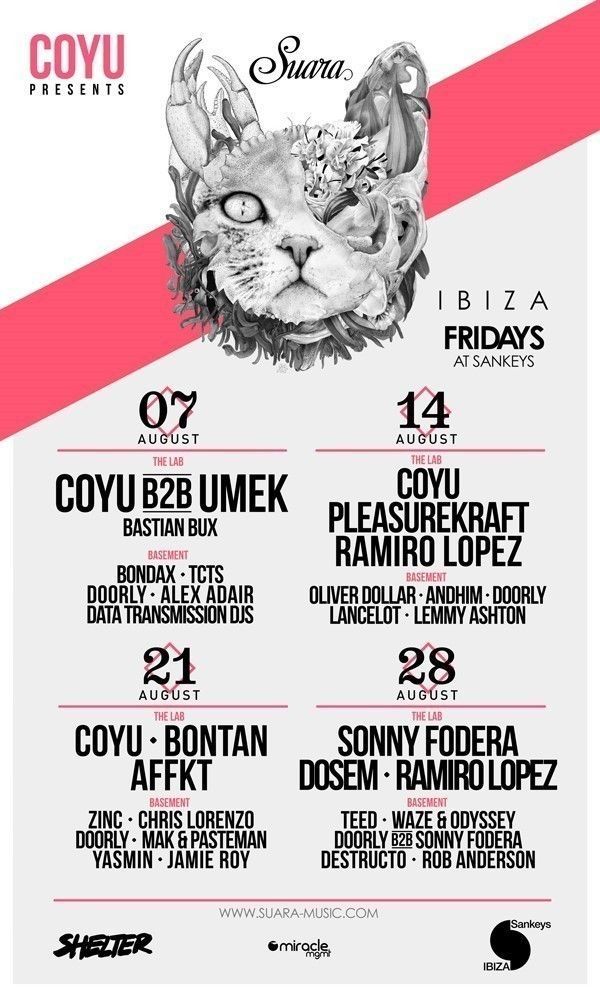 Suara @ Sankeys Ibiza – August 2015 Line-Ups
It's officially peak season and visiting the White Isle in August can't be missed! Coyu and Suara Music are quite aware of this and it's just one of the many reasons they have organised some of the season's the most refreshing and exciting feline-friendly parties at Sankeys Ibiza over the next 4 weeks.
WEEK 1 | AUGUST 7TH
Week 1 goes straight for the jugular by boasting the first Suara party at Sankeys where Coyu and hugely experienced Umek joining forces to play Back-2-Back. Without a doubt the Slovenian-born DJ, producer and label owner (1605 Music Therapy) it is the best ambassador to seduce our demanding audience into a real frenzy – kitties are going to dance! But, that's not all, as the event also features newcomer Bastian Bux, a young and extremely talented Spanish DJ/producer who recently released the superb "Stay EP"' on Suara.
WEEK 2 | AUGUST 14TH
Week 2 will see two of Suara's regulars, Pleasurekraft & Ramiro López, grace the decks to play alongside 'The Big Cat' Coyu once again. They plan on igniting The LAB's dancefloor to get our kitties dancing all night long with their perfectly balanced underground Tech-House grooves. By the way, Ramiro Lopez will be flying in straight from completing his new Indian tour (Mumbai, Pune, Delhi, Chennai and Hyderabad).
WEEK 3 | AUGUST 21ST
Week 3 sees the likes Coyu, Bontan and Affkt take control of the decks and offer a tasty and addictive musical menu to leave our kitties unable to leave the dancefloor. It will be the first time the North West UK-based Bontan plays for Suara this summer who achieved great success with his 2014 Beatport chart topper 'Move On Out' and has recently collaborated UK House hero Yousef on 'Believe'.
WEEK 4 | AUGUST 28TH
Our last event of the month is going to be one hell of a party to say 'bye' to August and say 'hello' to a September full of surprises! In the booth this time will be a trio of talent comprising of the UK-based Sonny Fodera (named by Mixmag as one of their 'Hot Six'), Dosem (one of the biggest emerging figures from the Spanish electronic music scene – his 'City Cuts' LP is considered one of the top Tech-House albums of 2014) and Ramiro López (who will be looking forward to having his second EP entitled 'Truce' out on Carl Cox and Jon Rundell's seminal imprint Intec on September 7th)."