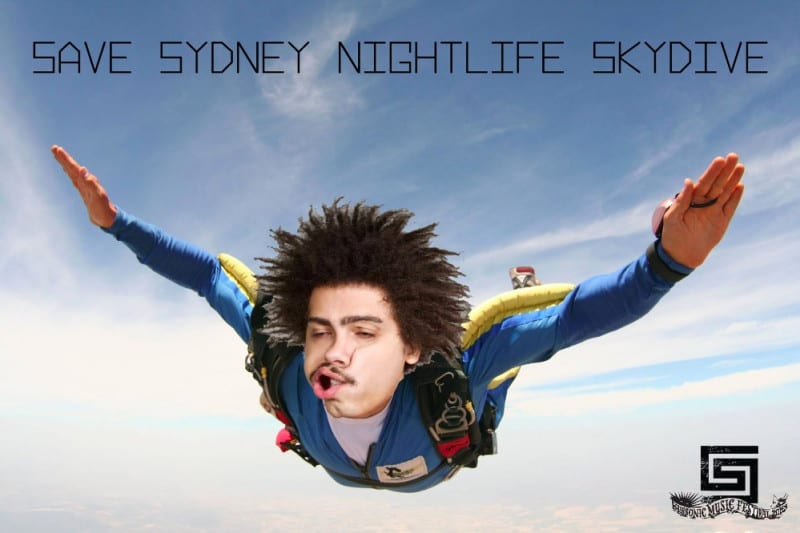 Subsonic Present – Save Sydney Nightlife Skydive with Seth Troxler and more!
The dance music community mobilised on a global level when the jewel in the UK's clubbing crown, Fabric, was put under threat. Now hundreds of venues in Sydney, Australia need your help.
Since the introduction of the lockout laws – which involve 3am last drinks,10pm last takeaway alcohol sales and, most damagingly, 1.30am last entry – over 30 entertainment venues in Sydney have been forced to close.
Instead of creating long-term solutions for a safe and 24hour city, the government has created a restrictive environment in which music venues – especially smaller music venues – cannot survive let alone thrive, and as a result Sydney musicians are leaving the city in droves to head overseas.
Thanks to the efforts of anti lockout campaign Keep Sydney Open, tens of thousands of Sydney residents have been able to voice their opposition together, hitting the streets in two enormous marches this year. But it's not yet been enough.
Enter Subsonic Music Festival DJs Seth Troxler, Dana Ruh, Archie Hamilton and Murat Kilic. They, along with some friends want to show solidarity with Sydney's culture struggle, and raise some much needed funds for the ongoing campaign to Keep Sydney Open. So to get your attention, they're going to jump out of a plane.
Subsonic Present: Save Sydney Nightlife Skydive – Donate Here